While summer might be the height of cottage season in Ontario, the winter months are also an ideal time to pack up the car and get away from the city for a few days.
---
Especially lately, when the weather has been rather crummy in the city, the subways have been overly packed, and it truly feels like winter may never end. And while day trips are nice for a change of scenery, sometimes you just need a few days away to unplug and spend some time in a cozy cabin.
READ: 4 Art Installations are Taking Over Toronto's Waterfront this Winter
Whether you're looking to book a weekend away with a large group of family, friends, or co-workers or perhaps you're looking for something intimate and small, to help you embrace this seemingly never-ending season, we've chosen ten incredible cabins near Toronto that you can rent this winter.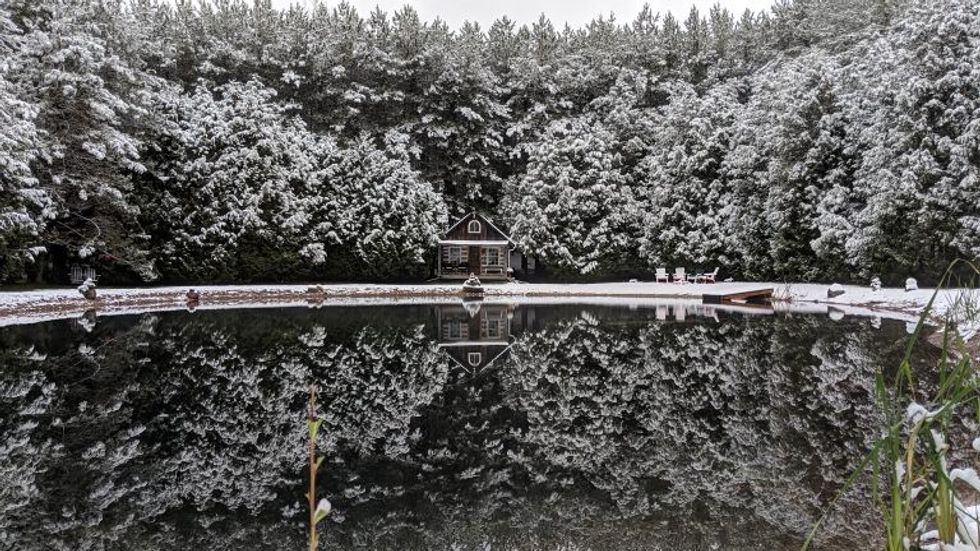 Where: Caledon
Number of Guests: 2
This cozy cabin in the woods is perfect for a couples' weekend retreat. Set on 15 acres and overlooking a private pond, you'll never guess this cabin is located less than one hour away from downtown Toronto. It goes for $209/night on average.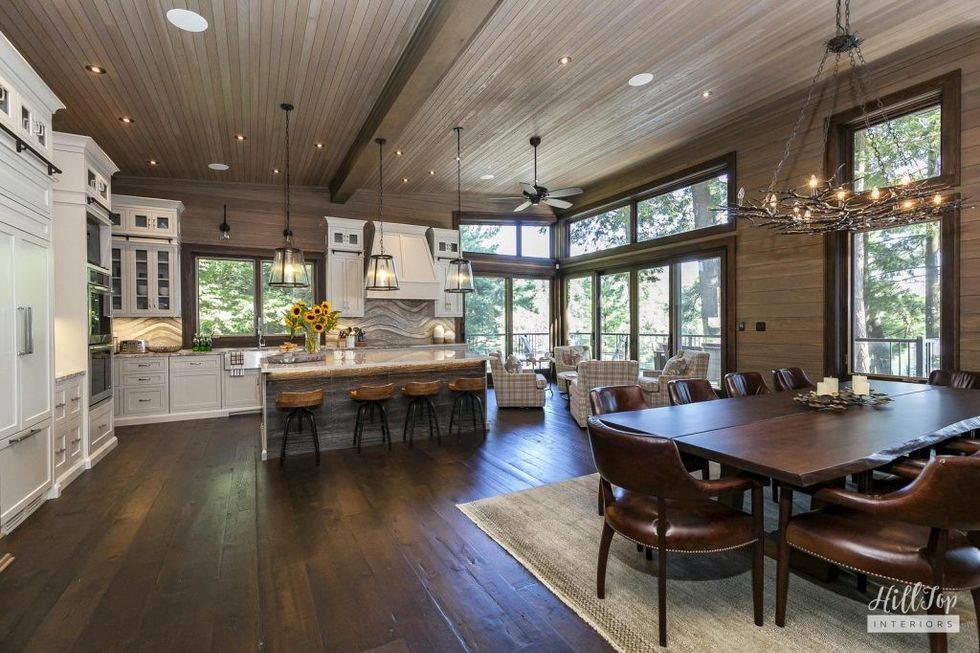 Image courtesy of Jayne's Cottages
Where: Lake Rosseau
Number of Guests: 16
Tucked away on a private bay off Lake Rosseau, "Another World" offers ultimate privacy and luxury. The mid-century modern cottage offers stunning southeast views and while you probably won't want to leave this luxe cabin, the village of Rosseau is worth checking out. With a local farmer's market, great restaurants, and a convenient general store in town. Definitely, on the pricer side of things, this cabin goes for $37,500 per week.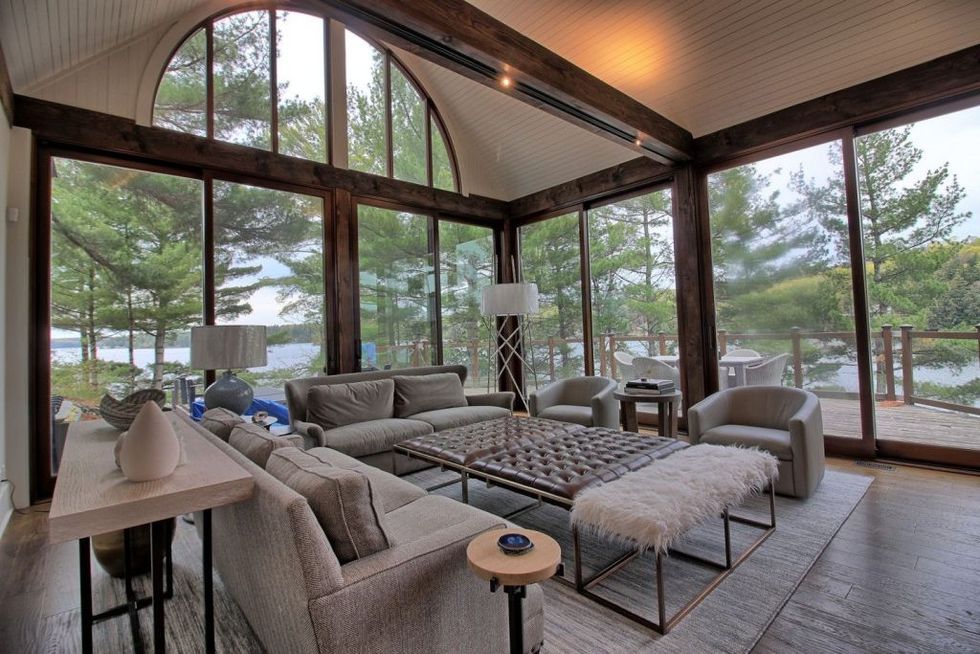 Image courtesy of Canada Stays
Where: Port Carling
Number of Guests: 10
This beautiful property is a combines stunning Muskoka rock with breathtaking views. The bright and airy living space is perfect for big crowds. And there's nothing better than unwinding in this eight-person hot tub on a snowy night. It's priced at an average of $2,364 per night.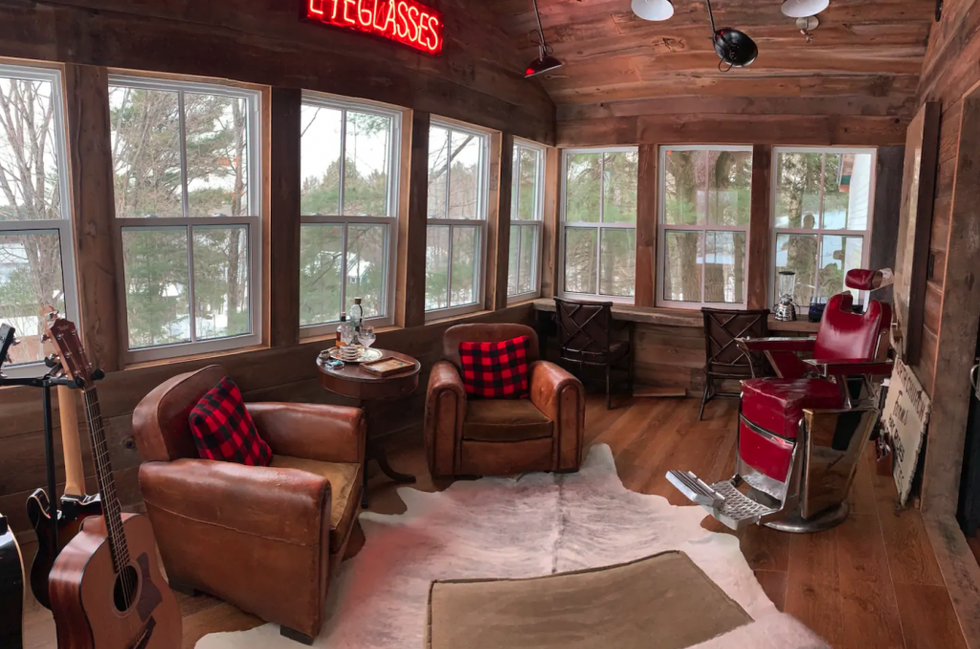 Image courtesy of Airbnb
Where: Lake Muskoka
Number of Guests: 9
Two words come to mind when you look at the Bannockburn cottage: charm and character. This restored farmhouse is on 70-acres of land and with 5 km of walking trails on the property and a private dock, this home is a rare find in Muskoka. Guests will love looking at all the antiques and ornaments sprinkled throughout the house where each room is beautifully decorated with its own unique theme. It rents for an average of $495/night.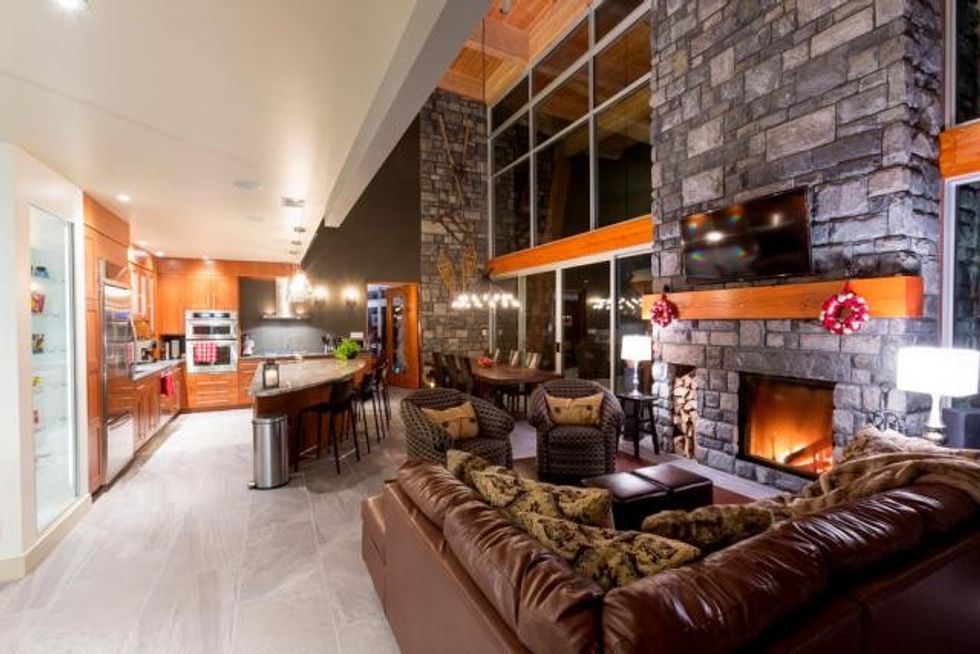 Image courtesy of Cottage Vacations
Where: Lake Muskoka
Number of Guests: 12
This stunning modern cabin is made out of west coast heavy timber and local granite, offering guests a very cozy atmosphere. Located just 15 minutes from downtown Huntsville, the 12-acre private cabin is available for weekend and week-long rentals. The spacious dining and kitchen areas comfortably seat ten, making it great for friends and family. And, when the weather warms up, you can always enjoy a meal on the stunning terrace. The average price is $2975 for 2 nights minimum.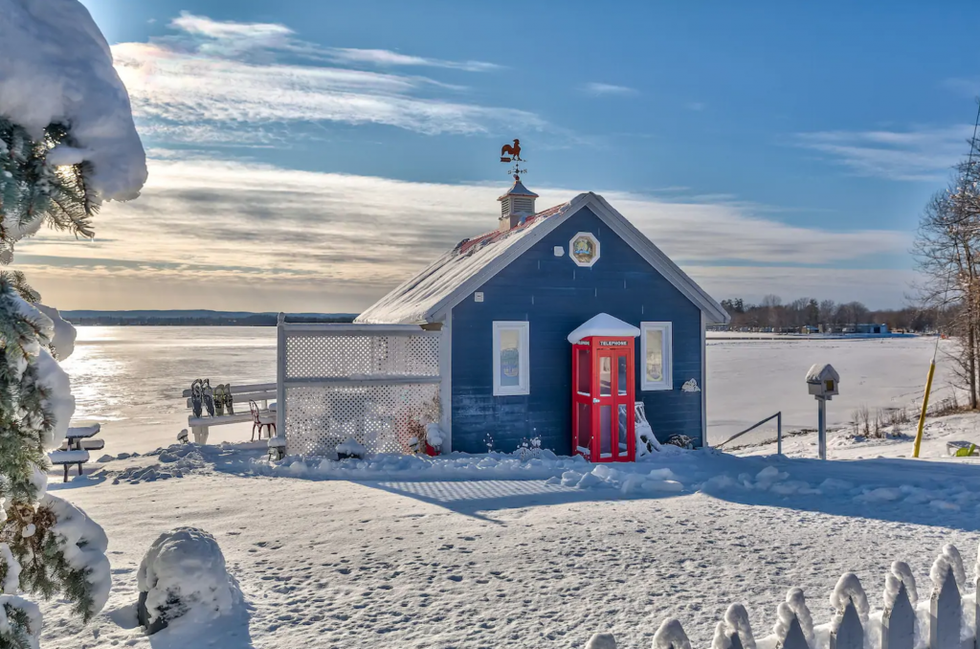 Image courtesy of Airbnb
Where: Golden Lake
Number of Guests: 2
If you're up for a drive, this secluded waterfront gem is definitely worth the four-hour trip. Even though the lodging itself is small, it's definitely not lacking in style: The home has a bright and cheery kitchen, a full bathroom, and a queen-sized bedroom. It's the perfect getaway for a couple and typically rents for around $129/night.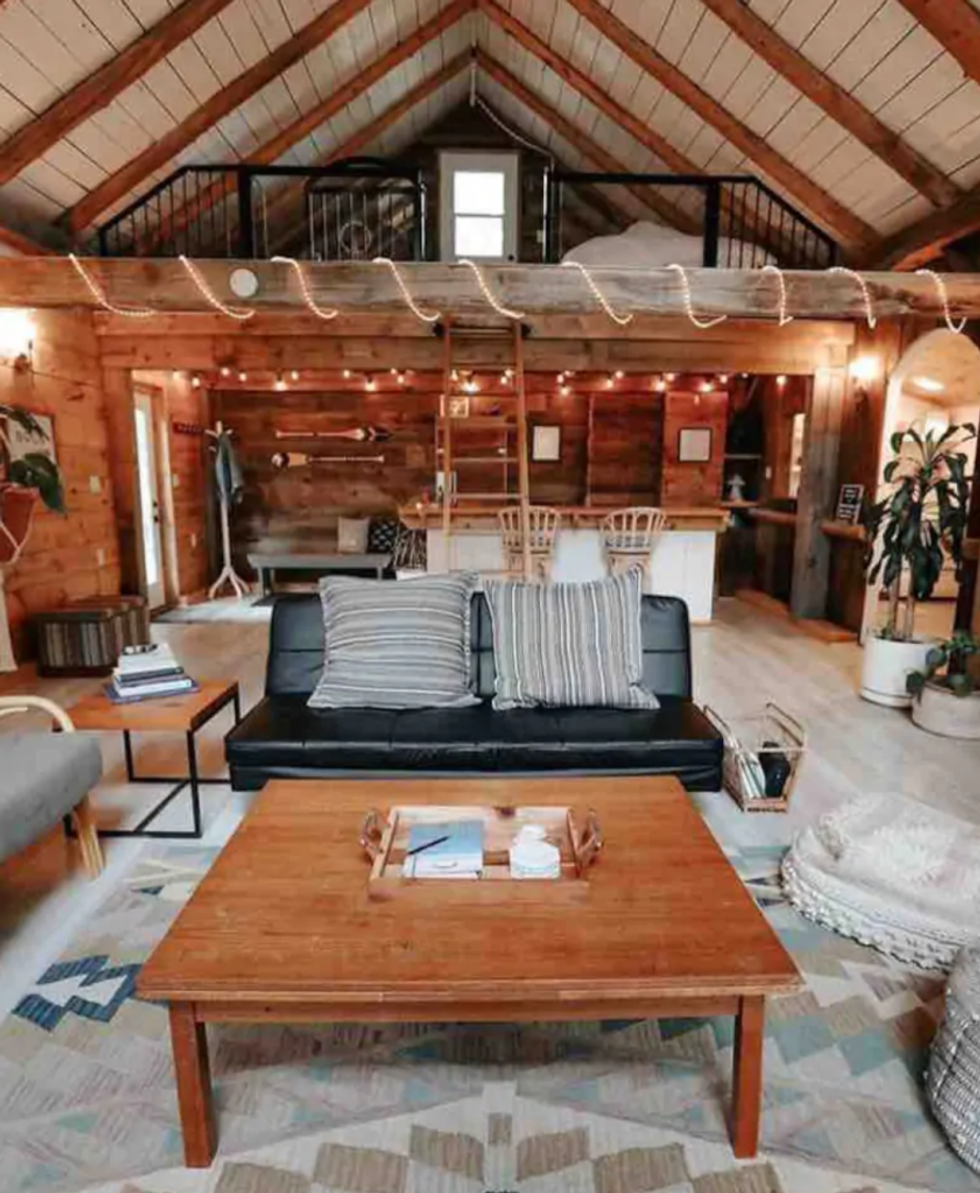 Image courtesy of Airbnb
Where: Lakefield
Number of Guests: 4
Stay in a bona timber cabin on Katchewanooka Lake, located in the heart of Lakefield, which is just over two hours north-east of Toronto. Even though the house itself is rustic, the decor is a mix of beachy and boho meets mid-century vibe. Two private decks offer the perfect place to watch the sunset and stargaze. Plus, there's a private hot tub nestled under the trees and a sauna available to guests during the fall and winter months. The average price is $190/night.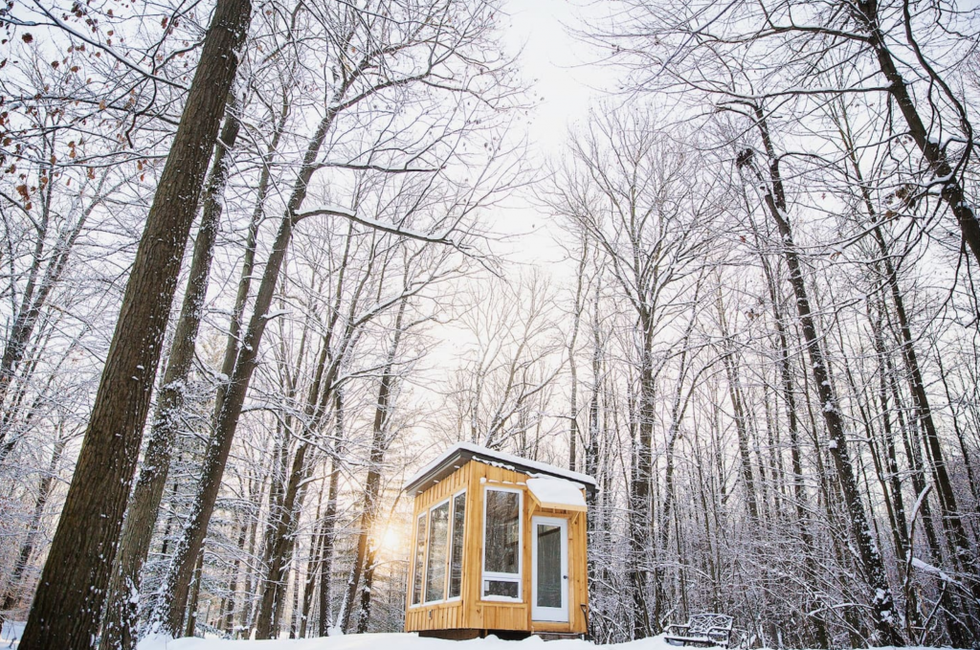 Image courtesy of Airbnb
Where: Fernwood Hills
Number of Guests: 2
The 'Tiny Cabin' is the ideal spot for those looking to disconnect from the city and reconnect with what's important. But don't let this tiny cabin fool you, as it's small but efficient. Nestled in the heart of southwestern Ontario, there's one bedroom, large windows that overlook the surrounding woods nearby, and WiFi. The average price is $245/night.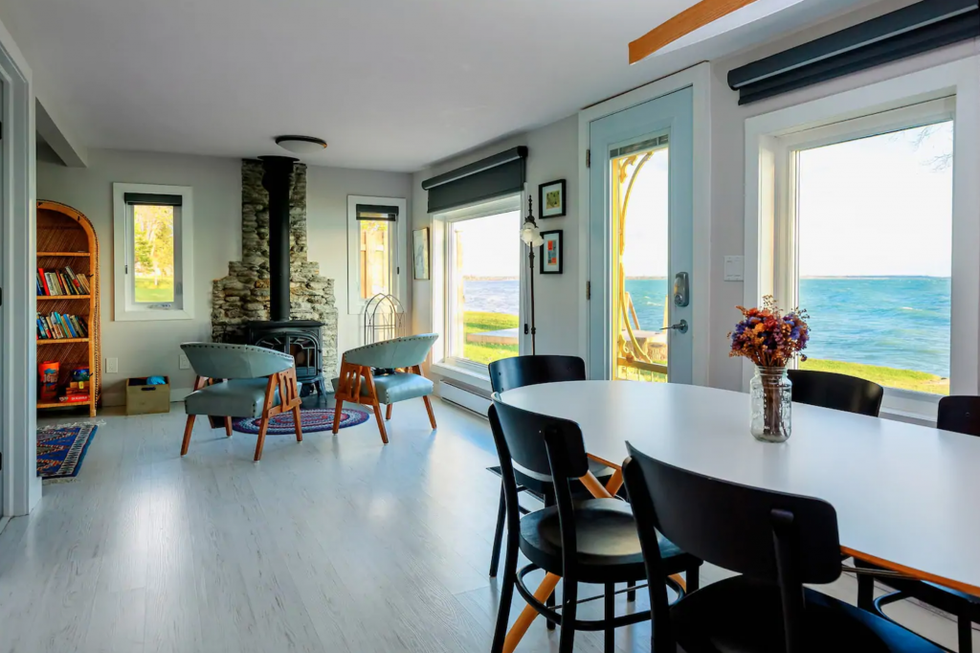 Image courtesy of Airbnb
Where: Prince Edward County
Number of Guests: 4
'Little Ben' is a fully renovated, one-bedroom cabin in Prince Edward County that is quite stylish. The listing offers a fully equipped kitchen, a dining area, and a comfy living room with a wood stove. The true highlight, however, is that the cabin is not only located in the heart of Wine Country, it's also just steps from Lake Ontario.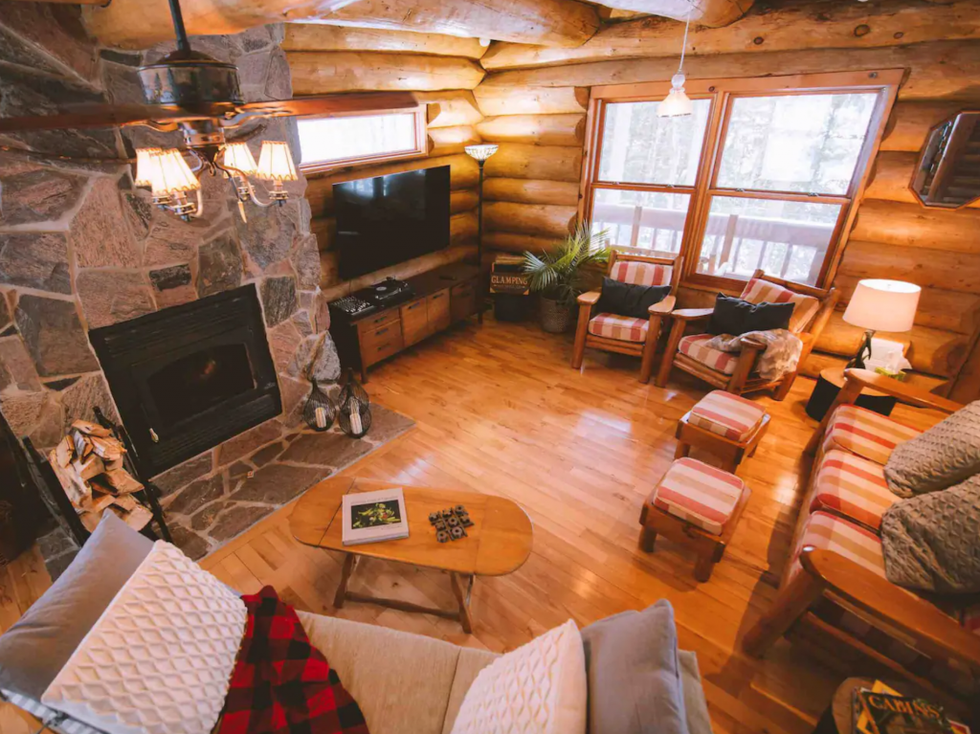 Image courtesy of Airbnb
Where: Muskoka
Number of Guests: 8
Planning a group getaway? This charming, log cabin, located in Muskoka, may be just the ticket. It has four bedrooms and sleeps eight, with a full kitchen, wood-burning fireplace, and other cozy amenities. It's located on the gorgeous Severn River and is surrounded by 2 acres of mature pine forest and 200-ft. of waterfront, making this cottage both peaceful and private. The average price is $350/night.
So pack up the snowshoes and hot toddies. These cabins won't stay vacant for long.
Entertainment