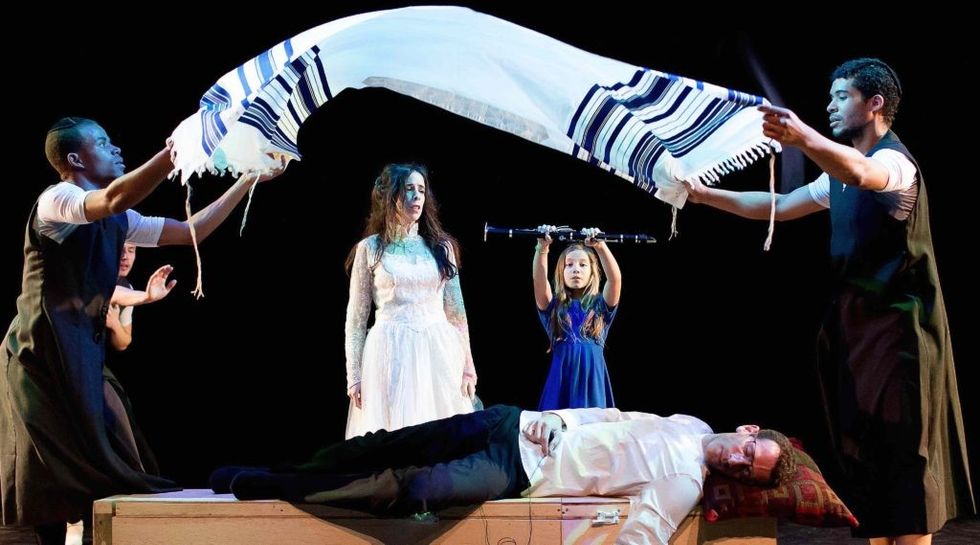 Show One Productions' 'The Dybbuk' at the Elgin Theatre. (Photo courtesy of Show One Productions)
It's been critically acclaimed in Europe and Israel — and it's about to make its North American debut at the Elgin Theatre in Toronto.
---
Now, as opening night approaches, Svetlana Dvoretsky is pouring over spreadsheets, concert hall floorplans, and databases of ticket sales. She's sitting at her chic, modern desk in the North York office of Show One Productions, the theatre production company she founded in 2004.
Dvoretsky has already brought some of the world's top shows and performers to Toronto, including the artists such as Mikhail Baryshnikov and John Malkovich. She's also brought in some of the world's leading operas and ballets — all from her small office on Dufferin just south of Steeles.
This time, it's the North American premiere of a new Israeli production. The Jewish romantic ghost story, The Dybbuk, is just days away, and Dvoretsky is on the phone to confirm that the giant spinning glass "mikveh" (Jewish ritual bath), a snow-making machine, plus a subtitles projector (for the non-Hebrew speakers) are all on their way to the Elgin Theatre.
The play, brought to life on the Elgin stage by Israel-based Gesher Theater company, re-imagines the classic romantic ghost story into a modern physiological drama.
"This 'Dybbuk' will be nothing like anyone has ever seen, neither in Hebrew nor in American Theatre," Dvoretsky explains.
"Gesher is one of the miracle troupes — one that appeared out of nowhere in Israel 25 years ago."
"I dreamt of bringing [The Dybbuk] to Toronto for the past five years," she says, "and finally the stars aligned just right. They are coming in September and doing two shows, and I still cannot quite believe it!"
If anyone knows how to make dreams come through, it is Dvoretsky.
Flash back 15 years, she was a 25-year-old under-employed recent immigrant from Russia, working in a clothing store with aspirations of becoming a next-generation, Mirvish-level show presenter.
The problem was: Dvoretsky had just $5,000 in her bank account.
She decided to take a leap ... into an elevator at the old Sutton Place Hotel, where she learned that famed violinist and conductor Vladimir Spivakov was staying.
"You look familiar, have we met before?" Those were the first words Dvoretsky remembered Spivakov asking her.
They had indeed met, when she was five, and Dvoretsky's late mother was a fellow music student with Spivakov at a Russian conservatory.
During the elevator ride, Dvoretsky shared her dreams of becoming a cultural impresario, and Spivakov agreed to become her first client. They began planning to bring Spivakov's orchestra, the Moscow Virtuosi, to Toronto.
Dvoretsky's operation was a virtual one-woman show at the time, running publicity, selling (and hand-delivering) tickets to customers, and organizing every detail to bring an internationally-acclaimed orchestra to Toronto.
Her Show One Productions office is now filled with stunning floor-to-ceiling posters of Toronto premieres of successful plays and concerts the company has mounted: John Malkovich in The Giacomo Variations; Mikhail Baryshnikov in Brodsky/Baryshnikov; the opera spectacle Trio Magnifico with Anna Netrebko, Yufif Eyvazov and the late Dmitri Hvorostovsky; Argentina's Tango Fire, plus ballets, and classical recitals.
Today, she looks back amazed at the financial gamble taken by her younger self.
But perhaps this is exactly what it took: risk, initiative, and deep knowledge of the community and its cultural needs.
Dvoretsky's business addressed an untapped market in one of the world's most diverse cities. Torontonians love going to foreign language films, so it only seemed natural that they'd be attracted to high-end theatre and live shows from other parts of the world.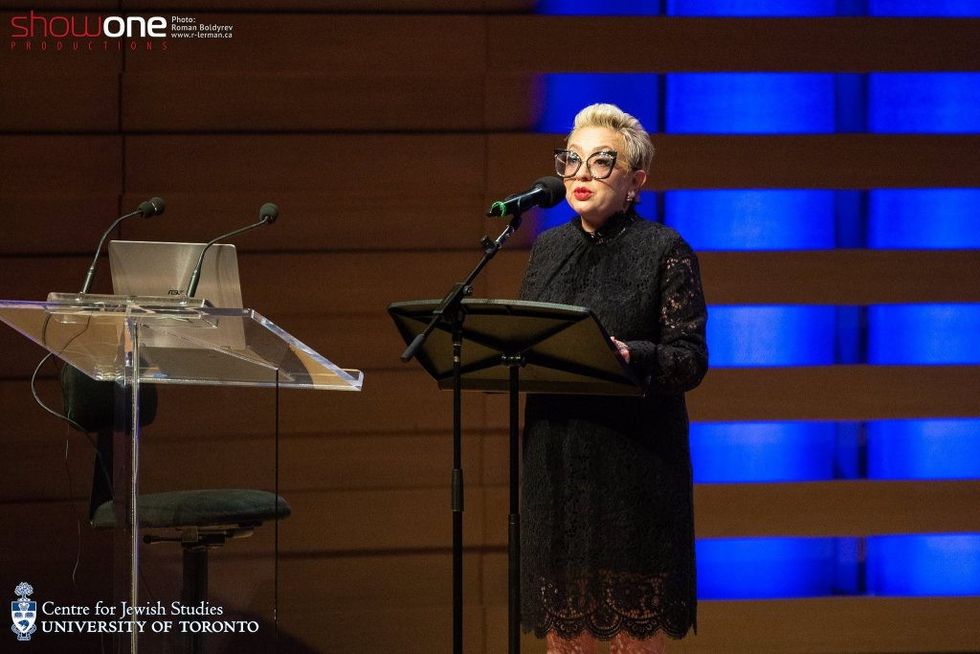 Svetlana Dvoretsky
Her job is never boring. She has stories of successes, losses, triumphs and near catastrophes.
Once, a highway accident nearly derailed an entire production.
In 2007, she organized the North American premiere of the St. Petersburg Ballet's Sleeping Beauty on Ice.
"The nearest ice compressor was on its way from Detroit, and we needed 48 hours to freeze the stage. TV cameras were on hand, the St. Lawrence Centre was full of reporters ready to film the transformation, when we got word the truck carrying the giant ice making machine had overturned on the highway."
Always thinking ahead, Dvoretsky knew that the next closest compressor was in Alberta, too far from Toronto to prepare the stage in time for opening night (and unfortunately, Elsa from Frozen is a fictional character). But she had the number handy of the nearest compressor technician: 265 kilometers away in Kingston, Ontario.
"He arrived just ahead of the accident-ridden truck from Detroit," she says.
The machine was indeed damaged, but the crew worked around the clock.
A minor miracle on ice occurred before artists danced their magic during the performance. The stage was ready just minutes before the curtain was set to rise. "We didn't even have time to check the stage lights before showtime," Dvoretsky remembers.
Now, as Dvoretsky prepares for The Dybbuk's opening night, she hopes that local audiences will feel the same way as critics in Europe and Israel who raved about the play. A play that features one of the most demanding female-leading stage roles ever written, and even includes a Jewish exorcism.
Lea's true love, Hanan, a young scholar dies unexpectedly. Her father plots an arranged married to a much wealthier man, but Lea becomes possessed by the spirit of the deceased Hanan on her wedding day. Whom will she choose? Can love conquer death?
No doubt, we will stay at the edge of our seats. Show One Productions would not let us have it any other way.
The Dybbuk hits the stage this Saturday and Sunday (Sept. 29 and 30) at the Elgin Theatre. Click here for ticket information.
Industry Profiles