"Slow and steady" appears to be the theme for the 2019 housing market, according to the latest numbers, survey, and forward-looking outlook released by the Toronto Real Estate Board.
Their January report reveals that while sales and prices increased only modestly compared to last year's levels. That the market performed as well as it did while facing a record-breaking snowfall is a testament to a strong spring market to come.
---
"It is encouraging to see the slight increase in January transactions on a year-over-year basis, even with the inclement weather experienced in the GTA region during the last week of the month," stated TREB President Garry Bhaura. "The fact that the number of transactions edged upwards is in line with TREB's forecast for higher sales in calendar 2019."
January Activity Mostly Flat
Home sales were unchanged year over year, rising just 0.6 per cent from the same month in 2018 with 4,009 sold, and up 3.4 per cent from December activity. That put mild upward pressure on the average home price, which rose 1.7 per cent in the GTA to $748,328. Sales in the City of Toronto rose to $777,614, while the average price in the 905 region — including Burlington homes for sale and Oakville homes for sale — came to an average of $732,197.
The MLS Home Price Index, which measures the overall value of the homes sold, was up a modest 2.7 per cent, mainly due to demand for condos, which led the market in terms of price growth. A total of 1,238 units exchanged hands — down 2.4 per cent year-over-year – but prices rose 7.9 per cent to an average of $548,176. Townhouses also saw decent price appreciation, rising 4.6 per cent to an average of $641,028, with sales up 2.5 per cent.
A total of 1,702 detached houses sold in the GTA, marking an increase of 3.5 per cent, but price fatigue is evident in the higher ends of the market. Prices fell 2.8 per cent in the GTA to an average of $941,488, a drop that was even more pronounced in the City of Toronto proper at -8.8 per cent, though average prices remain above the million mark at $1,174,134. Semi-detached home sales also saw declines of 5.3 per cent while the average home price rose 3.6 per cent to $742,738.
TREB expects sales activity to pick up throughout the year, forecasting a total of 83,000 sales in 2019, an increase from the 77,375 recorded in 2018, and that the average GTA home price will hit $820,000.
Supply Continues to Squeeze Market
As has been the trend throughout 2018, a shrinking supply of new listings has put pressure on buyers and partially offset market softening due to slower sales. TREB forecasts this trend will continue throughout this year, as their survey results reveal the number of respondents who wish to sell their home has dropped, while those with buyer intentions are on the uptick.
"Market conditions in January, as represented by the relationship between sales and listings, continued to support moderate year-over-year price increases, regardless of the price measure considered," stated Jason Mercer, TREB's director of market analysis. "Given housing affordability concerns in the GTA, especially as it relates to mortgage qualification standards, we have seen tighter market conditions and stronger price growth associated with higher density low rise home types and condominium apartments, which have lower average selling prices compared to single detached homes."
Check out the infographic below to see how January 2019 market activity compares to last year in the GTA and City of Toronto: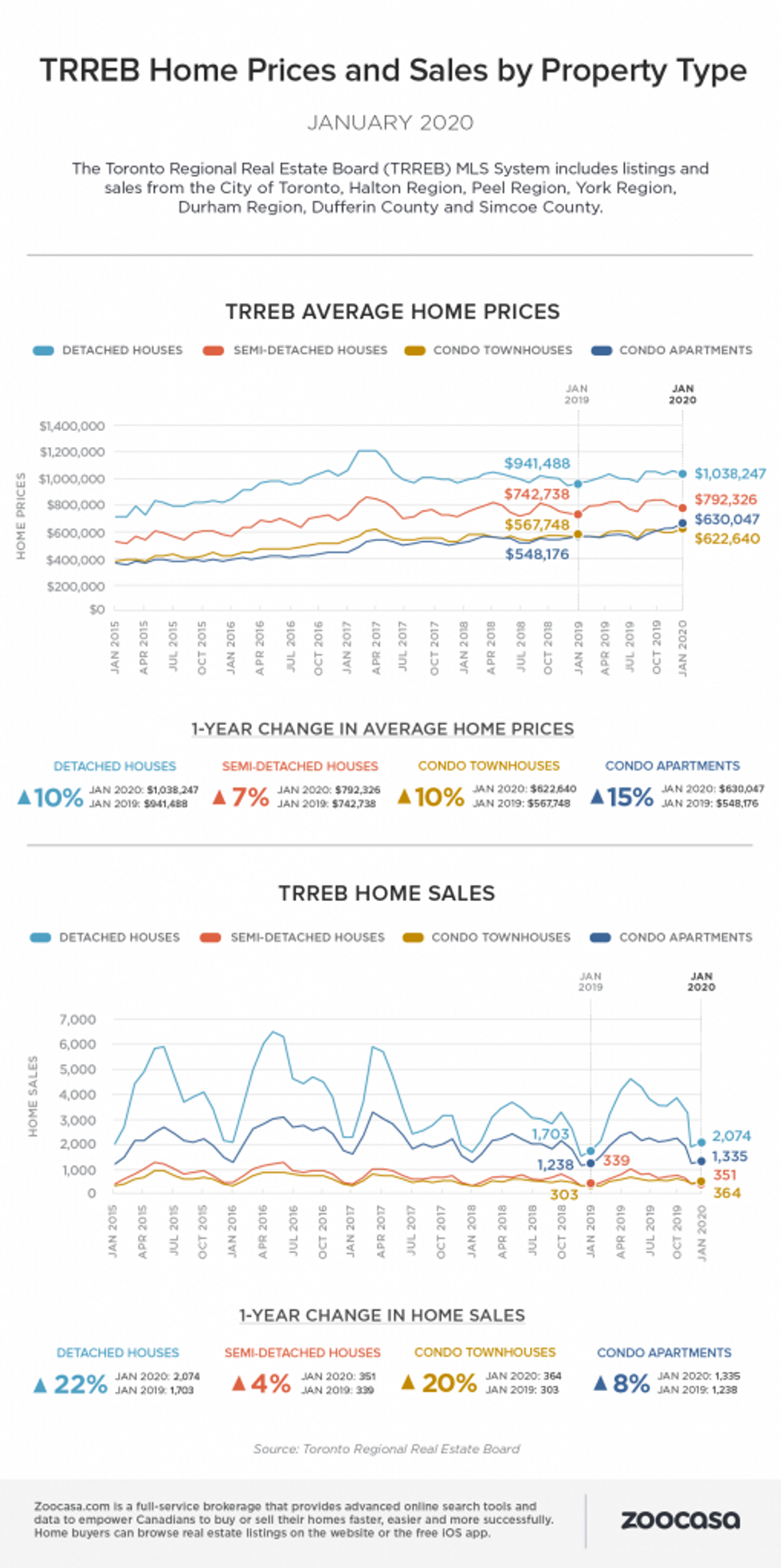 Toronto Condos & Homes