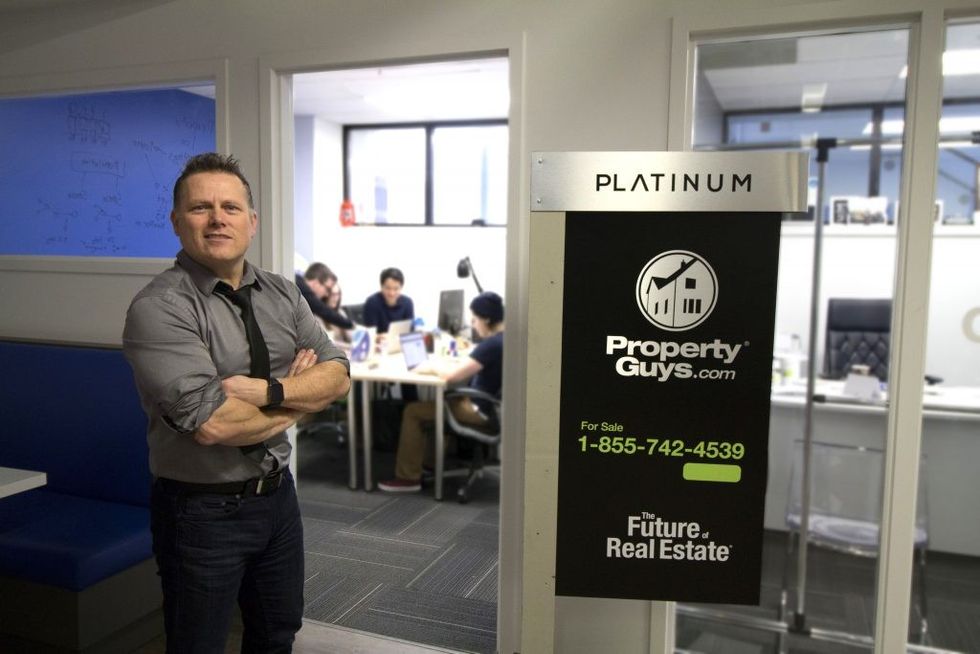 If you're a working real estate agent, Ken Leblanc may be your worst enemy.
---
He's the founder and CEO of PropertyGuys.com — a fee for service, no agent required, fully technological option for selling your home. With over 100 franchises across the country, this little company based in Moncton, New Brunswick has become a global real estate powerhouse. It has cut out the agent and put control of the entire transaction back in the hands of buyers and sellers.
Thanks to PropertyGuys.com, clients can save on the agent commission and only pay for the services they use. Whether that be support for pricing, legal services, and marketing, or simply a listing and a sign on the lawn, the seller is in the driver's seat.
But what about that personal touch and guidance an agent offers? LeBlanc says his company can be as involved as the client wants and still provide a personal touch through their local franchisees.
"Every franchisee is local to their market. Rarely does someone know that the head office is based in Atlantic Canada. And to us, it doesn't really matter. The franchisee in Toronto is from Toronto and they are part of the community, which is how we don't lose that local feel, which is so important in real estate," says LeBlanc.
Toronto is one of the company's biggest markets in Canada, so LeBlanc gave an exclusive interview to Storeys. In it, he reveals why he thinks real estate agents trade on fear, and why he thinks the classic real estate model is broken.                             
How did you initially find yourself in the real estate business?
I was a full-time business student at a local university here in Moncton and I had a bit of a tech background ... Meaning I was creating websites in 1998, back when that was a cool thing for a person to do for a local business. But I had zero experience in real estate at the time.
However, on my way to school every day, I kept seeing these private-sale orange and black signs and got curious as to why they would sell privately versus trying to use a traditional model. Once I dove into that, I found out the local, private sale market was very disorganized.
Private sellers would have a sign on the front lawn. The real creative people would try to have a little more exposure with a classified ad in the local newspaper. And outside of that, they were on their own. It was very disorganized.
Our goal early on was just to introduce technology into the private sale market to connect buyers and sellers directly, and do the old, "avoid the middleman" and the commission. This is kind of how we got started. We deeply believe that the traditional model is broken. There's a reason why people were trying to sell privately.
But, it isn't always just about the savings, which are obvious. There are other things that come into play like control and transparency. Way back 20 years ago, we aimed to fix that.
What is it about the traditional real estate profession you believe is broken?
Let's start with the commission itself. It's based, in most markets, on a certain commission percentage. Five per cent is pretty common now throughout the country. Back in the day, it was seven per cent and it was based on the sale price of your home. Whether an agent was selling a million-dollar home or a $500,000 home, for the most part, the job would be the same. The agent would show the home the same way, market the same way, spend just as much time at open houses ...
But for some reason, the million-dollar home would cost twice as much in total commission as the half-a-million-dollar home. It didn't make any sense to me. It would be like getting an oil change and paying based on the value of the car versus actually replacing the oil. Primarily, the pricing matrix was broken, which is why we went with flat-fee, pay-per-service. Here is a list of services, select and pay for what you want.
As well, traditionally agents and brokers who control the industry held all the data. Agents kept all that information. And even early on, when we started, they didn't even have Realtor.ca. A lot of markets still used "The Book." When they finally did go online, it was all very vague with bulletin board-style listings, very little data or details.
In fact, we were one of the first companies in Canada that actually started using interior photos of houses. You used to get a thumbnail of the outside of a house and that was it. If you wanted to see that house, you'd have to call the agent, book a showing and they would unlock the door and show you around the inside of the house.
We thought that was broken too. Why couldn't someone just sit from the comfort of their own home and have a viewing of the house inside and out, all the details, all the description, all the room dimensions and all those things people need to know and should know based on the information at hand. That was another thing we directed at fixing.
We were also one of the first companies in the country to do video tours. We did them poorly, but we did them. We knew we were on to something because our very first house in Moncton sold to a young couple in Newfoundland site unseen. They basically viewed it online, had their parents come over to verify the photos were accurate and made an offer without ever walking through the house. That was one of the moments when we knew we were on to something really cool — almost 20 years ago now.
What do people like about using the services of PropertyGuys.com instead of a real estate agent?
First, the system works. As well, I think the savings is obvious. But beyond that, there's a control aspect. People are super busy. They want to book showings on their time and they want to control what's being said about their house, who is seeing their house and the features and benefits of that property and that neighbourhood. The control aspect is probably number one after the pricing. This is why we've seen so much traction.
Our clients typically love technology. We believe real estate is one of the few industries that still hasn't fully embraced what technology can do to change it. Look how technology has influenced transportation with Uber, hotels with Airbnb and even how we watch television today with Netflix and on-demand streaming content.
All those things have flipped into tech and we believe real estate will be the next big place for things to happen that way. People enjoy playing with pricing widgets and booking appointments with their mobile devices, notification tools, etcetera. All of those things that weren't available to them before and are getting much more user-friendly are allowing people to more easily embrace technology as part of the real estate transaction.
The real estate shift is happening right now.
How do The Property Guys adapt to the fact-aspects of the business you pioneered … For example, video tours and interior photos are now the standard. So, how are you still innovating?
The big thing for us is always asking what's next? You're right. Mostly everyone has caught up to the standard technology tools and they will continue to catch up. But if you want to be an innovator, you have to stay six steps ahead at all times. This is what we focus on. We don't take our foot off the gas — we never have.
The big thing for us right now is focusing on those higher tech tools. Everyone has a Facebook page and everyone uses testimonials and video, but what is the next big thing? How can we be the leader in that thought process? That's what we focus on. Our plan heavily relies on technology, empowering people, taking out the fear of selling on your own, or selling period with technology. And that's what we're doing right now.
Can you give me an example of those higher tech tools?
Well, one of the things we're working on now is a very robust pricing matrix that will allow homeowners to play the "pricing my house game" with their property. You'll be able to punch in your address and our price bot will determine a pricing matrix in real time.
We use neural-networks that will get smarter and smarter based on a number of real-time events. You'll have the ability to go to our platform, making an offer and knowing the likelihood of that offer being accepted, based on the number you put in and the current market conditions.
Probably the biggest argument against the Property Guys model is that real estate is a people-business and people don't want to have to do all this themselves — they need the guidance of realtor. What do you say to that?
That's the story many agents are going to tell for as long as there are agents to tell it. We've seen our competitors rely so heavily on the fear factor: The fear of missing out on more money. The fear of getting screwed in a real estate transaction thanks to a legal pitfall.
If you watch any national ad attacking private sale today, they're all based on fear: Buying a house next to a biker gang ... Or that the SWAT team will come and raid your house ... That's what they want the end user to believe. But we believe that as the next generation of home buyers and sellers — and our aging population — get more and more comfortable with embracing technology and systems like PropertyGuys.com, the "fear factor" will be dispelled.
Do we think technology will ever eliminate face-to-face interaction in this business? Not at all. Not for one second. We believe real estate will always have face-to-face interaction at some level. Do we believe that level needs to be at a cost of the tens of thousands of dollars to happen? No. However, we do believe real estate is way too emotional not to have someone sit across the table from somebody and say, "Don't worry, it's going to be okay. I got your back. Here's how the system works and this is what will happen next."
That's why we're a franchise network. We have local franchisees that do that every single day and we believe in that model coast-to-coast. Because no matter how far we advance technology, at the end of the day the game is won or lost in what we call that three-foot arena. When you're right across that kitchen table and you've got to look that person in the eye and say, "It's going to be okay and here's what will happen next."
As a global company, where Toronto is one of your flagship markets, what are your impressions of real estate in the city? 
I'd be remiss not to say that we watch Toronto very, very closely. It is the most important market in Canada for us. From what I've seen from our franchisees, in 2017 the market started off with a big bang, with a lot happening. Actually, we just sold a master franchise in Australia. And especially in Sydney and Melbourne, they were big on auctions.
There was a point in 2017 where we considered offering an auction service just in Toronto because the market was so hot. And there were so many bidders on properties that we wanted to take the pressure off our sellers who are asking, "What do I do? There are 40 offers on this property in 24 hours." It was something we'd never seen before, but as quickly as that came on, it started dying down.
The second half of 2017 cooled right down in regards to that many offers, so we never went forward with that auction service. But, Toronto is still one of the hottest markets in the country. We still see pockets of it now are extremely hot: east of the Don River, south of Danforth and the Lakeshore are all very big markets. The condo market still remains really, really strong.
I suspect when you get over 100,000 people moving into your centre every year, that market will remain strong for a long time. Honestly, Toronto is one of the best cities in Canada to live in and is definitely becoming a world-class city. They have a growing population in the GTA, intelligent infrastructure, a solid financial core, and diverse demographics — all the makings of a super city.
Industry Profiles