Condo suites with dens can command a higher price-point than those without... But if you've been keeping up with how to do your den right, you already knew that.
---
This is according to Baker Real Estate Incorporated's Baker Insights Group (B.I.G.), and -- despite the last year (plus) intensifying the truth of it -- such has actually been the case for several years now.
"The biggest difference between the unit mix in 2020 versus 2018 and 2019 is the share of suites with one bedroom plus den, which rose from 10% in 2018 and 13% in 2019 to 23% last year," reads the insight group's recent market report.
What's more, dens are shown to add value to a condo, even when they don't actually provide extra floor space.
"Baker recognized that buyers were willing to pay more for a unit with a den, even if the square footage was the same," says Baker CEO Barbara Lawlor.
If you're living (or investing) in a condo, it's high-time to ensure you're making the most out of those extra walls. And though they may be small, there's ample opportunity for a den to make a major impact on your lifestyle.
"Buyers envision using [their den] for a second tenant or roommate, a place for friends and family to stay, as a nursery, and as we all know, a room to have a home office," B.I.G. reports.
Or, we might add, a walk-in closet.
As fall embraces the city, and the chill of winter draws ever-nearer, having some extra storage space for those bulkier items (and rows of boots) has never sounded more inviting. Read on to learn some simple ways your home's extra four walls can be transformed into your dream walk-in closet...
FIRST THINGS FIRST: ORGANIZE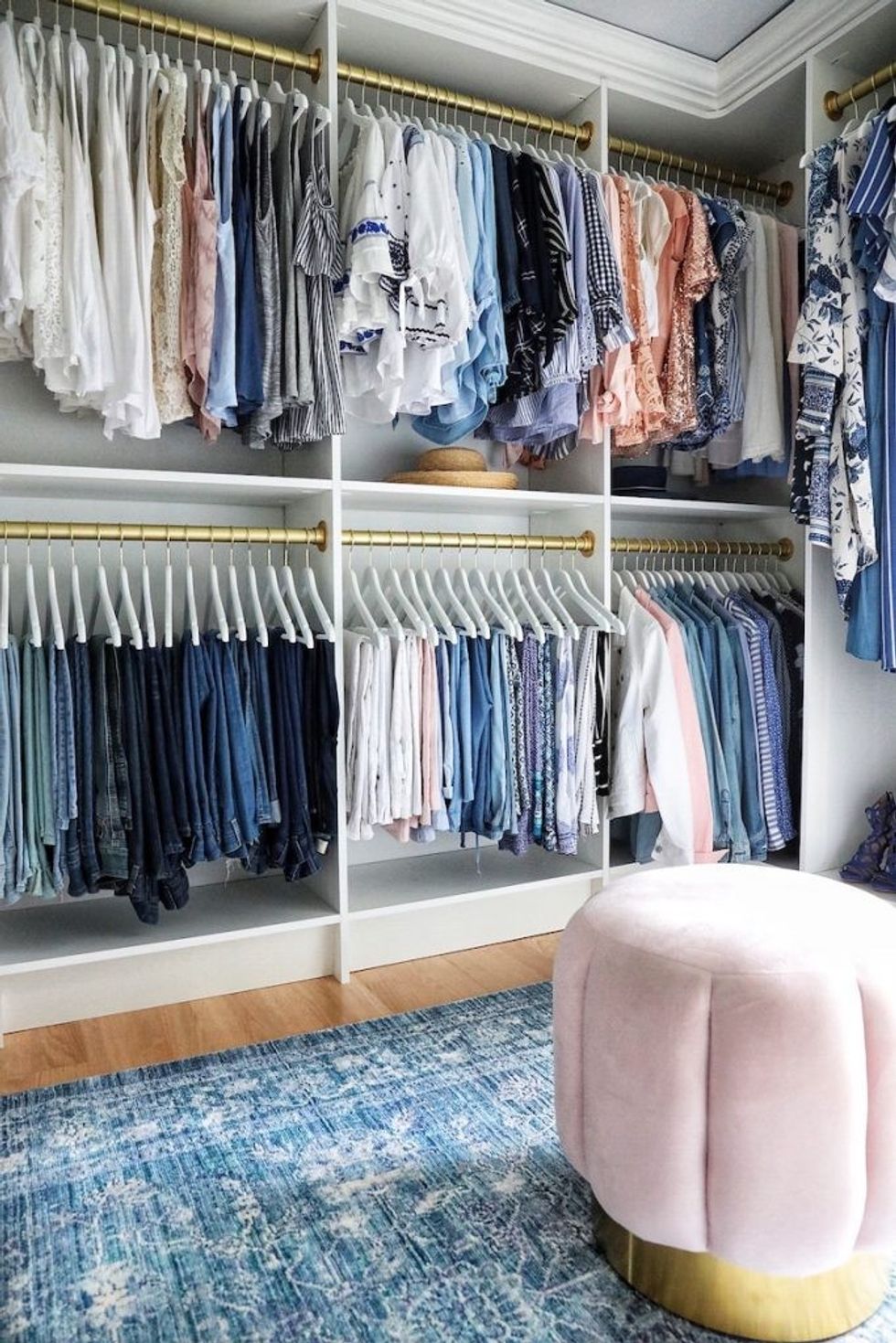 Simply Beautiful Eating
The most foundational aspect of transforming your den into a dream walk-in closet is choosing the right organization system. Perhaps your clothing is mostly made of delicate fibres; because they wrinkle easily, you want a closet-style wall unit that provides plenty of hanging room. Maybe chunky wool sweaters are your go-to look, which means you'll need tall shelves with ample space for folded coziness. Depending on how many pairs of shoes you own, they may require an entire wall of shelving to themselves. Take stock of your inventory, and ensure the layout of your organization system is realistic for your needs.
Tip: If you're renting your condo, and you'd rather not place permanent shelving throughout the den, consider arranging a series of standing shelves and clothing racks around the room's perimeter.
LEVEL UP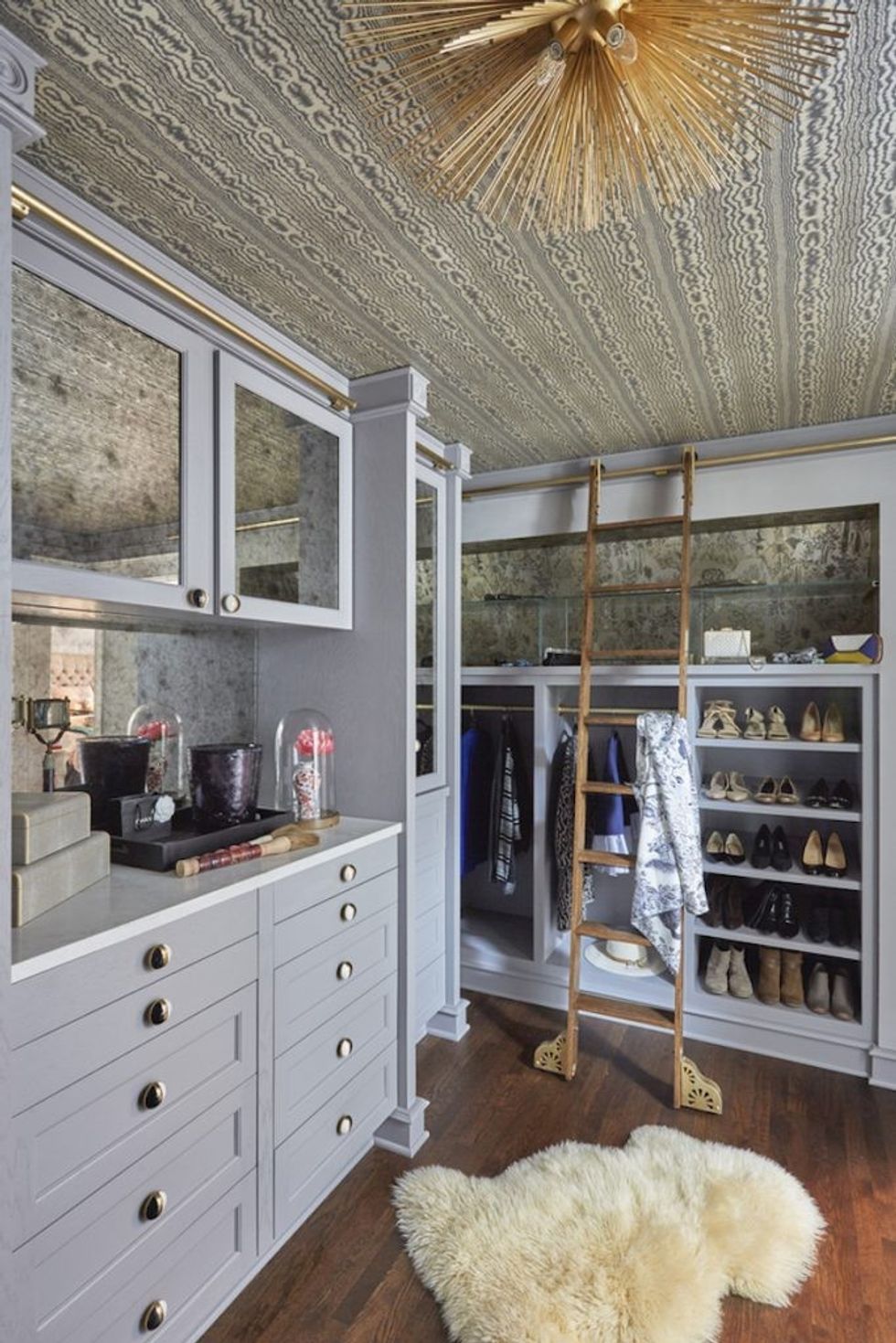 Jasmin Reese Interiors
A den doesn't tend to provide a lot of square footage, so you'll be smart to make the most of its ceiling height. Installing a ladder, library-style, will allow you to easily glide from top-shelf shoes over to high-up wallets and purses in one fell swoop. (Do watch your balance, though.) The ladder system can operate along one wall or, if you install a curved bar at its top, it can run along the entire perimeter of your room.
Tip: When your ladder isn't in use, it can serve as additional storage space. Imagine: Turkish towels and blanket scarves draped over the rungs, waiting for beach outings or chilly mornings.
THE DRESSING SPACE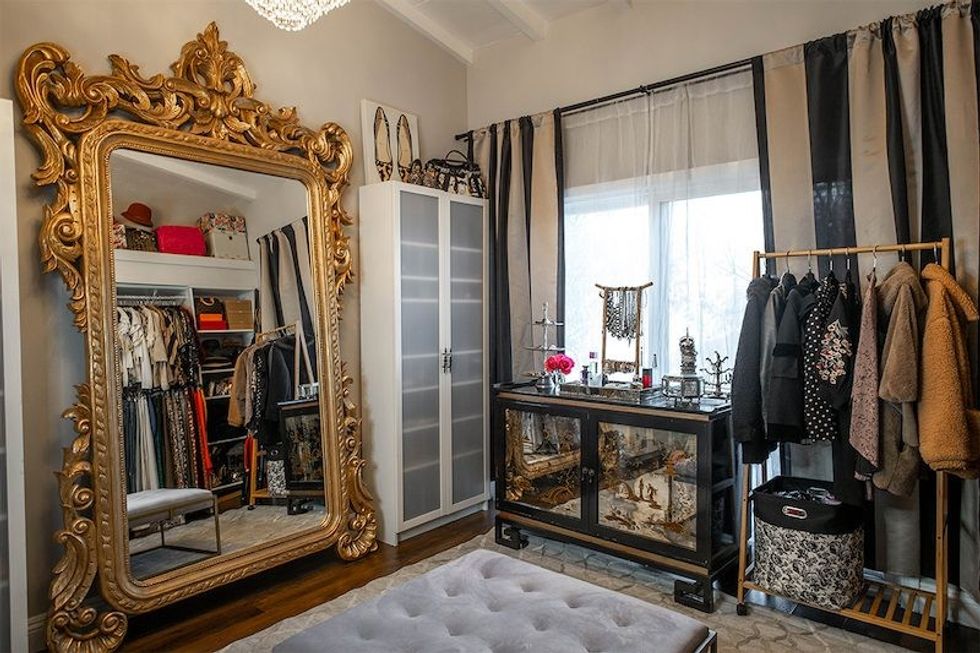 Haute Khuuture Blog
While some walk-in closets come complete with an entire "dressing room" inside them, a den may not offer quite so much room. But, that doesn't mean you can't channelChanel a similar feeling. Dedicating a corner of your walk-in closet as a "dressing space" will make the area feel ultra lush. A beautiful mirror, an ottoman, an accessory desk, and light from a window or full-spectrum bulb will help you experience that dressing room feel in your walk-in.
Tip: If you're keen to bring an ottoman into the "dressing" section of your space, consider optimizing its storage capabilities. A removable "lid" cushion makes way for hiding scarves, slippers, or winter hats and gloves.
---
This article was produced in partnership with STOREYS Custom Studio.
Condos