According to Baker Real Estate Incorporated's Baker Insights Group (B.I.G.), condo suites with dens can command a higher price-point.
---
Such has been the case for several years, and remains true even when a suite is the same size as its den-less counterpart.
While reportedly already a consistent trend, this truth has only intensified through 2020... for reasons we really don't even need to explain any longer. You know what's been (locked) up.
"The biggest difference between the unit mix in 2020 versus 2018 and 2019 is the share of suites with one bedroom plus den, which rose from 10% in 2018 and 13% in 2019 to 23% last year," reads the insight group's recent market report.
With regards to this data, Baker CEO Barbara Lawlor explains, "Baker recognized that buyers were willing to pay more for a unit with a den, even if the square footage was the same."
As anyone living in (or investing in) a condo can now confirm their abode's value is increased by extra division of floorspace, these folks should ensure they're making the most of such a hot commodity. And honestly, it's no major ask: Even when small, there's ample opportunity for a den to make a major impact on your lifestyle.
"Buyers envision using [their den] for a second tenant or roommate, a place for friends and family to stay, as a nursery, and as we all know, a room to have a home office," B.I.G. reports.
Or, we might add, a workout room.
Today, we're going to focus on the latter of those options, by highlighting optimal ways your den can be transformed into an at-home workout space. This has to be the real meaning of sweat equity, right?
Get Organized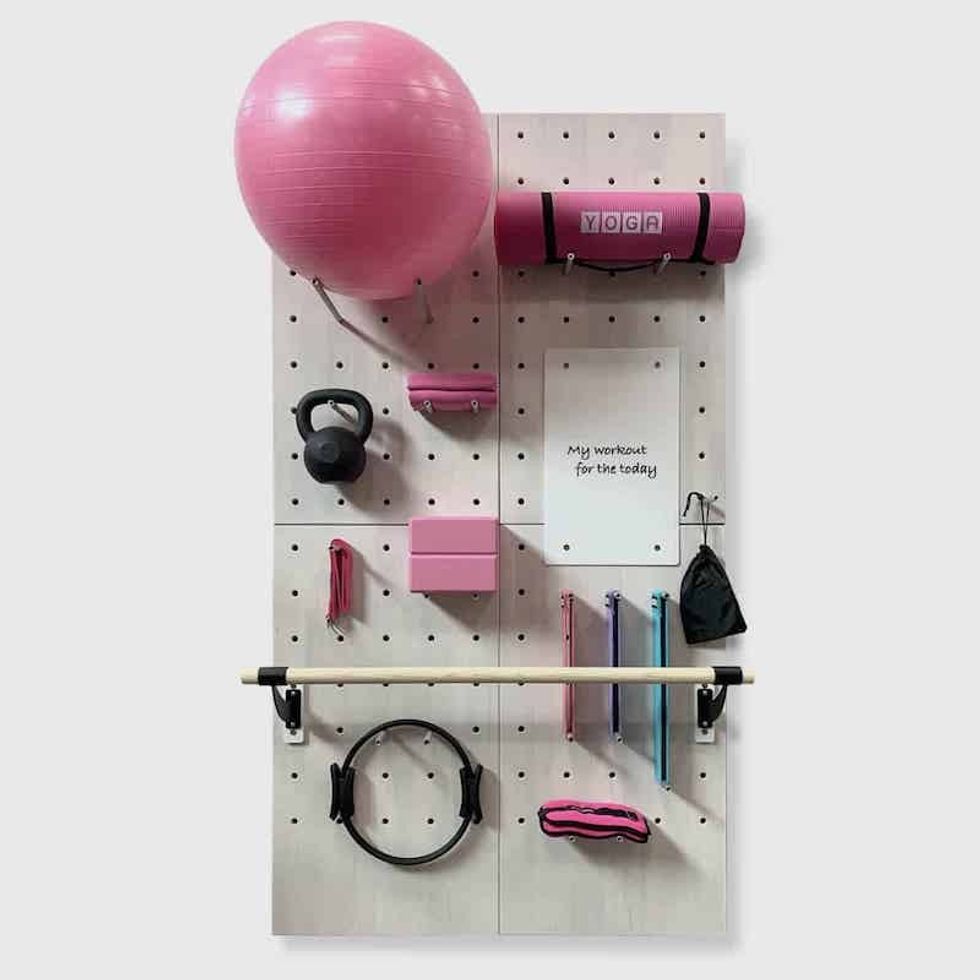 Adaptive Design Concepts
When you're prepping your den -- which likely isn't a massive space -- to be used as a home gym, you want to ensure your floor space is as clear as can be. The more room you'll have to get your sweat on, after all!
Wall-mounted organization systems, such as a heavy-duty peg board (pictured) or shelving units, will preserve as much square-footage as possible for your pilates or strength-training routine. What's more, organizational systems like these mean all your gear is at-the-ready, read: You won't have to spend precious workout time digging through storage containers for your weights.
Tip: Store heavier items closer to the bottom of your organization system, and lighter gear at the top. If there's ever an issue with items staying on the wall -- you know, like in the case an earthquake or something like that -- weightier items will have a shorter distance to fall.
Sharing is Caring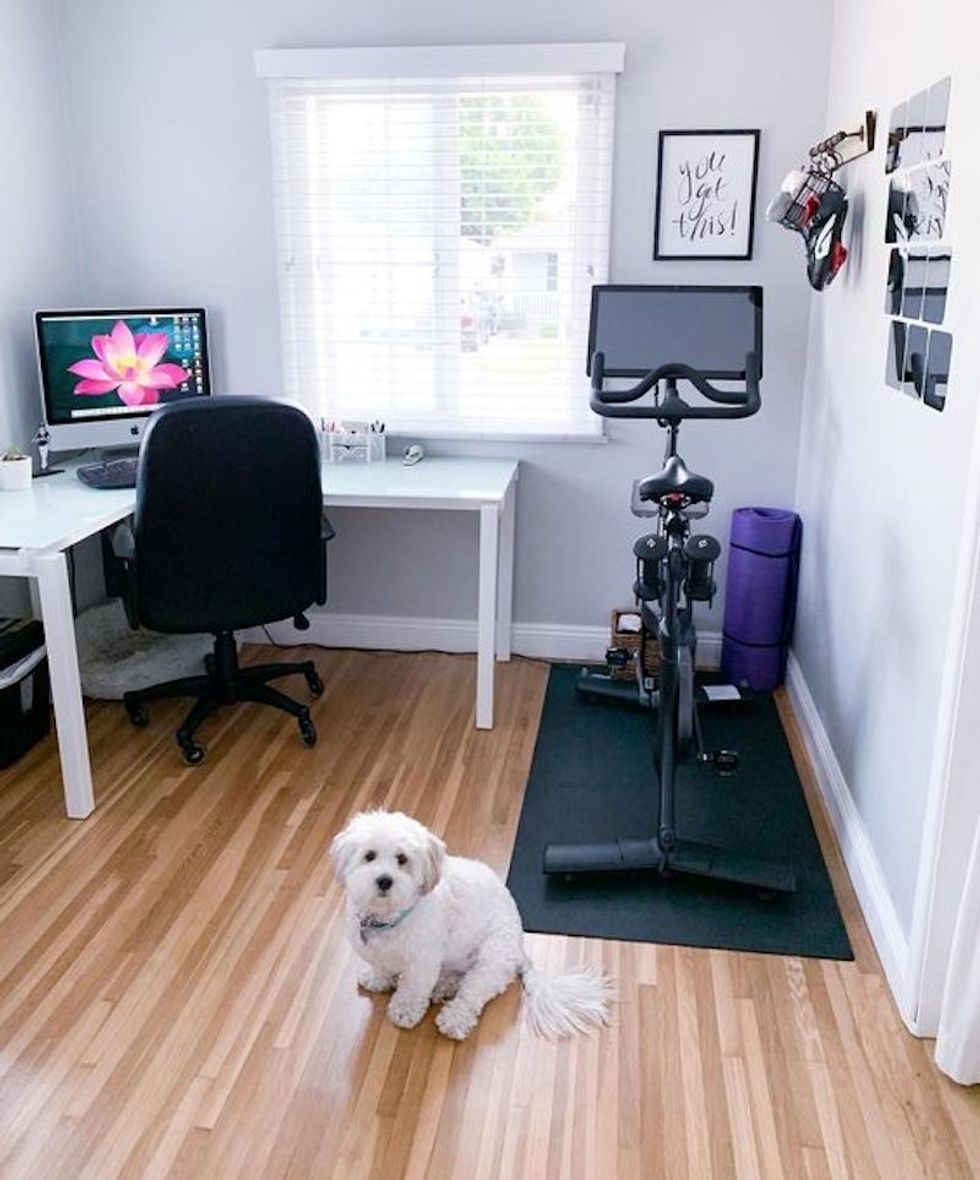 blog.onepelaton.com
The last time we discussed how to optimize den spaces, we walked you through best practices for turning the rooms into home offices. Whether you recently started that transformative project, or you already have a work-from-home setup you can't bear to lose, don't fret. There are still ways to make the space workout-ready, too.
Stationary exercise equipment doesn't ask a lot of square-footage of your den, and can easily be set up beside or behind your work desk. The same can be said for a pilates mat and set of weights (... just make sure you hold the dumbbells tight while working out, lest you send one flying into your monitor screen!).
Tip: Setting up your den this way makes a midday sweat sesh a no-brainer. To really get out of the work mindset, throw some Netflix onto your computer monitor and enjoy a quick episode of Parks and Rec while you cycle the lunch-break away.
Keep it Simple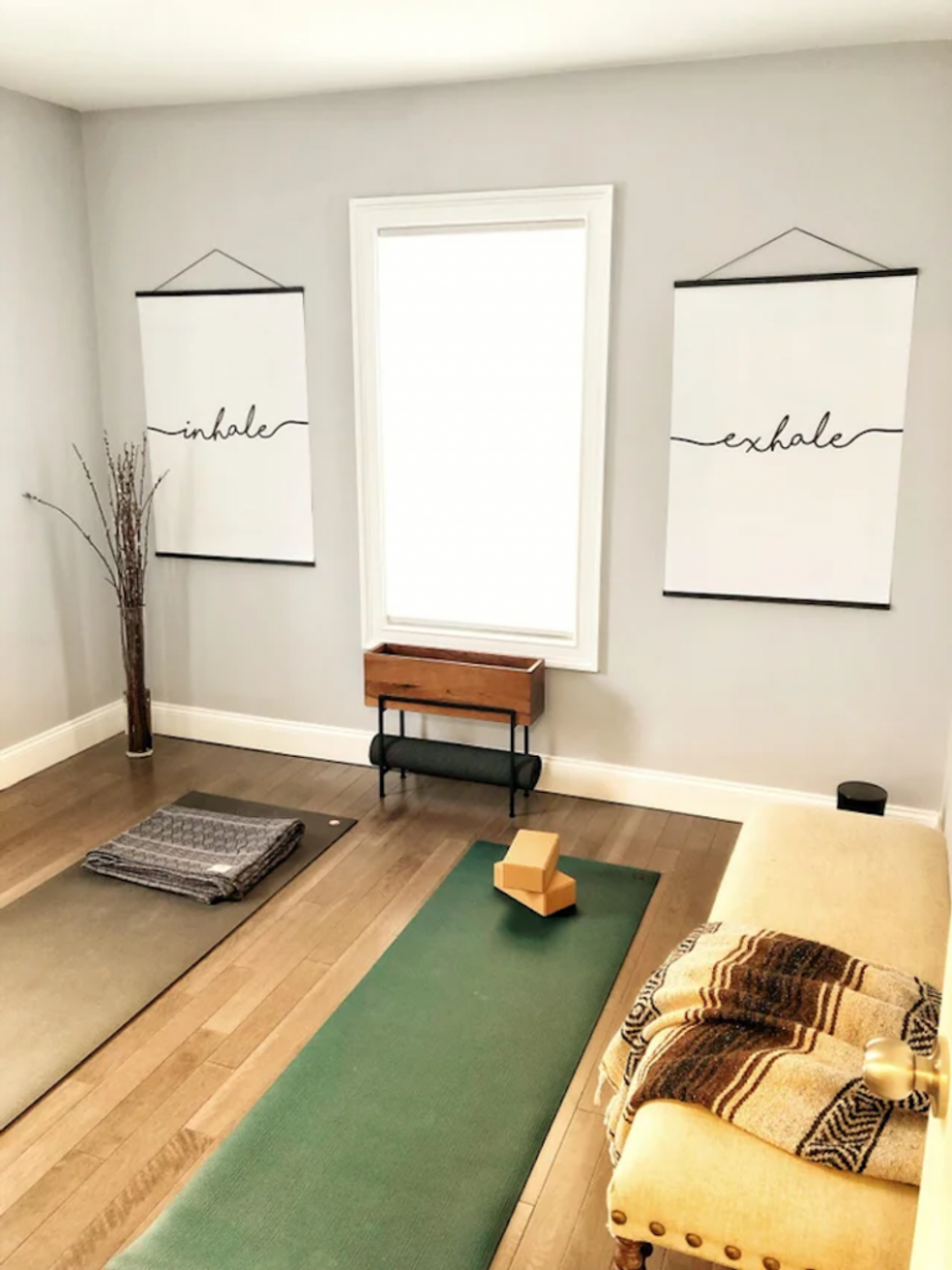 reddit.com
If you prefer working out for the mindfulness-factor it brings with it and, as such, you don't have a bunch of equipment to store, keeping your space simple is a solid bet. A couple yoga mats, blocks, straps, and blankets will serve their purpose while you get your stretch on, and can just as efficiently be tucked into a corner between uses. (A corner that, we imagine, may also house a fiddle leaf fig or monstera.)
Aside from these necessities (which include the giant plant), a room dedicated to yoga will feel that much more authentic to a studio when it's taken up by minimal decor. So, keep it simple and find your bliss.
Tip: If you prefer a hot yoga session, bringing a space heater into your den can help add a little extra oomph to a Hatha class via Yoga with Adriene.
---
This article was produced in partnership with STOREYS Custom Studio.
Style + Décor