Condos
Dens Done Right: An Art Studio for Your Cold-Weather Hobby
Condo suites with dens can command a higher price-point than those without… But if you've been keeping up with how to do your den right, you already knew that.
This is according to Baker Real Estate Incorporated's Baker Insights Group (B.I.G.), and — despite the last year intensifying the truth of it — such has actually been the case for several years now.
"The biggest difference between the unit mix in 2020 versus 2018 and 2019 is the share of suites with one bedroom plus den, which rose from 10% in 2018 and 13% in 2019 to 23% last year," reads the insight group's recent market report.
What's more, dens are shown to add value to a condo, even when they don't actually provide extra floor space.
"Baker recognized that buyers were willing to pay more for a unit with a den, even if the square footage was the same," says Baker CEO Barbara Lawlor.
If you're living (or investing) in a condo, it's high-time to ensure you're making the most out of those extra walls. And though they may be small, there's ample opportunity for a den to make a major impact on your lifestyle.
"Buyers envision using [their den] for a second tenant or roommate, a place for friends and family to stay, as a nursery, and as we all know, a room to have a home office," B.I.G. reports.
Or, we might add, an art studio.
When September arrived, the weather immediately hit different. And if you've been waking up to these recent brisk mornings wondering how you're going to occupy yourself through the coming cold months, let today's den discussion inspire you to take up an artistic hobby.
Read on to learn some simple ways that your home's extra four walls can be transformed into a little art studio, whatever your preferred medium may be…
NATURAL LIGHT… IF YOU CAN GET IT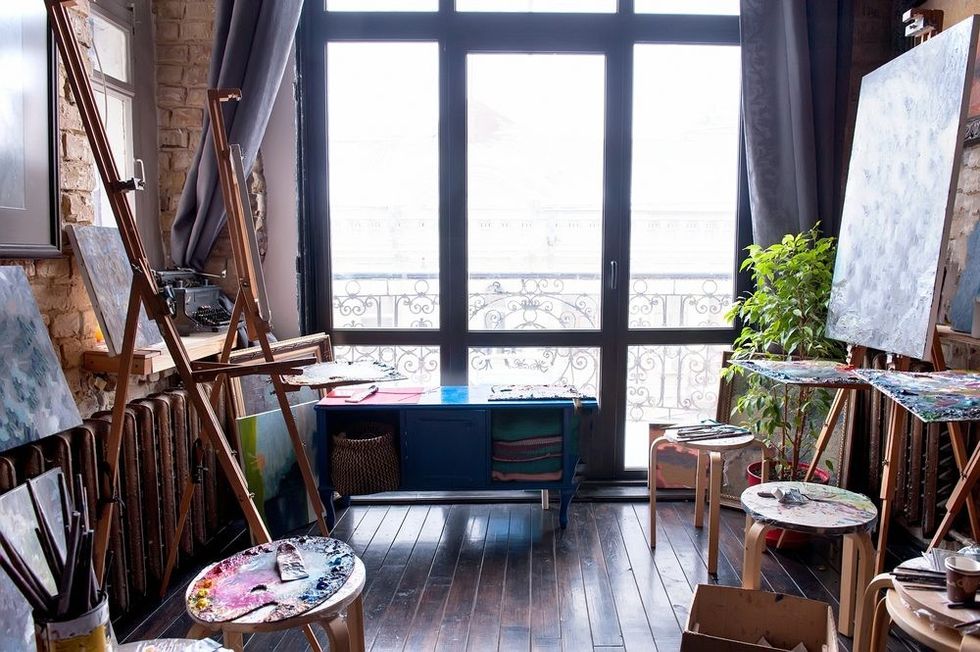 What your art studio lacks in square footage, it should (ideally) make up for in strong, natural light. Reason-being, whether you're working with oils, watercolours, pastels, or pens, being able to see your full spectrum of colours in all their glory is pivotal to the integrity of your art piece. How disappointed would you be if, in a dimly-lit space, you worked all afternoon on a painting… only to later discover that your trees were more Sacramento than Forest? Indeed, if your condo's den is complete with a big, view-boasting window, you're smart to set up an easel beside it.
Tip: Not all dens have windows, but that doesn't mean you can't benefit from natural-like light. Strategically-placed lamps fitted with full-spectrum bulbs, which are meant to mimic midday light, will help you see your artwork clearly.
HAVE LOFTY ORGANIZATION GOALS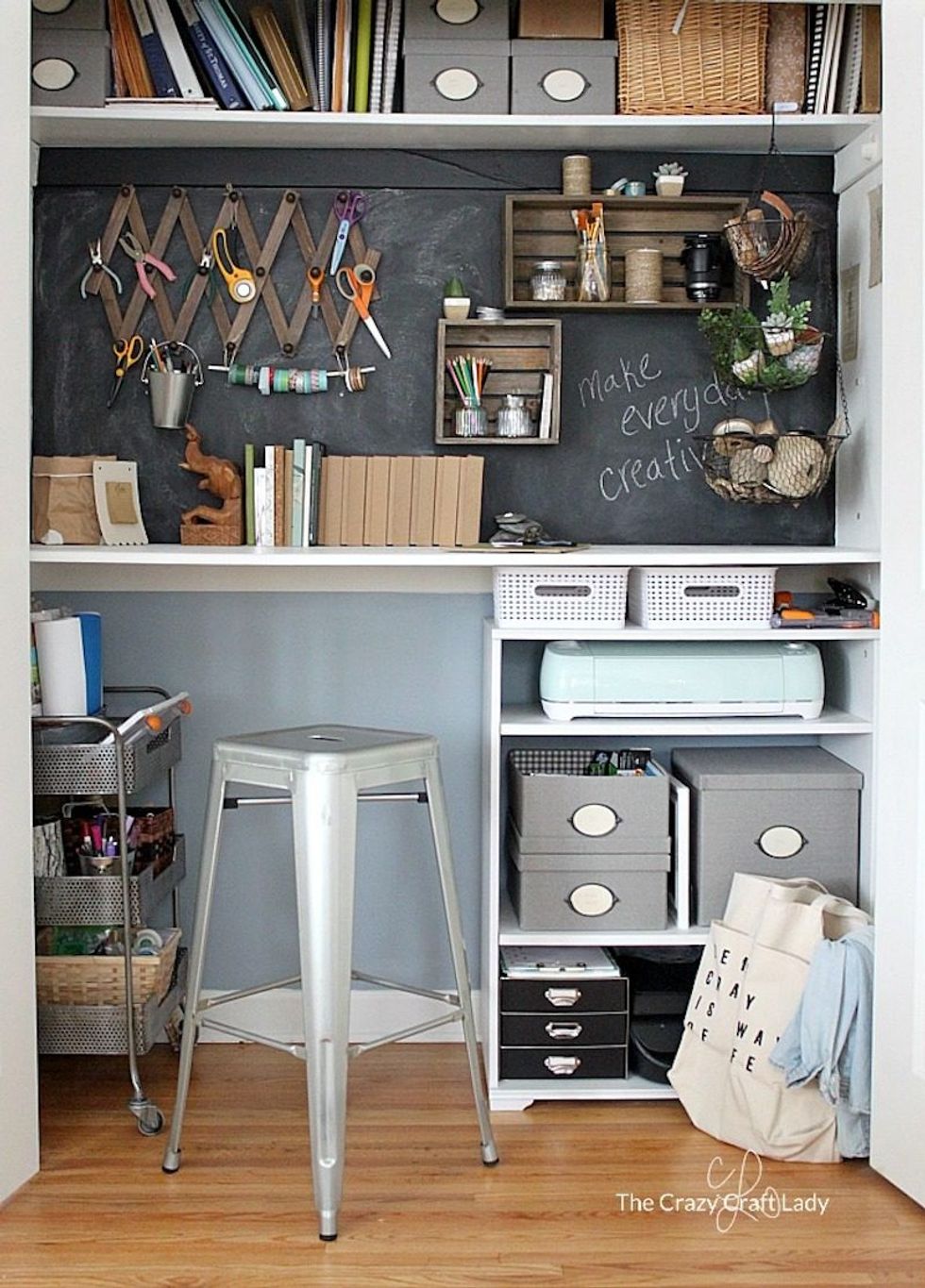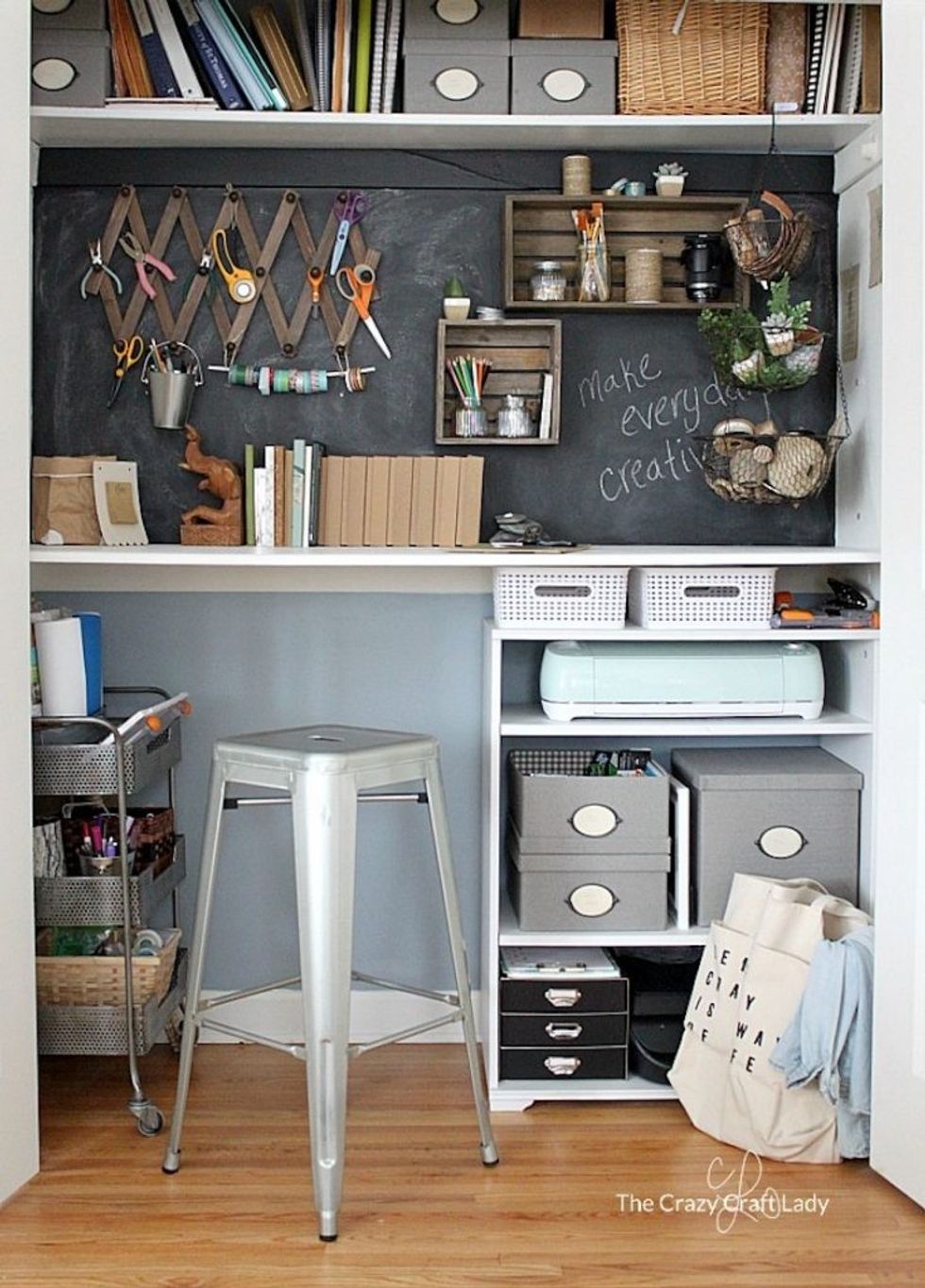 Dens can be tight spaces. While these "extra" rooms are typically larger than the space shown here, sometimes, it's not by much. If you're looking to set up art-shop in a small area, don't despair — get creative. (Isn't that really the point, anyway?) Taking inspiration from the shelf in the closet above, consider the addition of a deep shelf or shallow "loft" in your den. Making the most of overhead storage means increased opportunities for organizing tools and supplies, without taking up precious floor or wall space.
Tip: The deeper your floating shelf or makeshift loft, the harder it will be to reach items at the back of it. To save your tippy-toes the trouble, keep a foldable step-stool nearby for easy access to those furthest back corners.
DOUBLE USE? LESS TROUBLE!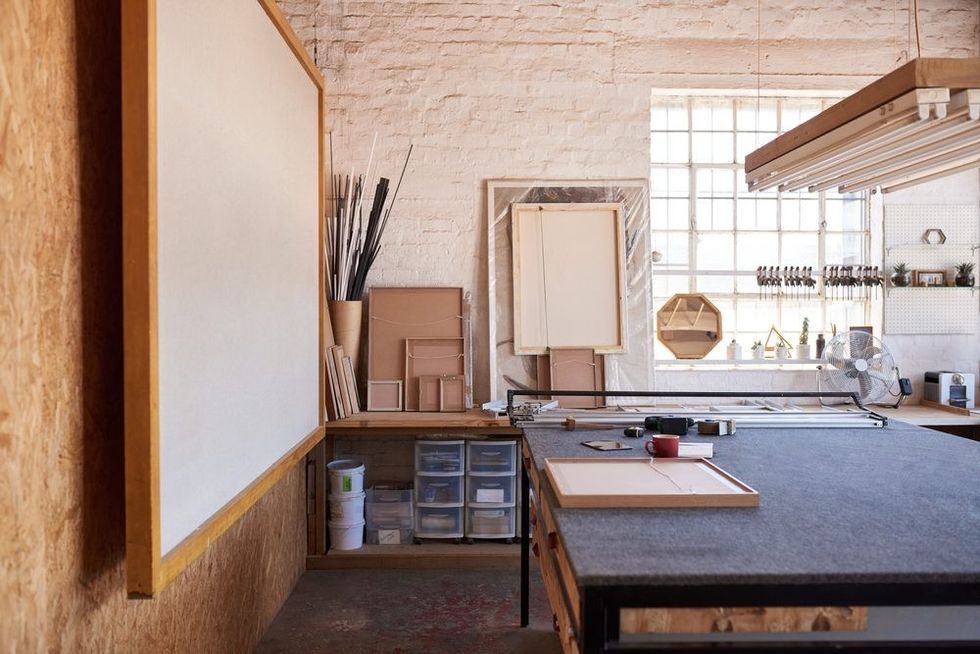 Continuing on the theme of optimizing tiny spaces: never underestimate the power of one item doing double its duty. Instead of your sketch-table serving as merely a sketch-table, fitting a series of slots below means it can also serve as canvas or sketchbook organization. The same idea goes for the loft mentioned above; yes, the top of the unit offers storage for boxes of supplies… but perhaps the bottom of the loft is fitted with screw-in hooks from which paint brushes, rulers, tape, and other goodies hang, ready when you need them.
Tip: Make a game of thinking double-duty. As you craft your den-turned-art-studio, for each item you plan to bring into the space, ask yourself: How can this do two jobs? You'll be surprised by how much you can make happen in a small space.
---
This article was produced in partnership with STOREYS Custom Studio.