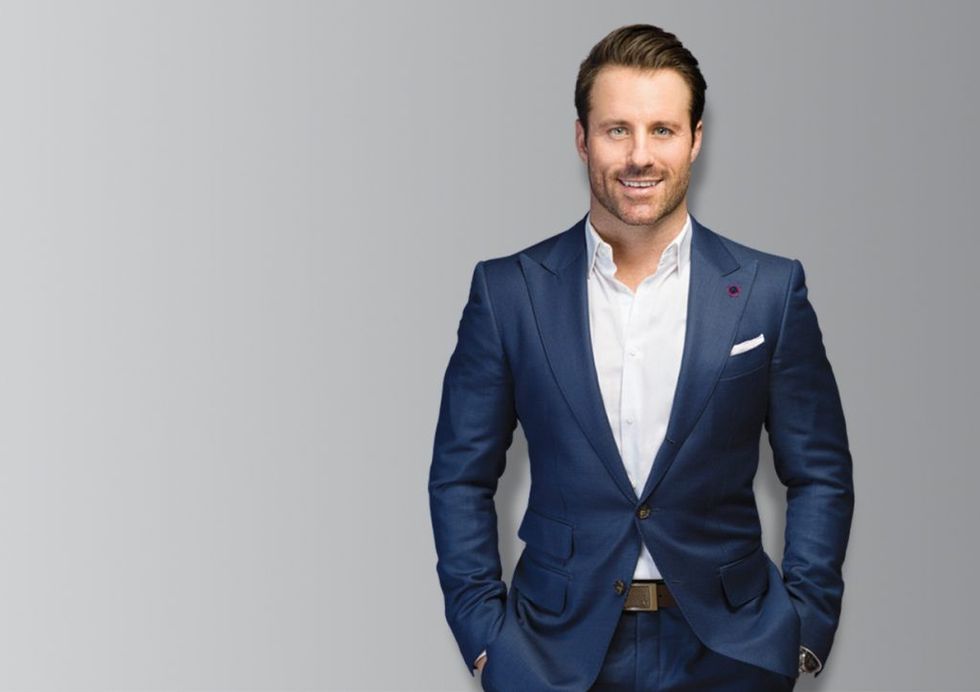 Christian Matthews wants to ensure truth in real estate. It's even in the name of his brokerage, Verity Real Estate Ltd.
---
"Verity" stems from the Latin word for truth and is a building block of the way his business operates — pledging to show clients the unvarnished facts and information they need to make the most informed decision about the biggest purchase of their lives.
So we asked the real estate professional for more insight on how his tenets of business allow his brokerage to stand alone. We also got the scoop on the innovative way the Verity team gives back to the community, as well as an inside look at his marketing strategy that is bracing for a shift.
How did you get started in real estate?
I was working in commercial printing and I hated every minute of it. Basically, it was a job. It wasn't a career.
I always loved real estate, so I decided to do the licensing courses part-time while I was working full-time. Once I had those courses done, I made the leap full-time to real estate and I haven't looked back.
What do you love most about real estate now?
It really is when you do a transaction for a client and you feel like you've exceeded their expectations and you can just see how excited they are, whether it's the purchase or the sale of their home.
When I leave them, I still — the odd time — get goosebumps. It reaffirms that I love my job. It's kind of corny, but the fact that I can still make my clients extremely happy with what's happening and the service I provided, that's what keeps me going every day.
What was your goal in co-founding Verity Real Estate Ltd.?
My partner, Brandon Ware, had a small team, I was doing real estate by myself, we both worked for the same real estate company, and we'd always talked about trying to come together as a team of some sort.
After about a year, we decided to make the leap and start a company together. We left PSR and joined Sage Real Estate where we incorporated our team. We're basically a brokerage inside another brokerage. Sage has a few offices downtown, so we work with their office staff and their marketing team to support our team.
Verity started because we wanted a brokerage that made a difference.
Verity is a derivative of Veritas, which is a Latin word meaning integrity, transparency and truth. These are our core principles at Verity.
We give information to our clients and the data they need without sugarcoating anything. Whether they like it or not, we're giving them the hardcore facts so they have the information they need to make a well-informed decision, whether they are buying, selling or investing.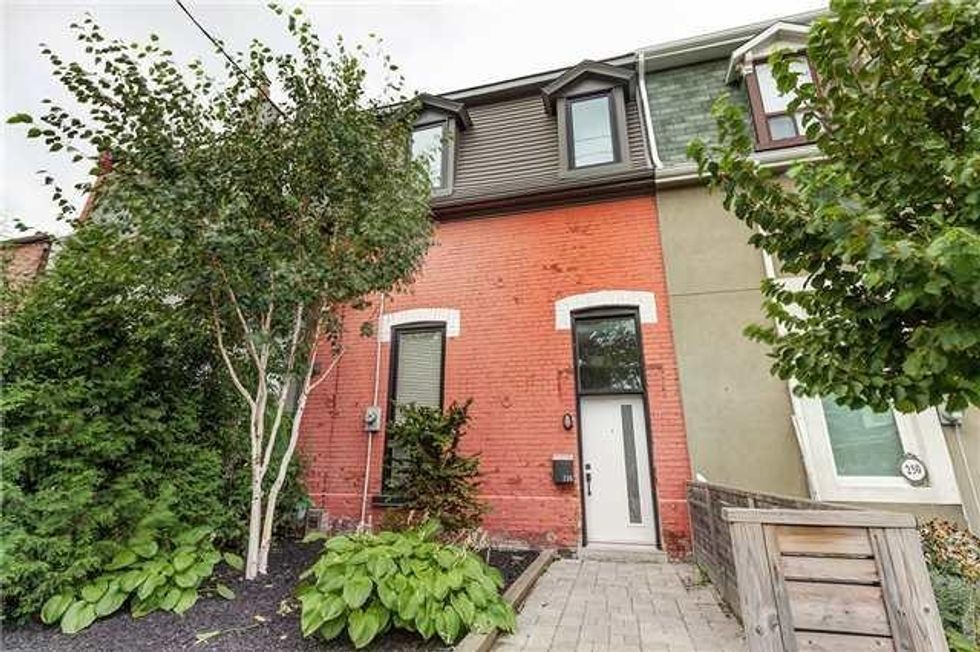 Besides that, we built our brokerage based on giving back to the community — doing a lot of community service for WoodGreen Community Services and a charity event that I do twice a year for SickKids Hospital called, Scoops for SickKids, where we donate to SickKids once in June and once in August through ice cream shops that I've affiliated myself with.
The other tenet of our brokerage is being kind to people and only employing good people. All our team members are great people along with great realtors. They deal well with their clients. 
Tell me more about Scoops for SickKids. How does it work?
I started the charity about five years ago.
I push myself every day, whether it's my advertising, my marketing, my print mail, and my billboards ... I'm always pushing myself and I wanted to give back to my community.
I have two kids and I've never had to use SickKids, but I know a lot of people who have had to use SickKids. I think it's a worthwhile charity and I know that kids love ice cream. Heck, I love ice cream — it's one of my weakness in life. If I had one food to choose in life to eat, it would be ice cream — that's it.
I focused on two areas where I usually do my marketing — one is East York and one is Leslieville.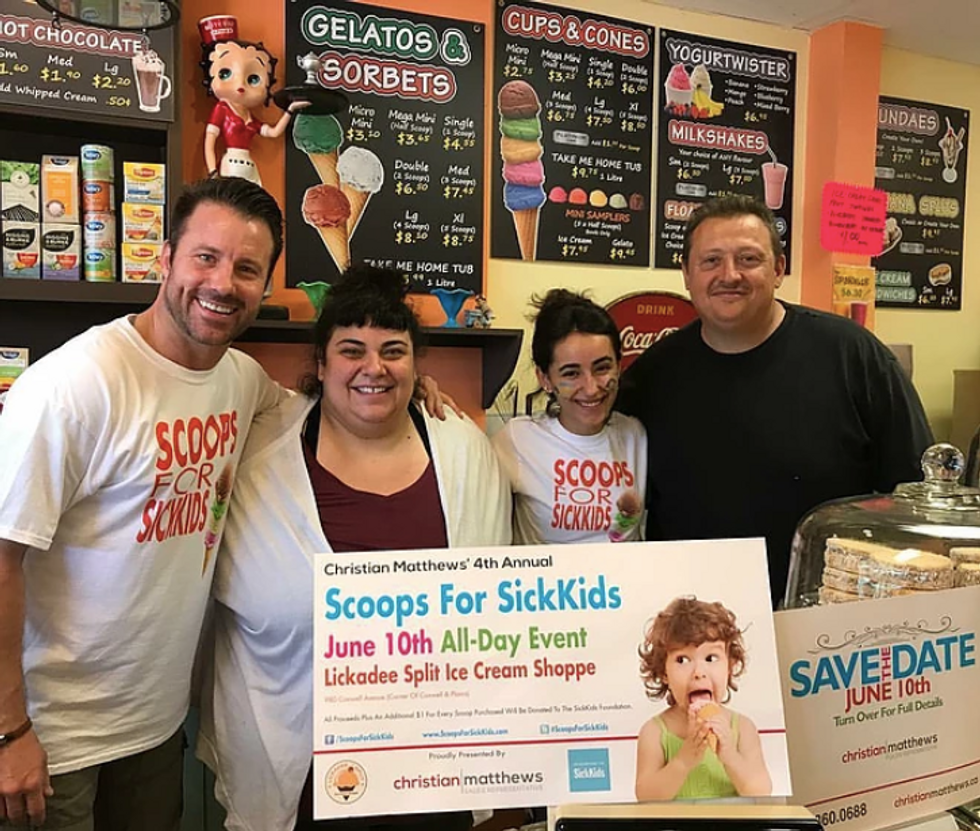 Matthews at the 4th annual Scoops for SickKids.
I approached Lickadee Split Ice Cream Shoppe on Coxwell Ave. I told them what I was thinking, which was for every scoop purchased, I give a dollar and they would give a dollar for SickKids. I told SickKids about it. I told them who I had partnered with and I told them I would do all the marketing with all the funds going to SickKids. They were on board, so they supplied some materials for the event, while we did all the rest of the marketing. Each year, Lickadee Split donates all of their sales and the staff's wages for the event.
Now, I live in Leslieville and I do work in Leslieville. So I approached Ed's Real Scoop there. They were on board as well and put the campaign in all four of their locations: Roncesvalles, Leslieville, The Beaches and Mimico.
I've been doing that for five years and we're up to about $40,000 that I've raised. I'm pretty proud of it and it gets bigger every year.
I notice your marketing features both traditional marketing and Internet marketing. For you, where does the balance lie between those two methods?
Great question because Verity just hired a company to help us with our digital efforts.
I've tried different things on the digital side such as geotags and tag marketing. The majority of my clients come through referral, but I always like to get new business. So in the past, printing and billboards, along with Just Listed postcards, and other target marketing have always worked in some ways.
Digital marketing is newer for me.
Obviously, we do Facebook paid ads and Instagram paid ads for all our listings for our clients, as well as the print, so we can attack it from every angle.
As far as what's doing better, I don't have all the information yet because we haven't done a deep dive on our ROI and where it's all coming from.
As a brokerage, we're going to go further away from the print side and go more on the digital side, since trends are indicating that digital marketing could be more effective.
But you're concentrating more on digital for a reason?
The reason is because going forward, most of the stuff people will get for advertising will be on their phones, on their laptops, and on their iPads. But I will say, it depends on the area and demographic.
I work in East York which has more families, seniors and an older demographic, as opposed to Leslieville, which is a younger demographic that's could be more tech-savvy. I would say print ads and billboards have higher effectiveness in East York, while the Leslieville and the downtown core might respond more to the digital side.
I think going forward, as the Millennials become our core clients, digital is the way we're going to attract their attention and the way they're going to see our ads. 
Industry Profiles