---
During a time when safety is a top priority across the country (and the world), Canadians seem to be finding unique areas within which to go out on a limb. To take a little risk, as a treat.
And one of these daring outlets is, evidently, the selection of mortgage types.
According to new data from RATESDOTCA, interest in variable-rate mortgages increased 147% from October 2020 to 2021, "indicating a seismic shift" in how Canadians are approaching mortgage products.
Last fall, only 12.96% of Canadians who started a quote on RATESDOTCA selected a variable-rate mortgage, while 87.5% selected a fixed-rate. This month, meanwhile, 31.97% opted for variable-rate, while the percentage of those choosing fixed-rate dropped to 68.03%.
READ: Can I Switch My Mortgage From a Variable to a Fixed Rate?
"A fixed mortgage rate is one that has a locked-in rate (and associated payment) over the life of the mortgage term, which is usually five years in Canada," Jerome Trail, owner and broker of record at The Mortgage Trail, explained earlier this year.
A variable rate mortgage, on the other hand, is quoted relative to the lender's prime lending rate, and can fluctuate -- both up and down -- over the mortgage term.
Where a variable rate is concerned, Trail said: "If the lender's prime lending rate goes up, so does your mortgage rate."
Why, then, are Canadians showing increased interest in the more spooky of their mortgage options? (Surely Halloween's impending arrival can't be to blame.)
"It's clear the main driver behind the recent trend is that variable-rate mortgages have by far become the better deal," says John Shmuel, Managing Editor at RATESDOTCA. 
A recent report from Equifax reported that in Q2 of 2021, Canadians took out 410,000 mortgages, which didn't just represent the biggest quarterly jump on record (a 60% y-o-y increase), but also pushed consumer debt to $2.15 trillion. RATESDOTCA says this magnifies the growing interest in variable mortgage rates.
What's more, just in recent weeks, fixed mortgage rates have been on the rise.
"We have had commercial bond yields increase lately, and we have had a corresponding uptick in rates of approximately .25%," Trail said at the beginning of October. "[At the end of September], most 5-year fixed rates were around 2.09%… today, those same lenders are priced at 2.34%."
In alignment with Trail's observation, Shmuel notes that, just a year ago, fixed-rate mortgages sat near record lows. But not anymore.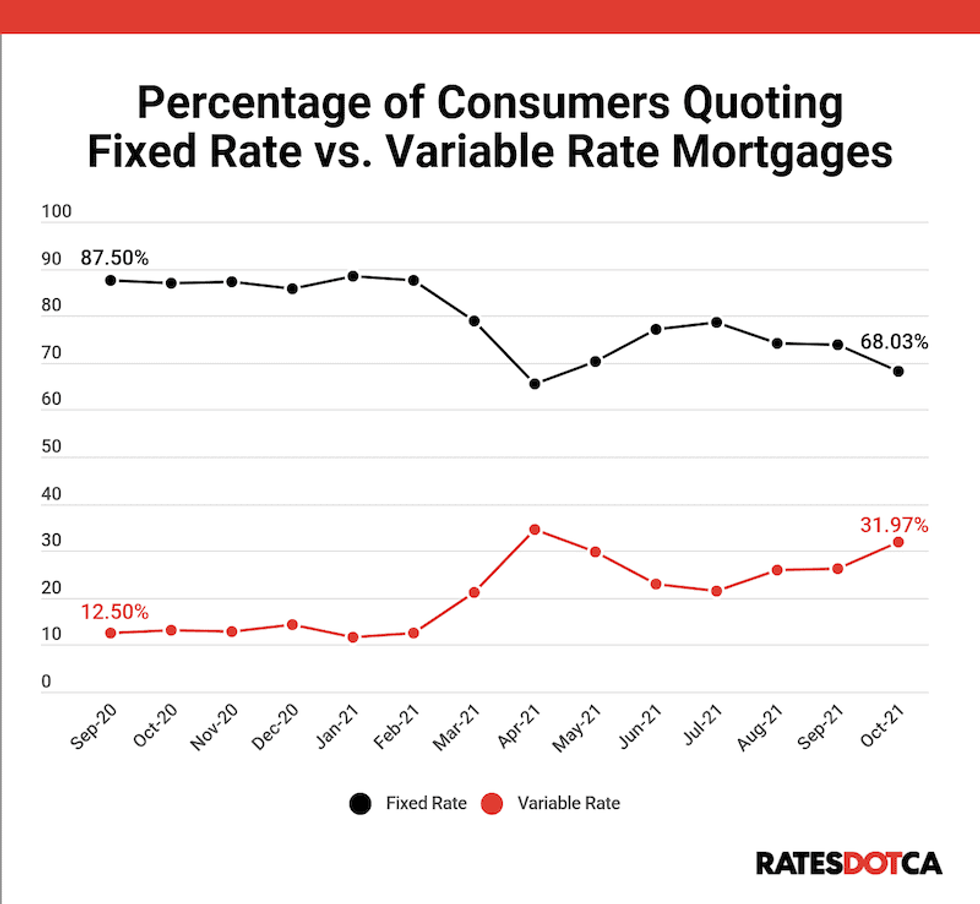 RATESDOTCA
"Now, fixed rates have risen considerably, while in many cases variable rates have fallen even further. If you're seeing a quote for fixed versus variable, you're no doubt seeing the much smaller mortgage payment as appealing," he says.
But short-term gratification doesn't always mean gratifying long-term strategy, and Shmuel warns that just because variable rates are looking friendly doesn't mean they're the safest bet.
"The risk that interest rates will rise sooner than expected has increased, making variable-rate mortgages riskier." 
So it goes, October ends with us offering you the same warning we did at its beginning: Buyer beware.
Mortgages