Mortgages
Buyer Beware: Mortgage Rates at Big Banks Just Made a Significant Jump
Over the last couple of days, a quiet change has been stirring — one that only those with an eye for financial fluctuations may have caught wind of (or anyone looking to enter the housing market, for that matter).
Mortgage rates are on the rise.
"We have had commercial bond yields increase lately, and we have had a corresponding uptick in rates of approximately .25%," says Jerome Trail, owner and broker of record at The Mortgage Trail.
"A week ago, most 5-year fixed rates were around 2.09%… today, those same lenders are priced at 2.34%."
READ: Post-Election, At Least We Can Now All Agree There IS a Housing Crisis
The proof is in the proverbial pudding: on October 1, the five-year fixed rate at TD Bank, for example, sits at 2.29%, with an APR of 2.31%.
While fixed mortgage rates are locked in for the duration of a mortgage term, a variable rate mortgage is quoted relative to a lender's prime lending rate. In the TD example below, that's 2.60%. This variable rate can fluctuate, up or down, throughout a mortgage term.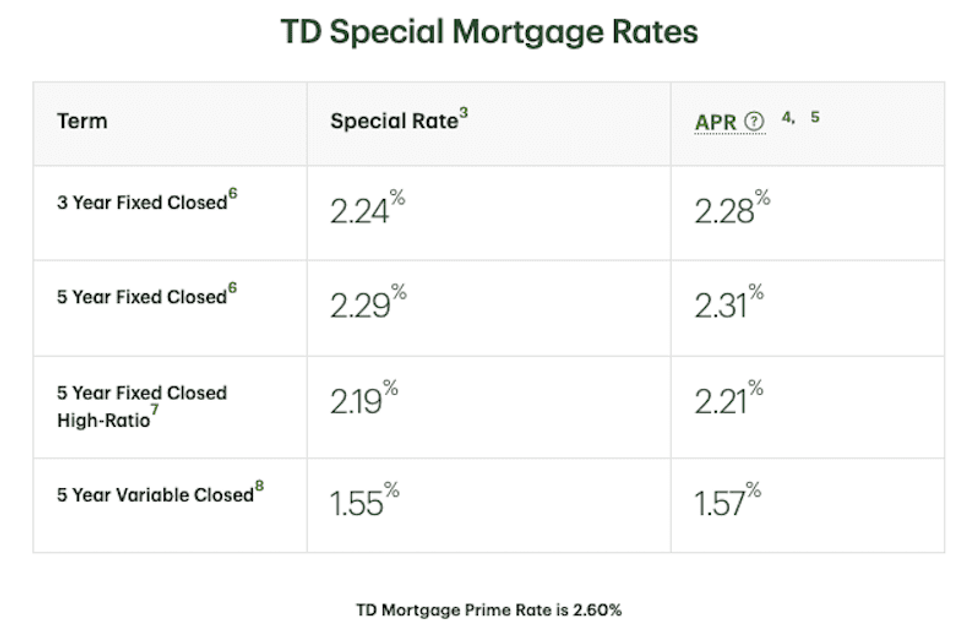 Back in July, Bank of Canada Governor Tiff Macklem pledged that the Bank's overnight lending rate of 0.25% would hold until the country's inflation rate returns to its 2% target, and achieves sustainability. As recently as September, the Bank confirmed this rate would remain unchanged. This, despite the fact that inflation in July and August was far, far above Bank's target rate.
Through these holds, homebuyers have enjoyed access to historically-low interest rates, which often translate into savings of hundreds of dollars per mortgage payment. Ultimately, the savings can add up to thousands — sometimes tens of thousands — over longer fixed-terms.
Knowing that — for now, anyway — mortgage rates are moving is one thing. Understanding what that means for you is another. Earlier this year, Trail described how, historically, fixed mortgage interest rates have dropped slowly and increased quickly. The occurrence is typically fast, and comes without much warning.
According to Trail, client mortgages were getting locked in at five-year fixed rates of 3.79% in early 2019. Over the course of the pandemic, economic fluctuations brought those same mortgage products down to around 2%; on a $500,000 mortgage, this change would see the interest portion of monthly payments cut nearly in half. (Over five years, the difference in interest payments between 3.79% and 2% would be just shy of $45,000.)
But if that's how much a mortgage rate can save you when it lowers, it's akin to how much it can cost you when it rises. Recall how rates have increased by ~.25% over the course of just this past week.
Now, there's no guarantee that these rates will continue to increase. And if they do, there's no certainty they'll continue to grow at the rate seen over the last couple days. But if that does happen, those in variable-rate mortgages (and those looking to lock in fixed-rate agreements) should pay close attention… and potentially consider taking action.
Those in fixed-rate mortgages (who aren't approaching a re-sign at the the end of their term) won't be impacted by increasing rates. For those who aren't in a fixed-rate mortgage, but want to be, making the switch is possible — albeit not without "a catch," in most cases.
"Most mortgages allow you to switch, without penalty, from variable to fixed… but (and there usually is a catch) you normally are locking into the lender's posted rate for the amount of time left in your mortgage term," says Trail.
If you're two years into a five-year term, for example, a borrower could choose to lock-in to the three-year fixed mortgage offering from a lender for the rest of their term.
Something to (start to) consider.
"It is too early to tell if this trend [of rising rates] will continue," Trail says, "but the increase happened within about 24 hours."
Lead photo by My Home Viewer