Real Estate News
Canadians Are Buying Homes In "Least Affordable Market in a Generation"
There's no disputing the fact that housing markets all across Canada have seen wildly unaffordable price jumps over the past two years, leaving many Canadians putting their dreams of homeownership on hold. In fact, according to a new report from RBC Economics, Canadians are now faced with the prospect of buying homes in "the least affordable market in a generation."
During the first quarter of 2022, RBC's aggregate affordability measure for Canada soared 3.7 percentage points to 54% — the worst level of affordability seen since the early 1990s.
"Ownership costs rose in every market we track, though the degree of pain felt by buyers varies dramatically across the country," RBC Senior Economist Robert Hogue wrote in the report.
As to be expected, affordability is worst in Canada's largest markets, with the situation in Vancouver, Toronto, and Victoria reaching extremes, the report says. Parts of southern Ontario, as well as BC's Lower Mainland, are also out of reach for many buyers.
Recently implemented Bank of Canada interest rate hikes are causing changes to Canadians' financial situations nation-wide, but not every Canadian is being hit equally. Buyers in the country's priciest markets are facing the steepest increases to their monthly mortgage bills.
"For instance, a 1 percentage-point rate increase raises mortgage payments by more than $600 per month in Vancouver, $554 in Toronto, and $481 in Victoria, based on typical home prices in the first quarter (valued at $1.4 million, $1.3 million and $1.1 million, respectively)," the report reads. "These figures far exceed the $360 a month average rise in mortgage rates in Canada. St. John's, Regina and other more modestly-priced markets are considerably less sensitive, with increases ranging from $125 to $160 a month."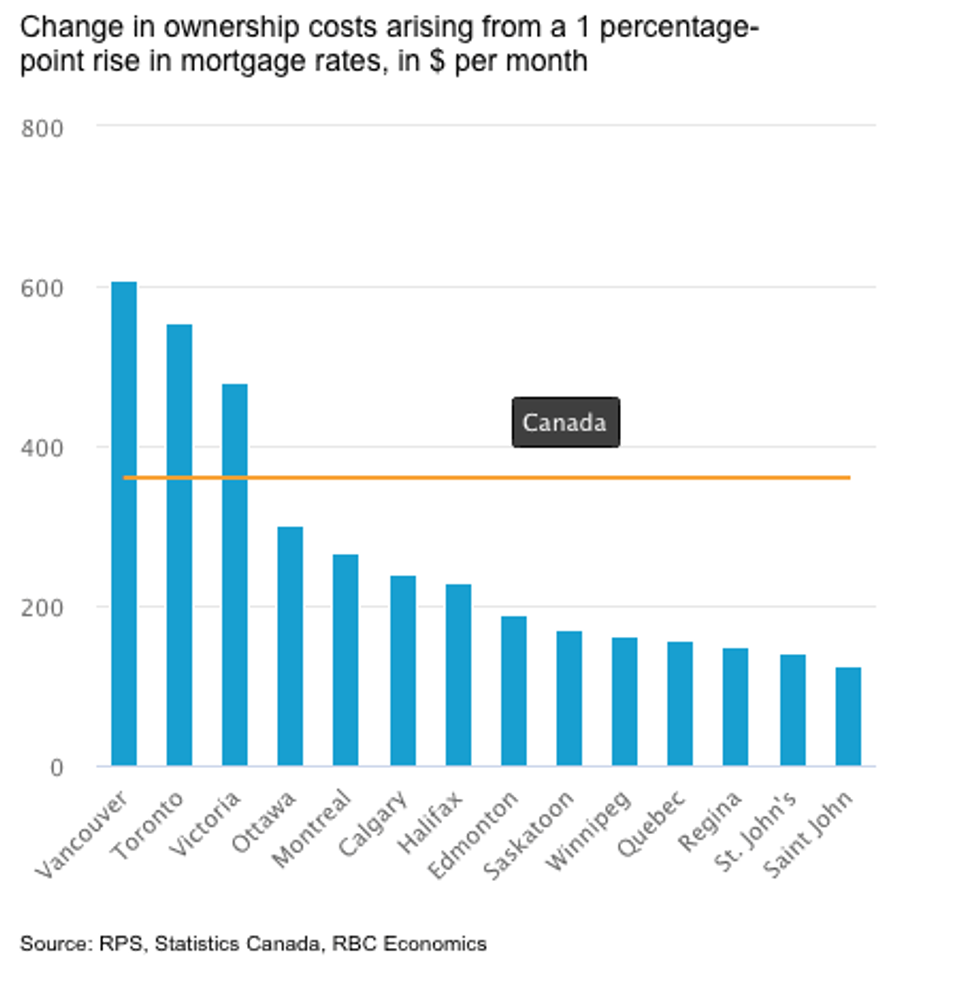 As to be expected, RBC's affordability measure got worse in Canada's pricier cities following the interest rate hikes. Vancouver's affordability measure spiked by 8.5%, Toronto's by 7.8%, and Victoria's by 6.4%. Although areas like the prairies, Quebec, and Atlantic Canada have seen property values go up, the report notes that the "loss of affordability arising from a rate rise is still considerably less in those regions than the national average."
Unfortunately for Canadians, it doesn't look there there's going to be any relief on the interest rate front, with Hogue predicting the Bank of Canada's hiking spree to culminated in a 250 base points increase by the fall. Only half of that has taken place so far.
"This is bad news for buyers in Vancouver, Toronto and Victoria who face a further affordability squeeze as the Bank of Canada advances its rate hiking campaign," Hogue write. "RBC's aggregate measures are likely heading deeper into record territory in all three markets, pointing to a worsening affordability crisis. Pressure is also set to intensify materially for Montreal, Ottawa and to a lesser extent Halifax house hunters, whose prospects are already the toughest in decades."
But as Hogue notes, there's one thing that's got to give: prices. Worsening personal finances will likely cool demand significantly, putting downward pressure on prices — something that's already happening in a number of markets. The only thing likely to change this dynamic would be a rapid increase in household income as prices fall.
"The recent acceleration in wage increases will help but we think the factor most likely to move the needle is a price correction," Hogue wrote. "We now expect Canada's benchmark price to fall more than 10% from peak to trough in the coming year, with more significant drops of 13% in British Columbia and Ontario. We project comparatively smaller declines in the rest of the country — between -2% and -5% (peak to trough) in the Prairies, around –7% in Quebec and between -6% and -9% in Atlantic Canada."