Despite sinking to a 14-year low in January , Canadian home sales are poised to make a comeback. A new report by TD Economics states that sales "appear to have reached a trough" and forecasts quarterly gains for the remainder of 2023. In particular, sales are expected to pick up momentum in the latter half of the year.
---
"Underpinning this forecast is our view that sales have likely undershot levels consistent with fundamentals -- such as income and available housing supply -- and are now closing that gap," writes TD Economist Rishi Sondhi. "In addition, in the near term, tight job markets should spur continued income gains, even as economic growth and hiring slows, and lower bond yields should offer some respite from stretched affordability conditions across Canada."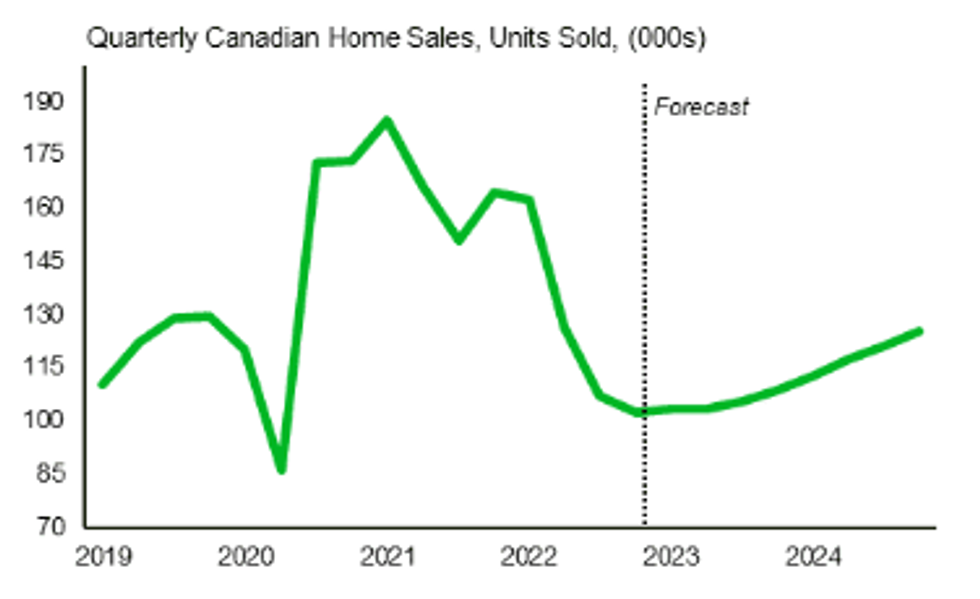 Canadian Real Estate Association, TD Economics
While Ontario and BC are expected to drive the national sales growth -- they are on track to record the strongest quarterly sales growth this year -- Sondhi cautions that "this shouldn't be taken as a sign of strength, as 2023 will likely be the softest sales year since the early 2000s in both provinces."
Similar quarterly growth patterns are forecasted for the bulk of provincial markets, with the exception of the Prairies provinces, where sales levels are expected to stay "comparatively elevated."
"For 2024, we see the sales recovery continuing across the country despite a general rise in unemployment rates," says Sondhi. "Supportive factors will be cuts to interest rates and continued robust population growth. However, a tough affordability backdrop will likely limit the strength of the recovery, and we expect sales to remain below pre-pandemic levels through 2024."
"Home prices have some modest downside left"
Although TD's report cautions that "Canadian average home prices have some modest downside left," the bottom is presumably near. Prices are forecasted to hit a low at some point this quarter.
"This largely reflects developments in Ontario and BC, where looser-than-normal conditions are expected to maintain downward pressure prices," adds Sondhi.
The weak quarterly price growth forecasted for Ontario and BC is also expected in the Atlantic Region, attributed to slowing interprovincial migration and price moderation from "outsized, pandemic-era gains." Prices are anticipated to "hold up better" in Quebec and the Prairies provinces, propped up by tighter market conditions in Quebec and robust demand, bolstered by the draw of affordability, in the Prairies. Many of these patterns seem likely to persist into 2024.
That said, there are certain factors to consider that could serve to sway the price and sales trajectories forecasted by TD, including rule changes proposed by OSFI, which could see lending conditions tightened and the stress test changed.
"We don't yet know when these changes will be implemented or what exact form they'll take," writes Sondhi. "The potential for further bouts of financial market turbulence and a weaker-than-forecast economic performance are other important risks to the outlook. Such an outcome would produce more job losses than expected, weighing on demand and, potentially, causing forced selling."
Sondhi also flags the current, low sales backdrop, saying that this makes home prices "more susceptible to compositional impacts."
"In other words, there is a larger chance of prices being skewed higher or lower (depending on what is sold in each month), because the sales sample used to calculate the average price of a home is small."
Real Estate News