---
As interest rates continue to rise, Canadians are increasingly considering refinancing their mortgages in an effort to consolidate their debt.
According to a new report from RATESDOTCA, interest in mortgage refinance and renewal quotes has risen steadily over the last year, while queries for purchase quotes have declined.
The number of people quoted for mortgage refinances was up 17% year over year in May, while interest in renewal quotes was up 6% annually. Meanwhile, the number of people seeking purchase quotes declined 25% year over year.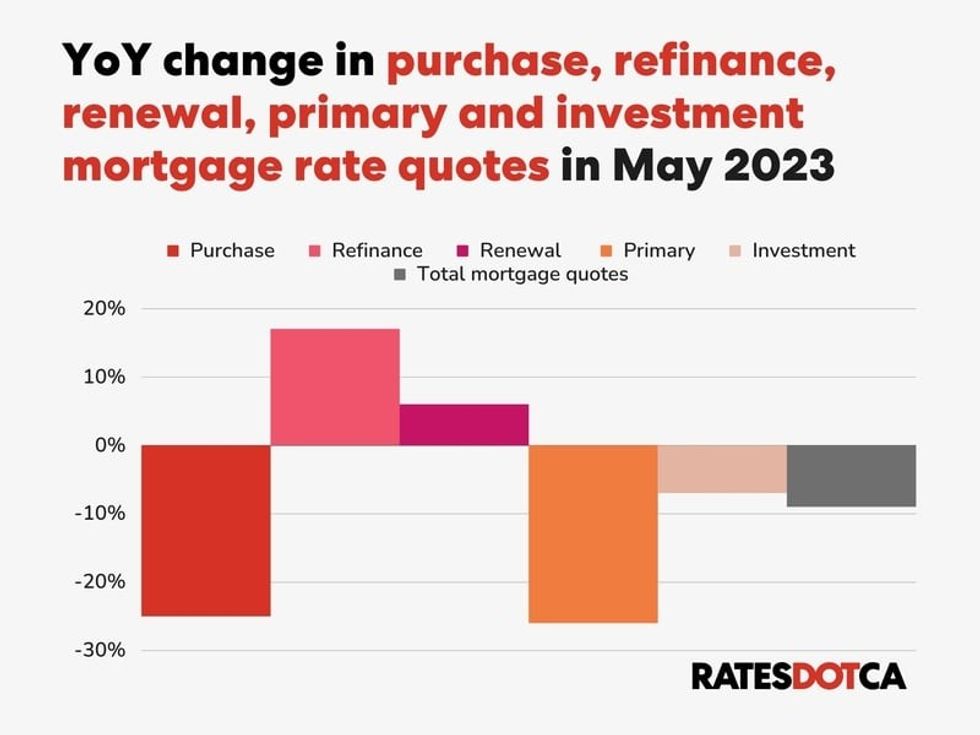 RATESDOTCA
Although there has been an increase since the start of 2023, activity is still down in most housing markets compared to a year ago, which could account for the decline in purchase quotes. Meanwhile, those up for renewal face significantly higher rates, which may explain the increased interest in such quotes as they compare their options for their next term.
Soaring inflation has increased Canadians' debt over the last year, spurring more households to look at refinancing their mortgages to consolidate their debt. While mortgage arrears remain low, they are a "lagged indicator" that's typically preceded by higher delinquency rates for credit cards, auto loans, and lines of credit. All three have been on the rise since Q3 2022.
The report noted the increased interest in refinancing may also be attributable to the temporary drop in bond yields in April and May, which lowered some five-year fixed rates to 4.29%.
"Many homeowners will have outstanding debt, whether it be on HELOCs, LOCs, credit cards, or loans," said Victor Tran, a RATESDOTCA mortgage expert.
"Rising interest rates will push up the amount of interest they have to pay to service the debt, and it can be more affordable to refinance a mortgage and roll all of the debt into one payment instead of several."
Despite the heightened interest in quotes, the actual number of mortgage refinances were down 32% year over year in May, according to the Canada Mortgage and Housing Corporation. RATESDOTCA noted that the data does not include all mortgage lenders, though.
The number of total mortgage quotes was down 9% year over year in May, which may be due to would-be buyers returning to the sidelines as they for wait interest rates to drop. Despite the annual decline, though, total quotes are above levels seen in Q4 2022.
Broken down by mortgage type, variable rate quotes have seen a significant decline, falling 80% year over year in May. Meanwhile, quotes for fixed rate mortgage were up 67% annually.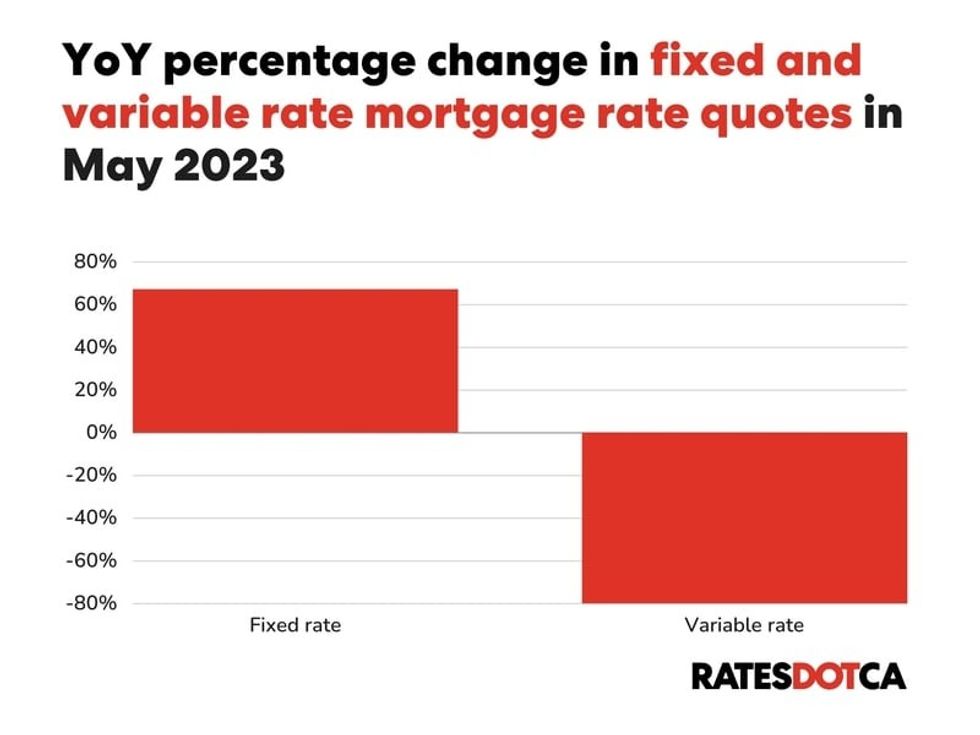 RATESDOTCA
Variable rate mortgages leave homeowners financially vulnerable in an uncertain interest rate environment -- the Bank of Canada hiked rates eight times between March 2022 and January 2023, once more in early June, and are expected to do so again in July.
"When the BoC cut interest rates in order to stimulate the economy, variable rates were extraordinarily low, which allowed many people to purchase homes for prices they could not have otherwise afforded," Tran said.
"Now, as interest rates rise, variable rates are no longer as attractive, and fixed rates provide more stability in an unstable environment, so the preference is once again returning to fixed rates."
When looking at property types, mortgage quotes for primary residences were down 26% annually in May, while quotes for investment properties declined 7% year over year. The latter is unsurprising, given that the majority of condo investors are losing money on their rental properties every month.
As for the decline in primary quotes, that may reflect the lack of inventory; in May, supply sat at a 20-year low across Canada.
Mortgages