---
The daunting news surrounding Canada's economy keeps coming. 

If you're struggling to cover the costs of necessities now, you may want to brace yourself (or get a side gig): inflation is expected to officially climb above 8%. 

According to Bank of Canada governor Tiff Macklem, Canada's central bank expects inflation to reach "a little over" 8% when June's data is released on Wednesday. It's expected to stay that high for a few months.
Macklem made the remarks when addressing the Canadian Federation of Independent Business (CFIB) on Thursday. 
"Inflation is high sevens. It's probably going to go a little over eight per cent," said Macklem. "We have the next CPI next week. We know oil prices were very high in June, so I wouldn't be surprised to see it move up."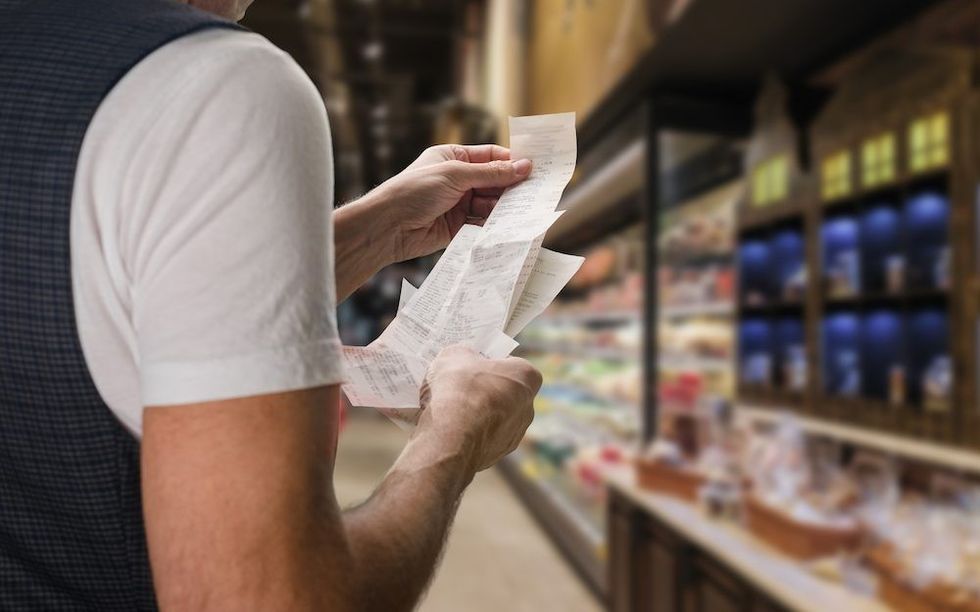 Closeup of young man holding bill to check the price in supermarket
Macklem said that the Bank of Canada now expects inflation to average around 8% for the next few months, then drop from to around 3% by the end of 2023 and to the 2% target in 2024.
The speech came a day after Canada's central bank surprised the country with an interest rate hike of 100 basis points. 

In May, Canada's inflation rate hit 7.7%, the highest it's been since January 1983. Meanwhile, south of the border, the inflation rate just hit 9.1%.
Last month, Statistics Canada (StatCan) released telling data that revealed that the rising cost of living is leaving many Canadians struggling to stay afloat -- and that was when the country's inflation rate was 6.8%. According to industry experts, Canada's rising costs of basics and interest rate hikes offer a clear signal that a recession could indeed be looming.

The good news? A drop in housing costs and demand following a red-hot run has created a welcomed buyers' market for those looking to purchase property (that is, if they're able to qualify for a mortgage in this climate).
Mortgages