Canada's annual rate of inflation eased in September, surprising economists and leading to expectations that the Bank of Canada will not raise interest rates on October 25.
According to Statistics Canada's latest Consumer Price Index, inflation rose 3.8% year over year in September, down from 4% in August. The deceleration was broad-based and largely attributable to lower prices for groceries, durable goods, and travel-related services.
---
Grocery prices rose 5.8% year over year in September, following a 6.9% increase in August, as the cost of meat, dairy products, coffee and tea slowed. The price of durable goods rose 0.4% annually in September compared with a 1.4% jump in August, while the price of air transportation fell 21.1% in September.
Offsetting the deceleration in total CPI was an increase in gasoline prices, which rose 7.5% annually due to a base-year effect. On a monthly basis, though, gas prices fell 1.3%, and acted as the greatest contributor to the 0.1% month-over-month dip in the CPI.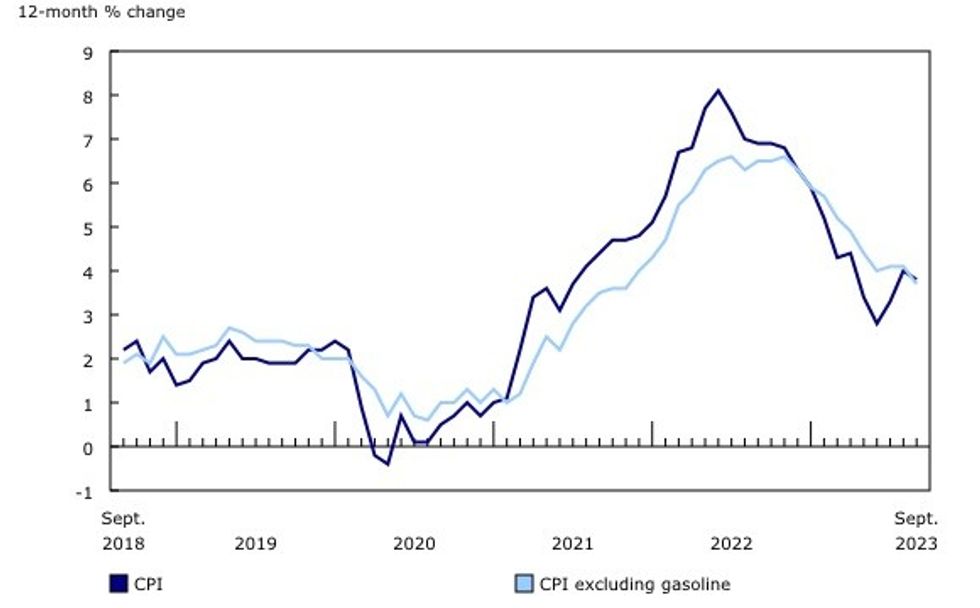 Statistics Canada
The CPI median and CPI trim — the Bank of Canada's preferred measures of core inflation — decelerated to 3.8% and 3.7%, respectively, on an annual basis in September. On a three-month annualized basis, CPI median fell to 3.5%, while CPI trim eased to 3.8%.
Although inflation remains well above the BoC's 2% target, September's inflation reading came in below economist's forecasts. Alongside growing signs of an economic slowdown, including a weak Business Outlook Survey and stagnant GDP, economists predict that the Bank will pause for a second consecutive month, and hold interest rates steady at 5%.
"The level of inflation remains much too high for comfort, but the trend is the BoC's friend here," said Benjamin Reitzes, Managing Director, Canadian Rates and Macro Strategist Fixed Income Strategy at BMO. "Given that inflation is the most lagging of indicators, and the economy is clearly weakening, we're likely to see ongoing disinflationary pressure...there's no need for further rate hikes in Canada."
The prediction of a sidelined BoC was shared by Marc Ercolao, Economist at TD, who noted that September's print is "another small step towards tackling the last leg of the inflation battle."
While Randall Bartlett, Senior Director of Canadian Economics at Desjardins, echoed the sentiment of an October rate pause, he cautioned that the BoC's announcement will be accompanied by a "hawkish tone," and a "threat to raise interest rates again if that data doesn't cooperate." Such a stance would be in line with BoC Governor Tiff Macklem's comments in September.
During a virtual roundtable on October 13, Macklem reiterated the governing council's concerns over sticky core inflation.
"What I expect [governing council] will focus on is, do we stay with a policy rate of 5.00% and let past interest rate increases work through the economy and relieve price pressures," Macklem pondered. "Or is the weight of the evidence of all those economic indicators, when you put them together, is it telling us that more action is needed to restore price stability."
Economy