Between sliding home prices and rising office vacancy, it's clear that Canadian real estate is hurting. Even so, the country's industrial sector seems to be bucking the downcast trend.
According to a new report from Altus Group, Canada's industrial sector "outperformed all the other asset classes" in Q3 2023 and "continued to be favoured for its minimal risk and stable returns."
---
On a year-to-date basis, the industrial sector has seen $16B transacted year-to-date, the report also notes, marking only a nominal decline of 3.3% compared to the same period in 2022.
As well, it reveals that the national availability rate edged up only nominally by 0.3% to 3.6%.
Of course, there were nuances with respect to vacancies in individual markets. The availability rate was the tightest in Toronto, at 2.6%.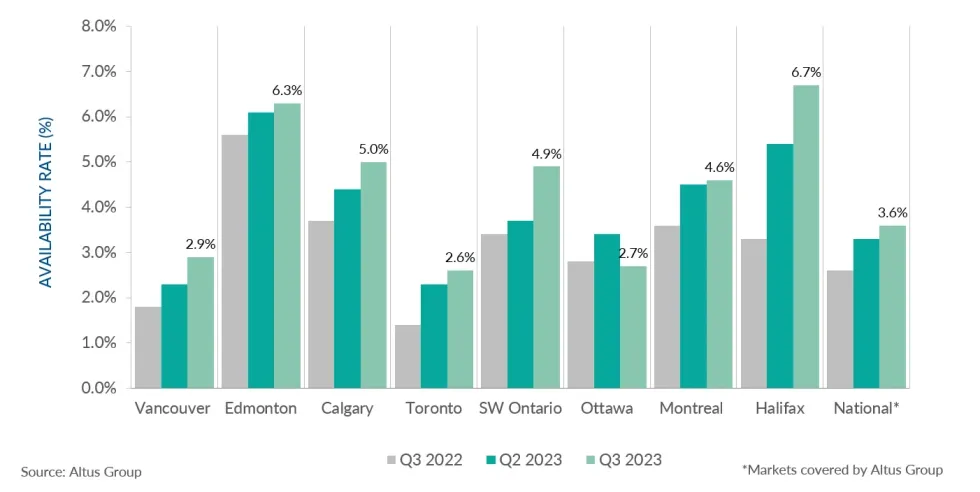 Altus Group
Jennifer Nhieu, Senior Research Analyst with Altus, explains that "as many markets are challenged by aging and limited industrial infrastructure, the demand for industrial supply has not waned despite elevated interest rates, labour shortages, and increased construction and material costs."
With market conditions remaining tight this past quarter, Nhieu also notes that tenants have been "more proactive in seeking out suitable spaces ahead of their lease's expiration" and this has prompted landlords to list their spaces before tenants vacate.
"Along with the new supply introduced this quarter, the increased prevalence of this practice has contributed to a rise in availability," she writes.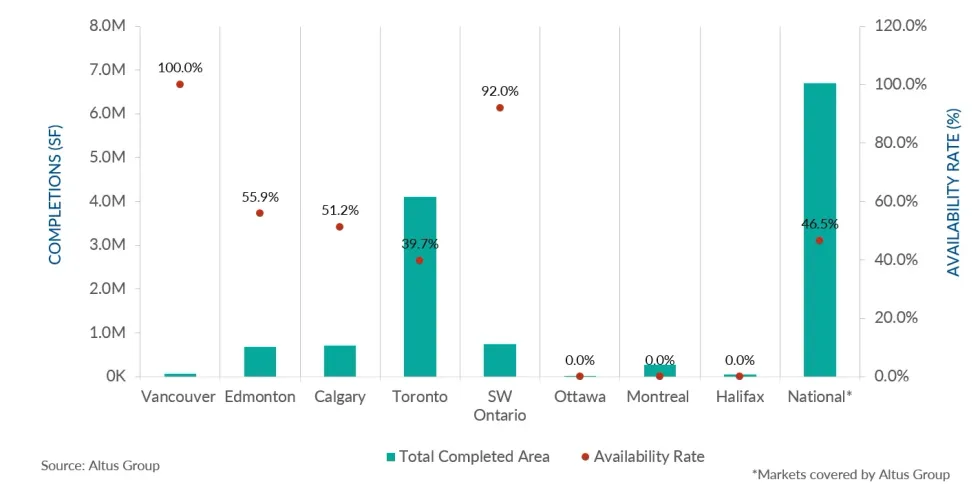 Altus Group
In terms of new supply, there were 35 industrial building completions in Q3, translating to 6.7 million sq. ft. Of those completed projects, 53.5% were pre-leased and the bulk were located in Toronto and Southwestern Ontario.
As well, there were 185 industrial projects underway in the quarter, with 38.6% pre-leased. The projects were chiefly located in Toronto, Southwestern Ontario, and Calgary.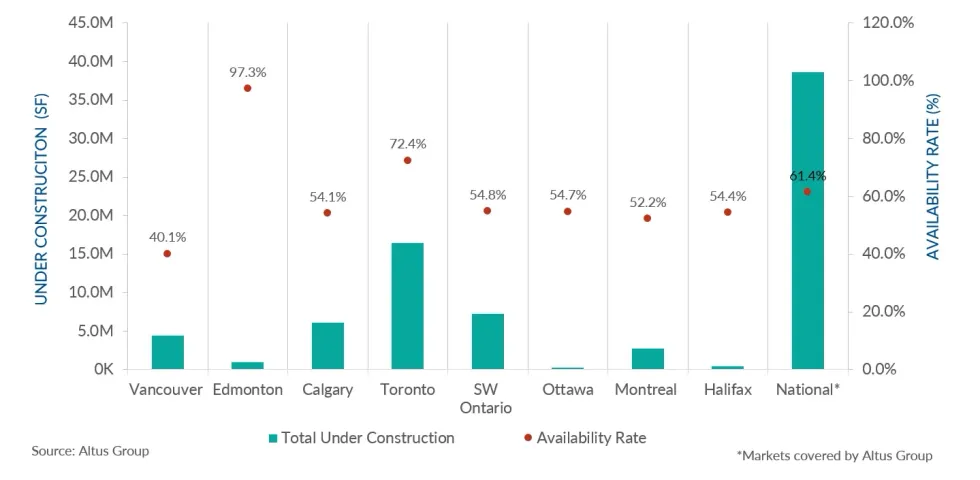 Altus Group
Meanwhile, industrial cap rates have risen 6.95% from 5.53% on a quarter-on-quarter basis, which Nhieu attributes to higher interest rates and borrowing costs.
"However, investors continued to be optimistic about the industrial sector, supported by strong underlying economic and demographic fundamentals," she writes. "Market conditions remained tight and new supply continued to be delivered in the market at a steady pace."
Industrial