Rising interest rates are keeping prospective homebuyers on the sidelines across Canada, leading to a third-straight month of falling sales and the first national price decline since March.

According to the latest data from the Canadian Real Estate Association (CREA), home sales declined 1.9% month over month in September. Activity has been falling since the resumption of interest rate hikes in June but, as CREA noted, this latest dip is about half of its predecessor. The actual (not seasonally adjusted) number of transactions was up 1.9% on an annual basis.
---
Activity varied across local markets, with declines in the Greater Toronto Area (GTA) and Greater Vancouver working to offset small gains in Edmonton, Montreal, and Kitchener-Waterloo.
With sales slowing, the number of newly listed homes rose 6.3% on a monthly basis in September. The measure has now increased roughly 35% since falling to a record low in March, and has begun to trend near average levels.
As such, the national sales-to-new-listings ratio eased to 51.4%, signalling a firmly balanced market. Down from 55.7% in August and the peak of 67.8% seen in April, this marks the first time the measure has dipped below its long-term average of 55.2% since January.
"The recent trend of slowing sales and rising new listings continued in September," said Larry Cerqua, Chair of CREA. "This presents an opportunity for buyers, although many of them seem content to stick to the sidelines until there's more evidence that interest rates are indeed finally at the top. This, combined with sellers who, by and large, do not need to sell, means the market will likely remain on the slower side until next year."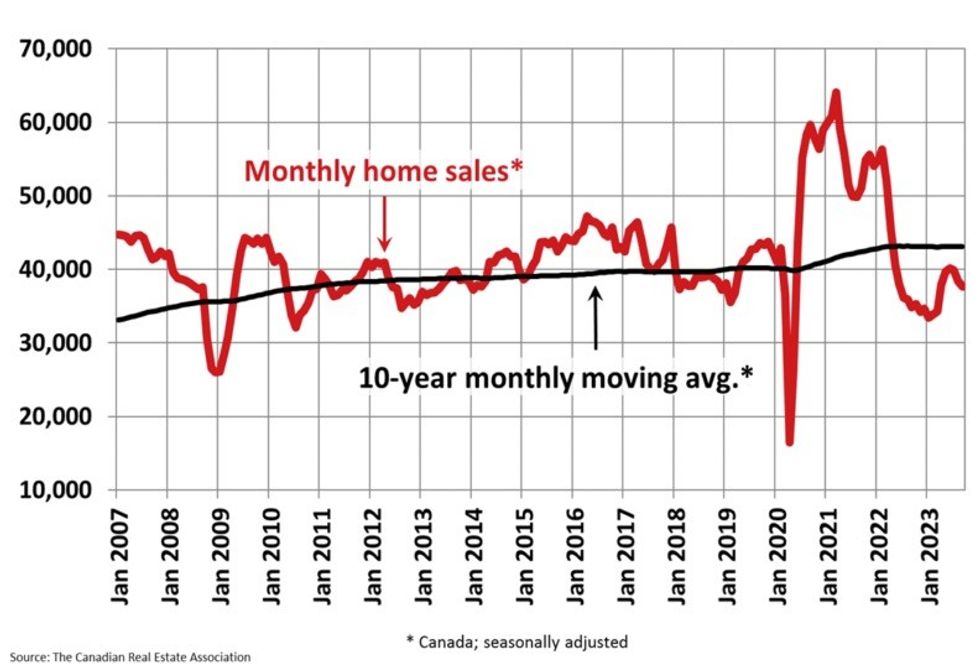 Nationally, there were 3.7 months of inventory at the end of September, up from 3.5 months in August and the recent low of 3.1 months seen in June. However, inventory levels remain well below the long-term average of about five months.
The Aggregate Composite MLS Home Price Index (HPI) dipped 0.3% on a monthly basis in September to $753,900, marking the first decline since the spring resurgence began in March.
However, the national decline was entirely attributable to falling prices in Ontario; prices continue to edge up in other provinces, although the pace of growth has slowed.
Whether the trend in Ontario is a unique case or a sign of things to come will be determined in the coming months. As CREA notes, though, softening prices should be expected elsewhere given the current interest rate environment.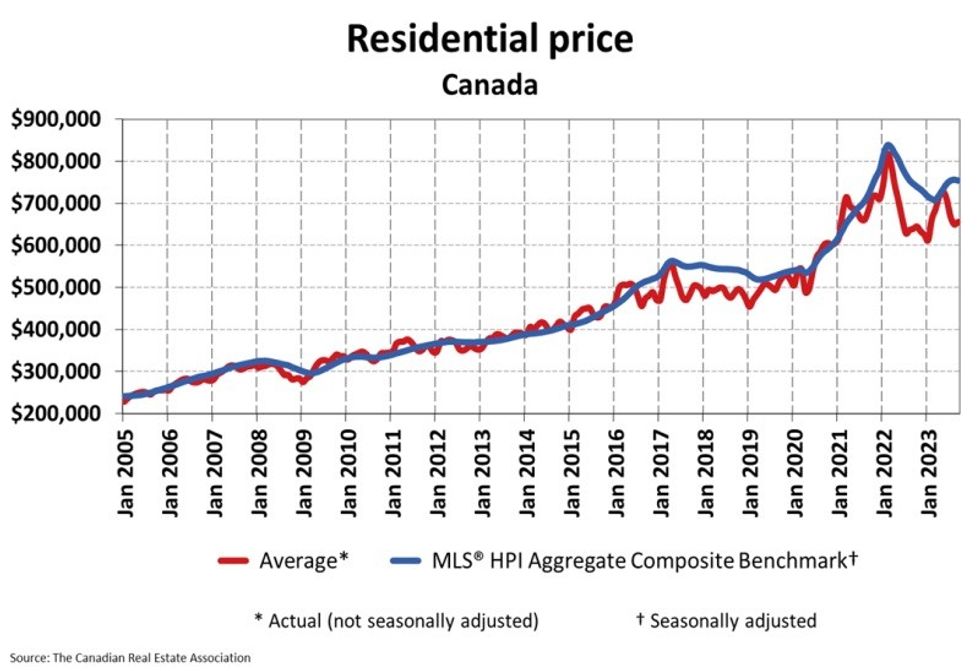 On an annual basis, the Aggregate Composite MLS HPI rose 1.1%, a trend that is expected to continue — despite monthly declines — due to the base effect created by significant price declines throughout the second half of 2022.
The actual (not seasonally adjusted) national average home price hit $655,507 in September, a year-over-year increase of 2.5%.
"Resale housing markets have settled down pretty quickly following this spring's brief and somewhat surprising rebound in sales and prices," said Shaun Cathcart, CREA's Senior Economist.
"With the inventory of homes for sale still historically low amid huge demand for housing in Canada, what happens next will depend on interest rates. Whether that means uncertainty about the possibility of further hikes, or just the cost of borrowing money right now, neither of these will be resolved for would-be buyers anytime soon. As such, expect a quieter than normal winter with all eyes on the Bank of Canada. We'll see how buyers are feeling when the snow starts to melt."
Real Estate News