Real Estate News
A Family Affair: Multi-Generational Homes Lead Canadian Housing Trends
When it comes to living arrangements in Canada, it's increasingly a multi-generational family affair.
Returning to a tendency last seen at this height in the 1940s, multi-generational housing is now one of the largest growing trends on the Canadian real estate front. 
While the pandemic may have amplified the phenomenon, multi-generational homes were actually gaining traction long before the term social distancing entered our collective vocabularies.
Back in 2016, Canada's Federal Census revealed that multi-generational households were already the fastest-growing household category in the country, with the number of homes housing at least three generations under one roof having increased by over 37% between 2001 and 2016. 
READ: Co-Living is Currently Illegal in Toronto – What Are We Missing?
Tellingly, this trend was most prevalent in Vancouver and Toronto, where sky-high real estate costs are increasingly unattainable. 

Experts highlight a number of factors at play that have resulted in Canada's current climate of multi-generational homes. Common themes include an aging population and a housing market characterized by limited supply and unattainably-high prices. It's not just Toronto and Vancouver, of course; prices are rising across the country (and the rest of the world) to such an extent that one-third of Canadians under the age of 40 report that they've "given up" on the once achievable goal of home ownership. 
"The high cost of property values is definitely a contributing factor in the rise of multi-generational housing," says Diana Petramala, a senior economist at Ryerson University's Centre for Urban Research. "Under urban economic theory, as pricing increases, the number of people who live in a house is going to increase to spread that cost across more heads; the density basically increases."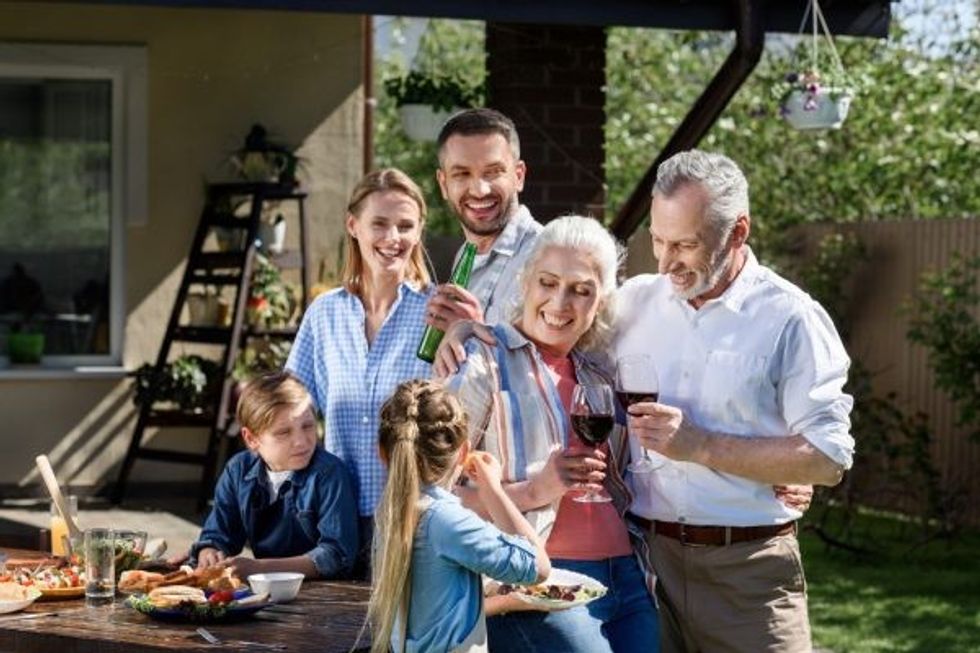 Petramala also attributes much of the growth in multi-generational homes to immigration. "Those with the highest propensity to live in multi-generational homes tend to be those who have recently immigrated to Canada," says Petramala. "They tend to have lower income and household wealth but a lot of it is also cultural; the parents move in with the children when they reach an age of 80 or above."
As Petramala points out, another factor to consider is that Canadian millennials are staying at home longer — perhaps after they've had children of their own. "We know from the Canadian Census that those aged 25-34 were living at home with their parents for longer. That reflects the nature of the unaffordable housing market," she says. 
While some members of younger generations who have left the nest move back into the family home, Toronto realtor Cara Hirsch says that the trend tends to see the entire extended family purchasing a new home together or buying in the same low-rise complex or high-rise building.
"For example, we had brothers buy our townhomes in one of our projects, Thirty Six Zorra in Etobicoke; their parents wanted them to live close to each other, but they wanted to have their own space," said Hirsch. "We've been seeing an increase of parents selling their homes (which they are sitting on a large amount of equity) and using the money they have made for down payments on a condominium for themselves and one for their kids so they can all be in the same building."
For some, joining forces with their parents also offers a means into Canada's luxury housing market, when multi-generational homes are the fastest growing trend. "'Staying home' has spurred unprecedented interest in luxury real estate," said Anita Springate-Renaud of Engel & Völkers Toronto Central. "In the premium markets, people are realizing that when they pool resources, they can play in a higher price bracket — and that's what we're seeing coming to fruition." 
Springate-Renaud says that newly-immigrated and first-generation families are most likely to pool resources and share living space as a means to enter Canada's housing market. "With Canada setting record-high immigration targets, we anticipate this growing phenomenon is a luxury market trend to watch," she says.
Engel & Völkers forecasts that this trend will become more frequent in Canada's urban and surrounding areas.
Another factor that will undoubtedly inspire more multi-generational homes in the future is the pandemic-inspired distrust of Canadian long-term care homes. A recent survey from the Angus Reid Institute revealed that the pandemic has changed most Canadians' views about their future with long-term care, with many saying no thank you to the prospect.
Tellingly, the survey reported that just 18% of respondents said their views on long-term care homes haven't changed since the onset of the pandemic. Meanwhile, about half of those surveyed reported they "dread" the prospect of themselves or their loved ones ending up in long-term care. Alternative options involve homecare, but this is an incredibly pricey route and simply not attainable to many. So, we will likely see a greater spike in multi-generational homes, especially ones that house care-dependent elders.
Given the changing times in the housing market, we'll likely see more homes built with in-law suites or many bedrooms. Ahead of the game, Canadian company Marshall Homes currently offers custom-built home-within-a-homes to comfortably accommodate multi-generational households with their FlexHouz home model. The home is a larger family-sized home that also houses a separate, but connected, in-law suite. The in-law suite even features its own entrance and garage.
The multi-generational trend has even made its way into the vacation home department, with cottage country seeing an increase in multi-generational cottage purchases — especially in the always red-hot and extremely pricey Muskoka region. "You really can't get anything on of the 'three lakes' (Joseph, Rosseau, or Muskoka) for less than $2 or $3 million, so that reduces the market unless there is a sharing of wealth between multiple generations to purchase a vacation property for everyone to enjoy," says Ross Halloran — Broker and Senior VP sales at Halloran & Associates of Sotheby's International Realty Canada — who specializes in Ontario's cottage country.
While one may assume this would lend itself to a demand for more compound-like properties, Halloran says the opposite is true in much of Muskoka. Instead of a main cottage with a series of smaller guest cabins like we saw in the past, Halloran says today's cottage set-ups typically involve a much larger main cottage with larger gathering spaces than we saw in the past — from great rooms to kitchens — with guest wings and bedrooms with their own en suite bathrooms. This facilitates that ideal together-but-separate vibe.
Between these sprawling Muskoka properties, the ability to enter the urban luxury home market, and sleek custom designed homes-within-homes, multigenerational homes don't have to cramp style or space the way they may once have.
And — while we'll have to wait for the results of the 2021 Census will also show a spike in multi-generational homes — we have a feeling there will continue to be a growing demand for more.