---
Despite rising interest rates shrinking buying power and forcing some buyers to reconsider purchasing a home at all, real estate prices across Canada continue to grow, in some cases sitting well above where they were at the same time last year.
Out of the more than 90 market segments analyzed in a new report from Century 21 Canada, just three have seen their price per sq. ft so far in 2022 fall below levels seen during the same time last year. Those three market segments -- condos in St. Albert, Alberta and Regina, Saskatchewan, and duplexes in Yellowknife, Northwest Territories -- all saw decreases of less than 6%.
Price growth has been strongest in suburbs and smaller communities outside of metropolitan centres -- something Century 21 attributes to more condo owners seeking homes outside of the expensive markets in the Greater Toronto Area and Vancouver. In Ontario, cities outside the GTA like Waterloo and Guelph saw some of the province's biggest price leaps. Guelph condos, for example, are up more than 52% from the same time last year, now sitting at $777/sq. ft. Townhouses in Waterloo saw an even bigger jump, rising over 57% to $641/sq. ft. Over in BC, Chilliwack has seen the province's largest price increases, with townhome and condo prices sitting 33.65% and 34.76% higher than in 2021, respectively.
"We recognize the concerns that some might have because of interest rates, but the first half of 2022 showed growth in nearly every regional market in the country," said Century 21 Canada Chief Operating Officer Brian Rushton. "The highest point of the boom may have passed, but the trend is still towards higher prices, especially in suburbs where younger and first-time home buyers are looking to escape competitive metropolitan areas now that remote work has become more common."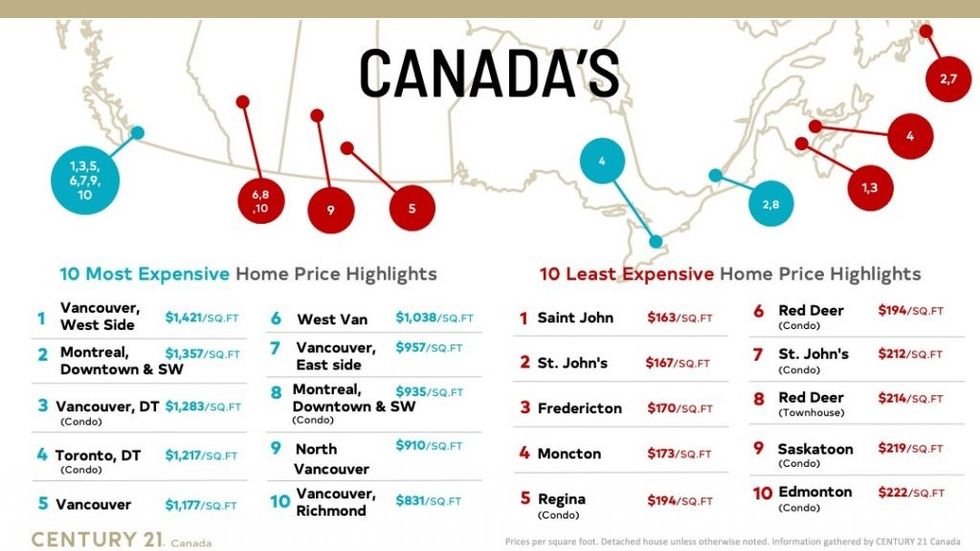 Even the typically more affordable areas of Canada have seen head-turning price increases. In Halifax, condo prices are up more than 54%, while detached home prices have jumped 45.20%. Charlottetown, Fredericton, Moncton, Saint John, and St. John's have all seen double-digit price increases. Saint John and St. John's, however, are still Canada's cheapest markets, with sq. footage there averaging $163 and $167, respectively. In Calgary, house prices are up 11.55%, and in Regina, detached home prices have jumped 13.6%.
"We don't want to get ahead of ourselves, we're going to keep seeing how the market performs and whether or not it cools down after the frenzy of the past year," Rushton said. "With inflation on the rise, folks may be less able to purchase but even a slight dip would only take us to the level of a few years back, possibly the 2018-2019 period. Ultimately, there are still buyers who have been waiting for a cool down period so that they can enter the market at the best time."
And with more Bank of Canada rate hikes expected to come throughout the year, there's bound to be an even further tightening of Canada's buyer pool as higher stress test levels mean buyer can qualify for smaller and smaller mortgages.
"What will be interesting is to compare the data we've received from the first half of this year with the data we gather in 2023 to see how the rising rates impact the market for the next six months," Rushton said.
Mohamad Al-Hajj, owner of Century 21 Immo-Plus, says that the next six months will reveal how buyers, especially young buyers, cope with changing interest rates.
"While some may wait to see if there are any more changes, other buyers may see an opportunity to not have to move away from their communities," Al-Hajj said.
Real Estate News