A drop in home prices is generally a reason to celebrate for would-be homebuyers, bringing the dream of homeownership closer to their grasp. But in Canada's major housing markets, that hasn't necessarily been the case.
A new report from Ratehub.ca found that despite prices falling across 10 major cities between August and September, the income required to purchase in each of those markets simultaneously increased.
---
In Canada's most expensive market — Vancouver — the average home price dipped by $5,100 between August and September. The income required to purchase the average home, however, climbed up by $3,900 to $250,000. Even in the cheapest of the 10 markets analyzed — Winnipeg, where the average home price fell by $2,900 to $342,800 — an additional $830 in income was needed to make a purchase in September compared to August.
This trend is thanks to an increase in mortgage rates, which jumped from 6.22% to 6.33%, bringing the September stress test rate to 8.33%.
"The stress test is the highest it has ever been, exceeding the high water mark that was set last month," said James Laird, Co-CEO of Ratehub.ca and President of CanWise mortgage lender. "Home values dropped in all 10 cities we looked at, yet still became less affordable. August to September data highlights how impactful even a minor rate increase is on affordability."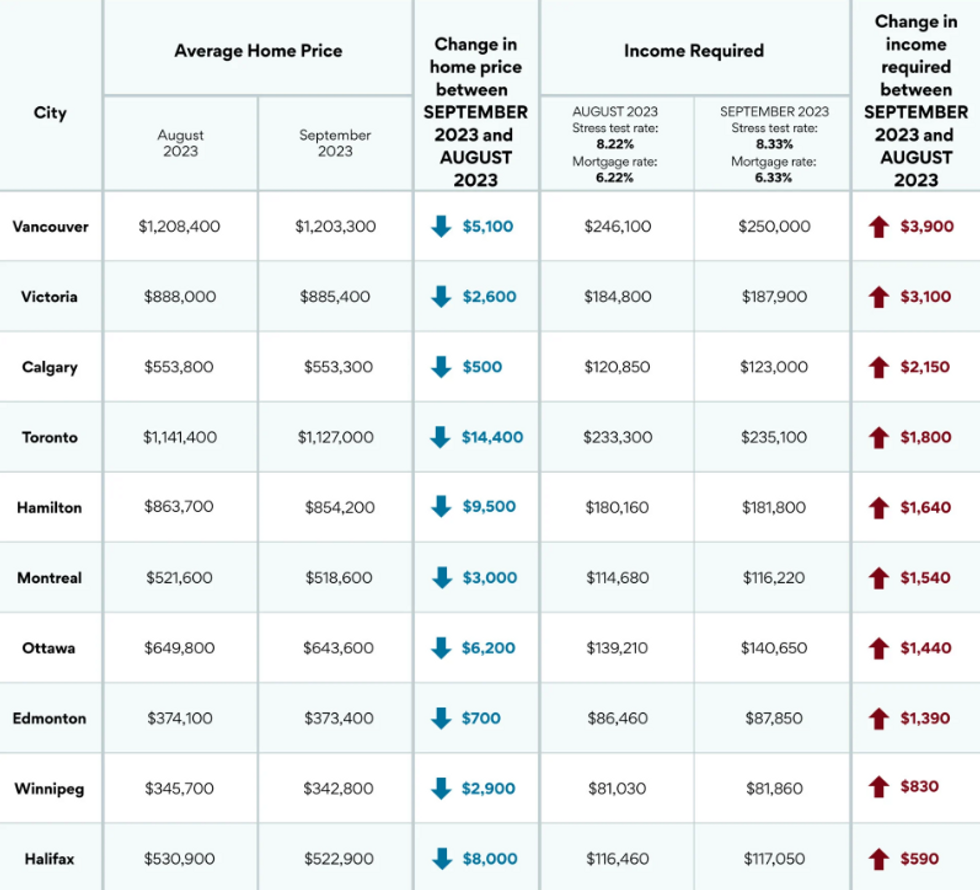 Ratehub.ca
Toronto saw the biggest decrease in home prices out of all the markets observed, falling $14,400. At the same time, the income required grew by $1,800.
Even Hamilton, which the report notes has previously been resistant to growing income requirements, saw its required income shoot up $1,640 as home prices fell by $9,500.
It's clear affordability issues are continuing to worsen, and Laird says that there will be little relief on the horizon until the Bank of Canada begins to cut rates.
"Home values are going to need to drop a lot more to offset the impact of the sharp rate increases," Laird said.
Real Estate News