It's no secret that the implementation of COVID-19 emergency measures has played a role in slowing down Canada's housing market, which was previously showing a strong start to the year before physical distancing measures and economic uncertainty pushed many buyers and sellers to the sidelines as they waited for more stability.
Since COVID began, not only has there been record declines in sales activity across the country but the latest data from the Canadian Real Estate Association (CREA) for April – which is the first full month after COVID-19 measures were implemented across the country – reveals that the average home price in Canada is just over $488,000.
---
This price is around 10% lower than the average home price in February, which was around $540,000, according to CREA. Not to mention this was also before any COVID-19 safety measures were introduced by any level of government.
To get a better understanding of how average prices of homes sold in various markets fluctuated since COVID measures were implemented, Zoocasa used data from CREA and compared average home prices and sales between February and April 2020 in 20 different Canadian real estate markets.
"Average home prices were used as this is the price metric used and most widely available across regions in official monthly reports from CREA," reads the Zoocasa report. "As always, our analysis serves to provide a high-level overview of market dynamics and a broad perspective on market activity. Prospective home buyers will benefit from a more detailed analysis of price and sales trends for specific home types of interest or at the city, town, or neighbourhood level."
READ: What Real Estate Agents Are Doing to Keep Showings Safe During COVID-19
A big takeaway is Zoocasa reported during this time frame, the Canadian housing market shifted from a sellers' territory to a more balanced market, as indicated by the monthly sales-to-new-listings ratio (SNLR).
In April, Canada's SNLR was 58%, down from 62% in February of this year. For reference, Zoocasa says a range between 40 – 60% indicates balanced conditions, while below and above that threshold indicate local housing market conditions favouring buyers and sellers, respectively.
Overall, home sales in Canada were down 46%, dropping to 20,630 in April from 38,161 in February. Similarly, new listings declined 42% in April, down to 35,795 from 61,816 in February.
On a regional level, the Greater Toronto Area was the only area to see average home prices decrease by over $50,000 during the two month period, with prices dropping $88,898 between February and April, marking a 10% decline to $821,392 in April, as reported by CREA.
According to the report, Saskatoon was the market to see the largest dollar increase in average home price, with the average home price increasing $29,815 (10%), to $327,539.
For the largest drop in sales, Montreal CMA had a 65% decline between February and April from 5,338 to 1,890, according to the report. As for the smallest drop in sales, Winnipeg recorded 739 sales in April, down 3% from 765 in February.
Here's a better look at how home prices across the country changed over the past two months.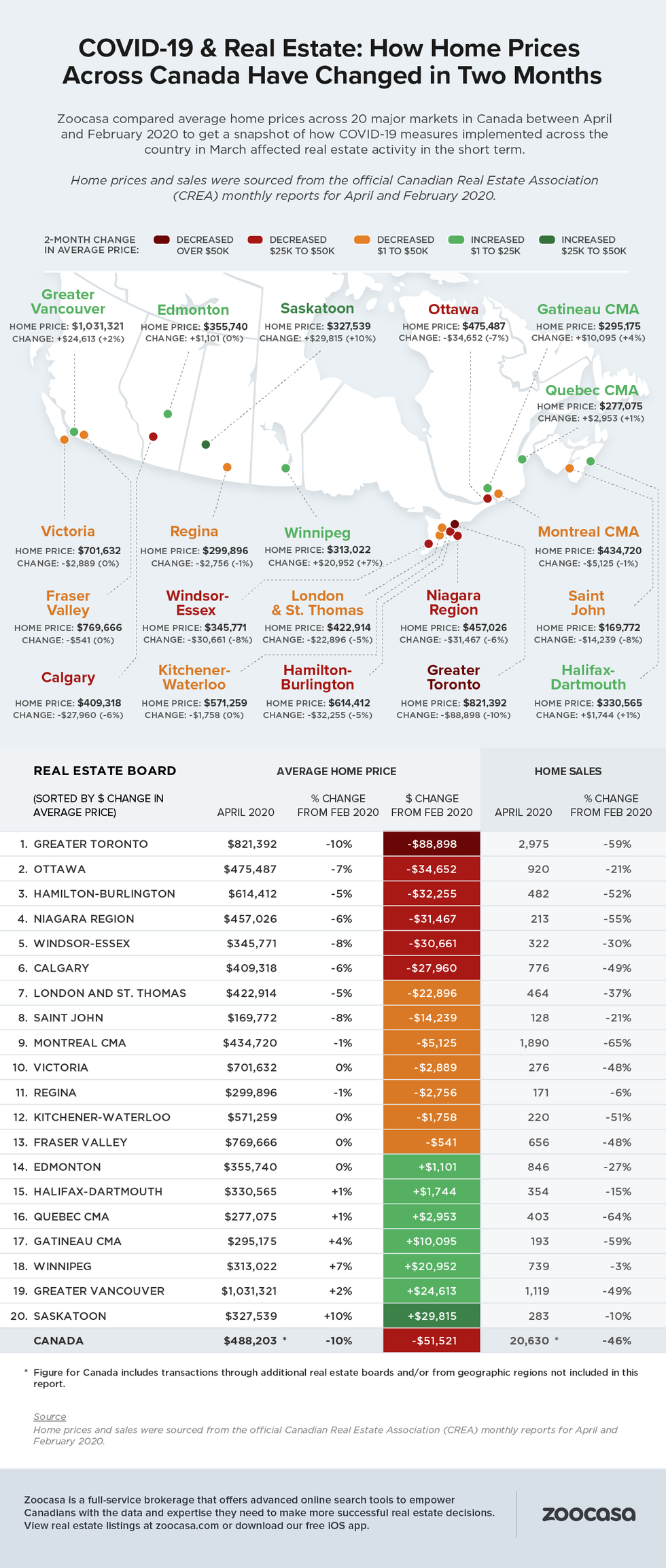 Zoocasa
It's important to note that Zoocasa didn't specify the types of homes sold during this time frame.
You can read the full report here.
Real Estate