As we enter month two of COVID stay-at-home-orders, Canada's real estate market continues to post record declines, with both home sales and new listings down over 50% in April compared to March.
National home sales dropped a record 56.8% month-over-month in April compared to an already "weakened" March, as the majority of sellers and buyers moved to the sidelines amid pandemic lockdown, according to new data from the Canada Real Estate Association (CREA).
---
READ: Toronto Home Sales Have Dropped Off a Cliff, But Don't Expect Prices Too
On a provincial level, transactions were also down month-over-month, with Canada's largest markets being hit the hardest. Sales fell by 66.2% in the Greater Toronto Area (GTA), 64.4% in Montreal, 57.9% in Greater Vancouver, 54.8% in the Fraser Valley, 53.1% in Calgary, 46.6% in Edmonton, 42% in Winnipeg, 59.8% in Hamilton-Burlington, and 51.5% in Ottawa.
Actual (not seasonally adjusted) sales activity dropped by 57.6% on a year-over-year basis, marking the lowest April sales figures in 36 years. Similar to the month-over-month changes in April, the data shows declines in the biggest markets were clustered in the 55-70% range.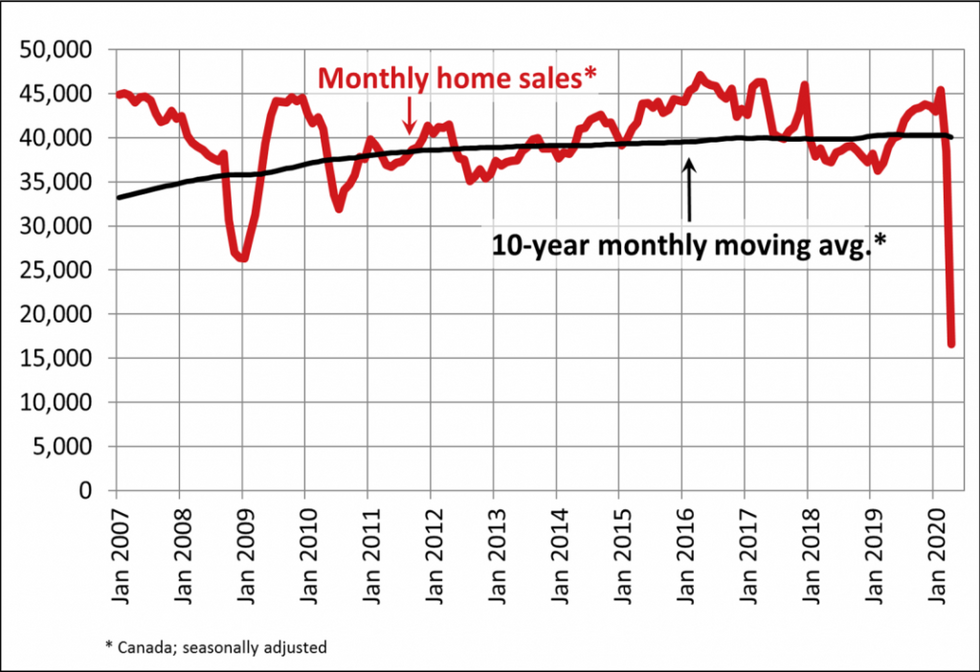 CREA April 2020
"Never in our recent history have we dealt with such widespread effects of a pandemic that limit everyone's day to day life and have forced all of us to pivot and adjust to our new reality," said Costa Poulopoulos, Chair of CREA.
In light of the pandemic, Poulopoulos says realtors across the country continue to comply with all government directives and advice to keep their clients safe. This includes adopting new technologies, like virtual home tours, and completing all necessary documents digitally.
READ: 17 Real Estate Forecasts and Updates That Have Tried to Predict the Impact of COVID-19
However, home sales weren't the only thing to experience declines, as new listings across the country were also down 55.7% month-over-month in April.
CREA says that with sales and new listings falling at a similar pace in April, the national sales-to-new listings ratio edged back to 62.4% compared to 64% in March and 65.4% in February. While this is down slightly, CREA says the bigger picture is that this measure of market balance has changed very little considering the extent of the current economic and social conditions that are impacting both buyers and sellers.
That being said, depending on the extent to which sales and new listings have fallen in various local markets, CREA says sales-to-new listings ratio at local levels have been extremely volatile.
Also worth noting is the Aggregate Composite MLS Home Price Index — which CREA says is the most advanced and accurate tool to gauge home price levels and trends — declined by 0.6% in April month-over-month, marking the first decline since last May.
"While some downward pressure on prices is to be expected, the comparatively small change underscores the extent to which the bigger picture is one where so much activity on both the selling and buying side is currently on pause," said the CREA.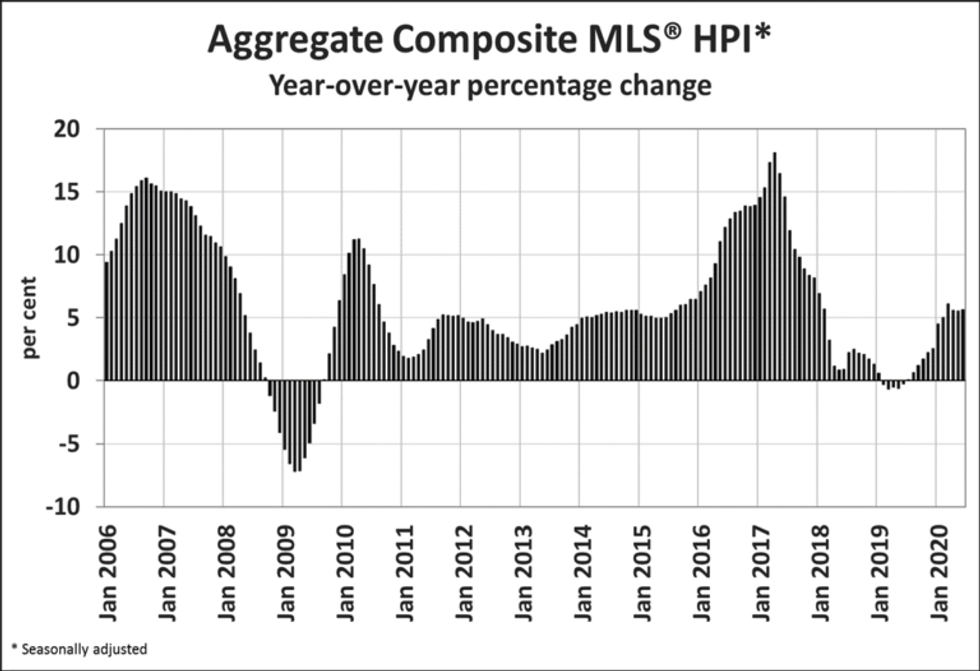 CREA April 2020
As for home prices, CREA reported that some parts of the country that had been poised to be "extremely strong" sellers' markets this spring saw some price gains, overall, gains did slow and prices were flat or down in a majority of markets in April compared to March.
According to the report, the actual (not seasonally adjusted) national average price for homes sold in April was just over $488,000, down 1.3% year-over-year.
CREA says the national average price was heavily influenced by sales in Greater Vancouver and the GTA, two of Canada's "most active and expensive" housing markets. However, if you exclude these two markets from the calculations, the national average price falls almost $100,000 and sits at less than $392,000.
Looking ahead, CREA expects the extent of how home sales fluctuate in these two markets, in particular, could have larger effects on the national average price, both on the way down and the way back up.
Real Estate