Last February the Canadian housing market was undoubtedly in a slump. Sales were the lowest they'd been in 10 years, reported the Canadian Real Estate Association (CREA), and prices were stable — hard to grapple with in a property market used to runaway growth.
That appears to have completely turned around now, as the February 2020 data shows buyers and sellers have regained confidence in the market and are back to business. Whether this market confidence will continue now that the World Health Organization has announced a pandemic due to COVID-19 is anyone's guess – but the short-term numbers reveal strong year-over-year and month-over-month growth for both buyer demand and prices.
---
Sales Up Nearly 30% Canada-wide
CREA reports that sales skyrocketed almost 27% in February compared to last year, and rose about 6% from January. Again, this surge is mostly due to last year's lows, and does not indicate a runaway market — yet.
"With transactions up in about 60% of all local markets in February, the big national increase was largely the result of a 15% jump in activity in the Greater Toronto Area (GTA), " CREA says. "Many other Central and Southern Ontario markets also posted sizable sales gains between January and February."
Home prices also shot up, with benchmark prices across the 19 markets CREA tracked up 4.55% year over year to $648,600. Benchmark prices more closely reflect the "typical" high price as they exclude homes on either end of the curve. The national average sale price also skyrocketed, up in the double digits 15.2% to $540,000.
"Comparing home prices to year-ago levels yields considerable variations across the country, although for the most part trends are still regionally split along east/west lines, with rising gains from Ontario east, and a mixed bag of smaller gains and declines in B.C. and the Prairies," CREA says.
Recovery On the West Coast, Not So Much in the Prairies
Vancouver homes for sale are finally back in positive territory, and posted gains of 0.3% year over year, rising to $1,026,100. Now that travel is limited and foreign buyers who make up a significant portion of the market are not coming to Canada as much, it's possible that the market, one of the most expensive in Canada, will slow down in March and April.
The prairies have not experienced the same recovery as the rest of the country and are likely to head in much further decline into 2020, as oil prices collapse. Already suffering from a glut of inventory, those cities will continue to experience a heavy buyers' market. Calgary, Regina, Edmonton and Saskatoon are all in the negative year over year.
Ontario, in contrast, is the hottest market in the country, especially among smaller urban centres. Ottawa MLS listings, for example, surged 13.53% year over year to $459,100.
Still affordable cities with properties under $500,000 like Guelph, Niagara region, Montreal and Moncton all posted healthy gains, above the rate of inflation.
If this rate of price growth will continue or increase now that the Bank of Canada has slashed interest rates is likely, but not certain, as many variables are now in play.
Check out the infographic for more details on February's housing market: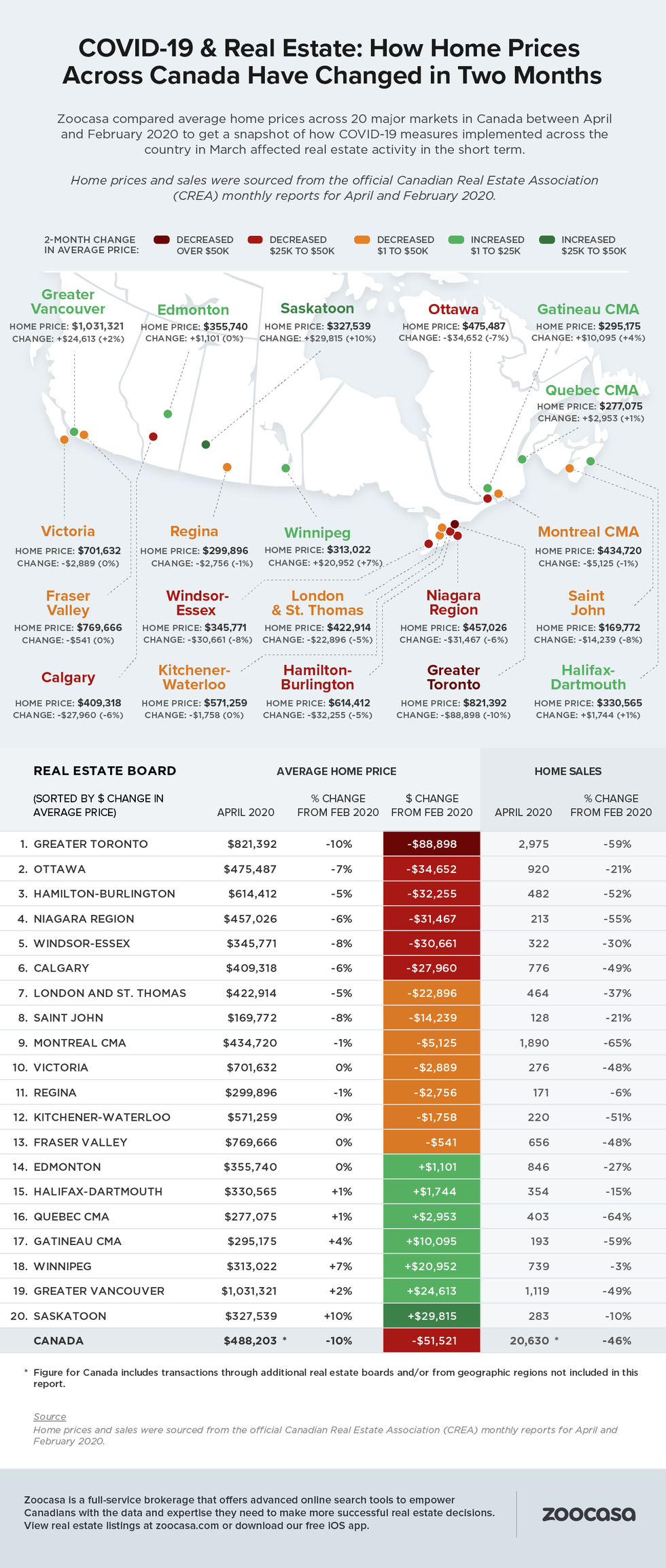 Zoocasa
Real Estate News