Canadian commercial real estate giant Cadillac Fairview (CF) is plowing forward with its Canadian residential program, most recently setting its sights back on Montreal.

Today, the company announced the construction of 510 rental units at 750 Peel Street in Montreal in the company's Quad Windsor district. An upcoming neighbourhood in downtown Montreal, Quad Windsor houses the Gare Windsor, Tour Deloitte, and Tour des Canadiens condominiums. The vibrant new downtown neighbourhood is materializing in stages and is set for completion by 2030.
---
Set to transform the downtown core, the project will include a total of nine new buildings in the area, five being residential towers and two office towers.
750 Peel is slated for occupancy in 2026 and will be complete with an eye-catching European-style courtyard, extensive wellness amenities, coworking and meeting spaces, and 207 underground parking stalls. According to CF, the development will bring significant landscape and public realm improvements. An appreciated perk during Montreal winters, 750 Peel will be the only residential rental building in Montreal with a direct connection to the city's underground network.
750 Peel builds on CF's densification and diversification strategy and marks the second project of its largescale, $4.7B residential program, launched in November 2022. According to the company, it has the capability to deliver 7,000 rental units in 20 buildings within several of CF Fairview's retail properties and mixed-use sites across the country.
In short, CF is making the most of its prime urban and suburban real estate by building on and around its famed shopping malls.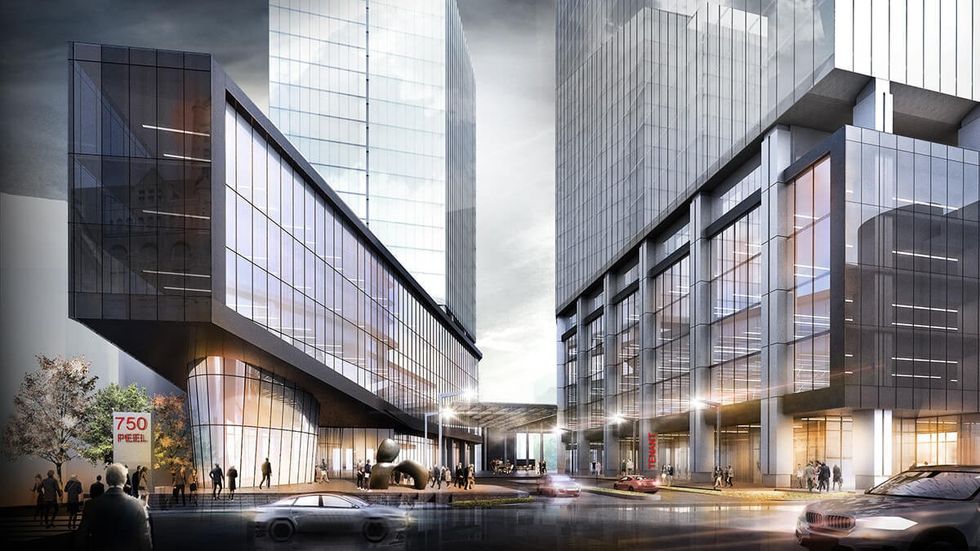 Cadillac Fairview
The first phase is the construction of 288 units currently underway at Ottawa's famed CF Rideau Centre. Marking CF's first major investment in residential rental development in Canada, the Rideau Registry residences, owned solely by CF, brings prime downtown rental apartments with extensive amenities seamlessly connected to the shopping centre. The building will also transform Ottawa's historic Registry Office with significant public realm improvements, including a café-bistro and an enhanced entrance to the shopping centre.
The Rideau Centre isn't the only CF-owned shopping mall to see the addition of residences. Etobicoke's CF Sherway Gardens, North York's CF Fairview Mall, and Richmond, B.C.'s CF Richmond Centre will be home to hundreds of new renters in the not-too-distant future. The common denominators among the developments – aside from prime access to shopping, of course – are a best-in-class amenity package, a concierge approach, and an experience-forward lifestyle for its residents.
While CF is best known for its sleek shopping centres in Canada's major cities, its president and CEO Sal Iacono says that the phased strategy of entering the residential sector is actually familiar territory for the 70-year-old company.
"It was in 1953 that our company was founded by meeting the need for housing during the post-war baby boom," said Iacono. "We revolutionized the design of apartment buildings, introducing features that are taken for granted now, such as health club facilities, individually controlled heating and air conditioning, underground parking, and grounds landscaped with trees and fountains. These were all pioneered by the early forerunners of CF and for us today, our full-circle re-entry into residential is akin to homecoming of sorts."
Through CF's residential rental program, the company says it is responding to the critical need for housing across the country, with Canada Mortgage and Housing Corporation ( projecting a shortfall of some 3.45 million homes by 2030.
"The project at 750 Peel and our residential rental program in general is absolutely aligned with our corporate purpose of transforming communities for a vibrant tomorrow," says Wayne Barwise, Executive Vice-President of Development at Cadillac Fairview. "We are ready to do this – to work with municipalities and all levels of government when the conditions are ripe to meet the housing needs of a growing population."
Barwise also credits Ottawa for removing the federal sales tax on construction of rental housing as incentivizing increased investment in residential projects, describing the move as "timely, significant, and more than welcomed."
CF isn't the only shopping mall giant to set its focus on real estate. In November 2021, Oxford Properties Group announced it would add shiny new apartment buildings to Yorkdale Shopping Centre. That's not all; Oxford is also adding homes to two other Greater Toronto Area malls: Square One Mall and Scarborough Town Centre.
Future Developments