---
Earlier this year, Cadillac Fairview and partner SHAPE unveiled plans for thousands of new condos at north Toronto's Fairview Mall. Now one of the shopping centre's neighbours is following suit with a development proposal of its own. 
Northwest Healthcare Properties REIT, a self-described "global real estate investor and asset manager focused on properties and partnerships at the intersection of healthcare, knowledge, and research," wants to add two residential towers to the property it owns at 5 Fairview Mall Dr. 
Today, the site includes a four-storey medical office and parking lot to the immediate northwest of the mall of CF Fairview Mall. The new towers, which are the subject of a recent development application to the city by Bousfields Inc. on behalf of the land owners, have proposed heights of 36 and 31 storeys and would include 598 dwellings overall. Of these, 353 are proposed as one-bedroom suites, while 187 would have two bedrooms and 58 would include a third bedroom.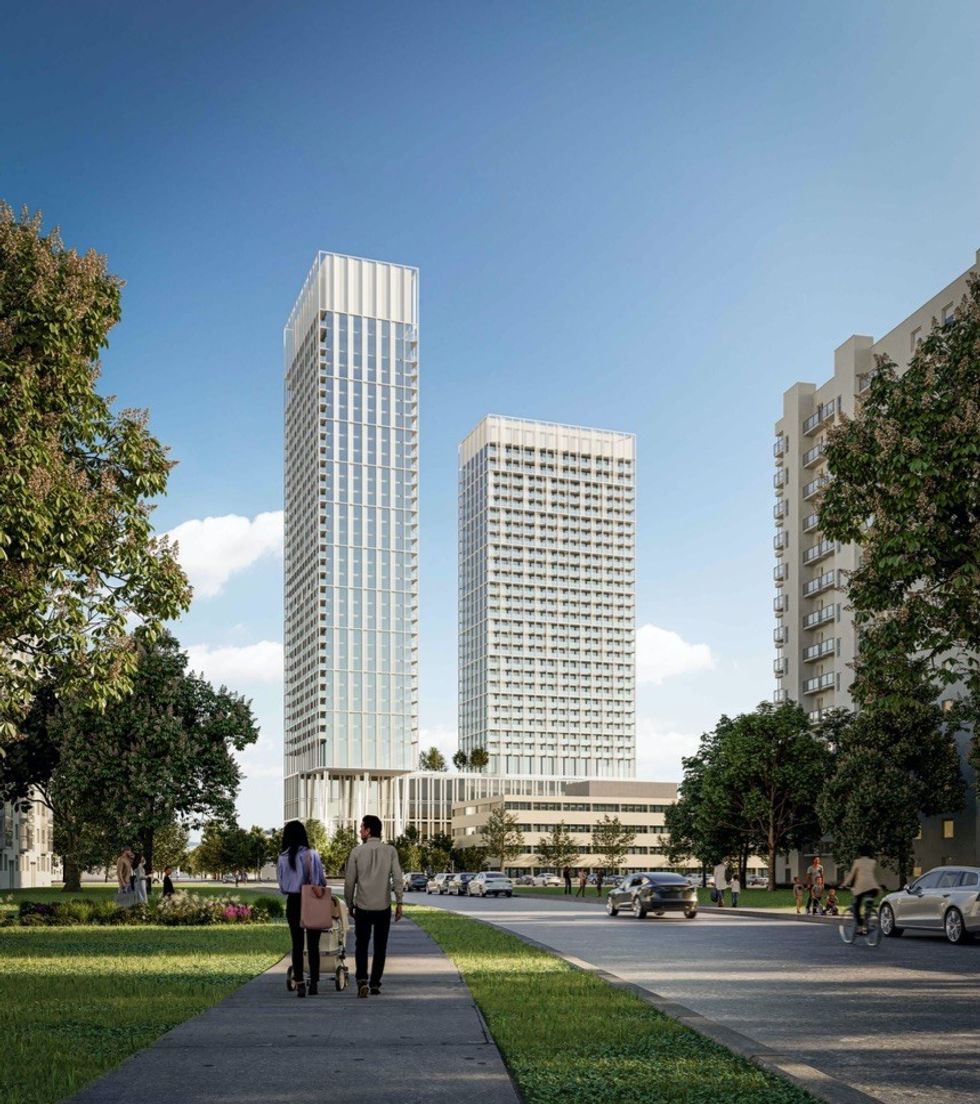 Rendering: WZMH Architects
The application's planning rationale document suggests that the units would be rentals: "It is our opinion that the proposed infill development represents good land use planning and urban design and reflects an important opportunity to redevelop an underutilized site with additional rental residential units, without any unacceptable built form impacts."
A five-storey podium containing 10,883 sq. m of office space and 549 sq. m of retail connects the WZMH Architects-designed towers. The development vision also sees the existing medical building, which offers 8,000 sq. m of offices, to remain at the site. 
"At the pedestrian scale, the podium is of a scale that responds to the existing medical office building on the site and enhances the public realm," reads the planning rationale, noting a "generously landscaped" privately owned publicly accessible space would be established at the corner of Fairview Mall Drive and Don Mills Road.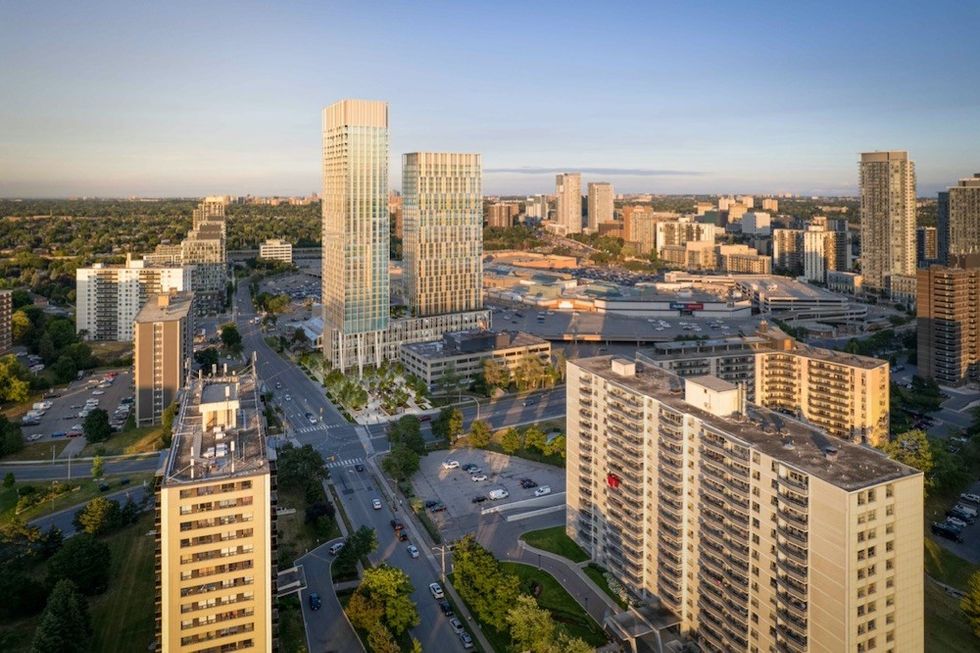 Rendering: WZMH Architects
The new development would bring 544 vehicle parking spaces and 477 spots for bicycles.
Proposals like Northwest's build on the ongoing trend of transforming Toronto shopping malls into high-rise communities, something already in the works for popular retail destinations including Centrepoint Mall, Cloverdale Mall and Yorkdale Shopping Centre. 
Once such plans to add density directly to a mall site are revealed, nearby commercial-property owners are often inspired to bring forward intensification proposals, too, says Craig Patterson, publisher of Retail Insider Media. 
"We're seeing shopping centres here in Toronto… becoming town centres," Patterson, also an Advisor at the University of Alberta Centre for Cities and Communities, tells STOREYS. 
He expects more new proposals to crop up surrounding malls in the future. "Now it seems like almost every single shopping centre, at least in the city of Toronto, as well as some of the suburban ones, now have development applications either on site or adjacent -- or both."
Future Developments