---
Late last week, with Mayor Ken Sim in attendance, Chard Development celebrated the ground-breaking of their latest residential project in Vancouver called The Cascades.
The Cascades will consist of 575 rental apartments, with 20% of the units secured at below-market rates, and 28 units operated by the Metro Vancouver branch of the Young Women's Christian Association (YWCA). They'll be spread across two towers, reaching 28 and 32 storeys in height, located at 622 SW Marine Drive, about one block away from the Canada Line SkyTrain's Marine Drive Station.
The location places it within the Marpole neighbourhood of South Vancouver, but this particular area that intersects with the Cambie Corridor has become a notable sub-neighbourhood in and of itself: Marine Landing.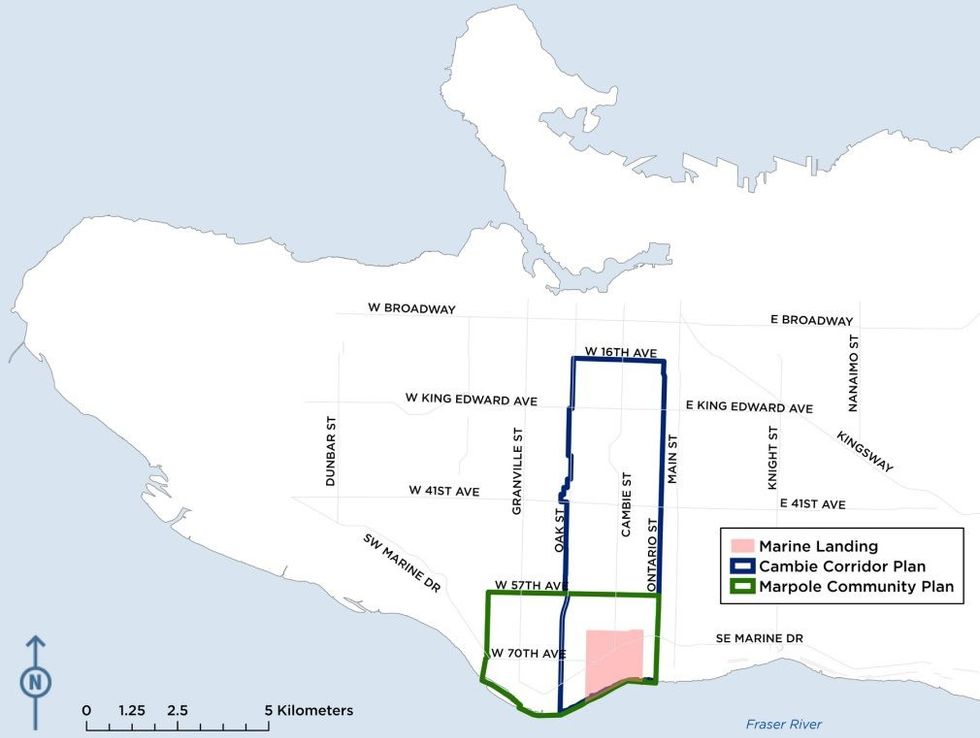 The Marine Landing sub-neighbourhood of Marpole in South Vancouver. (City of Vancouver)
The Marine Landing neighbourhood came into its own following the completion of the Marine Drive Station in 2009 and then the Marine Gateway commercial complex around the station in 2016, in one of Metro Vancouver's earlier examples of a transit-oriented community.
Then, in 2020, the City of Vancouver identified the Marine Landing area as a site in need of more affordable housing, as well as one that needed more employment intensification, setting much of the stage for the development that we've seen in the area since then.
The Cascades project by Chard Development is one of the larger rental projects in all of Vancouver, and is directly across the street from the largest co-op housing project in all of Canada, Ashley Mar, which is being developed by Oxford Properties and Intracorp Homes and began construction in October 2022.
Simultaneously, on the employment front, the area is also home to a small cluster of upcoming multi-level "stacked" industrial spaces, including one by Wesbild at 8250 Manitoba Street, an office-industrial complex by Hungerford Properties at 396 SW Marine Drive, and a project at 750 SW Marine Drive dubbed Forum, also by Chard Development.
In an interview with STOREYS, President and CEO of Chard Development Byron Chard, who, in 2019, took over the reigns of the company founded by his parents in 1994, discusses the Marine Landing area at large, building in Vancouver compared to building in Victoria, and what developers like Chard are currently concerned about.
Would it be fair to call Marine Landing an emerging neighbourhood? 
I think it's been established for many years now, since the Canada Line was completed and PCI did Marine Gateway. I think that was the establishment of the neighbourhood and it's actually just maturing now.
This area is one the City has identified for employment intensification, both office and light industrial. How do you think all the various uses will mesh? How do you envision the area continuing to mature?
I'm a big proponent of 15-minute neighbourhoods, where employment, services, and homes can be within 15 minutes of walking distance, and that's where I think Marine Gateway is heading. It's kind of already there actually and it's just expanding.
I think a great example of a successful comparison is Mount Pleasant and Olympic Village, with the light industrial being so close to Olympic Village, and the vibrancy that is in that neighbourhood today is inspiring. That is where I think Marine Gateway is heading. There's already some fantastic companies and successful businesses there, and I think now we're going to see it mature, just like Mount Pleasant has over the last 10 years.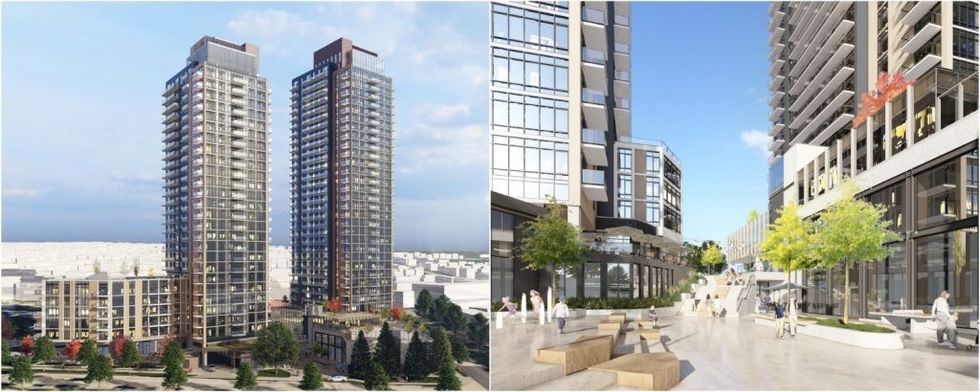 The Cascades rental project on 622 SW Marine Drive. (Chard Development)
Do you think that will be more residential, more commercial, or a bit of both?
I think it's going to be a bit of both. The City has done a good job of designating employment lands versus the housing lands versus the affordable housing lands. In the Marpole Community Plan, that is really defined, and so we are going to see a mixture of that development, and we've seen that through a variety of proposals in the area.
Say this full maturity of the area is a nine-inning baseball game. How far along do you think we are?
I think we're at the top of the fourth. It's definitely been established. I think the Canada Line was the first inning. That established -- to continue with the analogy -- the tone of the game, and the culture, and the opportunity that was there. I do think this will be a longer game. This area is going to continue to compete now with Oakridge and other "baseball games."
"Compete" in what sense? With development? Employment?
All of the above. What I mean is that we're seeing neighbourhoods be formed on different nodes along the Canada Line, on the [upcoming] Broadway Line, and that attracts the businesses, the homeowners, the renters, retail, and so competition breeds innovation, and it brings vibrancy at the end of the day because businesses and developers have to stay innovative.
Somebody looking to live in Marine Gateway who is moving to Canada, let's say, and they're looking for a rental. They will probably look at multiple different little nodes along the Canada Line, such as Oakridge or Marine Gateway. And so we are competing for people to live there and want to call that 15-minute neighbourhood their home.
On the note of "innovation," this area is home to several multi-storey "stacked" office-industrial projects, including Wesbild's Marine Landing project and your Forum project. Is there something particular about this area that calls for these stacked spaces, or is it just the need for employment space and this is the best use of the land?
I think the City has stirred innovation on employment lands. They have been open to exploring what stacked light industry looks like, of how to encourage developers to get creative on employment-generating space, so I think it's the City that has opened the creativity.
Developers in the City of Vancouver are some of the best in the world, in my opinion, and some of the best at being creative and finding solutions and finding innovative development opportunities, and the City has allowed those developers to think outside the box on those employment lands.
Both of those projects are also strata. What are some of the considerations that go into deciding whether to go leasing or strata? 
Number one: the size of the project is really important. It is also the ownership. Is this a long-term hold for us? Is leasing more valuable? It's also about the amount of equity, so really it comes down to a business plan and also the market. What would the market rather absorb?
As we're seeing, there is a market for users wanting to own their space, because then they control their business, and they're not subject to a lease that expires in 10 years that could affect their business operations. That's where we've seen strata become more and more popular, because business are in more control of their future.
Have the considerations been affected in the last year or so with rising building costs and interest rates? Has it changed the math?
I think it's changed the math on every type of project. A changing economy, a changing industry, and changing variables will always impact the decision, so what we are seeing is decisions do take a bit longer. It's more of a longer decision-making process of how companies are looking to expand, contract, or operate over the next 10 years.
Having different offerings such as strata and leasing allows for more opportunity and -- again -- competition for the end user, and I think competition is healthy and will also keep pricing -- I don't want to use the word "affordable" -- competitive for businesses.
How has the last year or so been for Chard?
The economic climate has definitely made it more challenging. It has made us reassess a few projects and their viability, it has made us contemplate what we do long-term with some rental projects because of the financial viability of them, it has made us relook at the design and what we're actually able to incorporate into the buildings, and so unfortunately the economic impact has made us relook at quite a few projects. But it has also presented some opportunities, such as working with the YWCA, BC Housing, and our financial lenders. But it is absolutely more challenging. The numbers are tighter and I think we're starting to see that with the housing starts decrease.
Chard is also quite active in Victoria. How does building in Victoria compare to building in Vancouver?
Victoria has been very kind to Chard. We've been there for 20 years, and we really know the processes, and we also know the market really well. And it is a different market. The population, the immigration trends are different, which changes how we design [our projects]. I think the major difference we see is that it is a smaller market than Vancouver, and so the relationships that we've built -- at City Hall, with sub-trades, with our owners, with our tenants -- is much more valuable, and is one reason we love to work there.
Is there anything either municipality can learn from the other?
I think that there is opportunity for every municipality to learn from each other. Just like any company, any municipality has positives and negatives. I think the Province is starting to identify that as well, with the housing targets, which is encouraging municipalities to be innovative and learn to speed up their processes to achieve more housing.
What are some of the positives with the City of Victoria that are perhaps not as common here?
I think number one is the accessibility of the Victoria staff. They're very accessible to ask questions, to collaborate and discuss concerns. The City of Vancouver has also really improved on this. [The Cascades], for example, includes a partnership with the YWCA -- a voluntary partnership. It was really the City of Vancouver understanding why we're offering this, how we're offering it, and what we need to make it a success. We got a unanimous approval and we've shown that creativity can occur at City Hall while staying within policy and the intent of policy while incorporating a new concept.
[According to a City of Vancouver report, the YCWA units will include units targeted towards moderate-income households, units set below Housing Income Limit levels, and units offered at the shelter component of income assistance.]
How would you describe the state of commercial office and industrial development in Victoria, where vacancies are fairly low? Is there a lot of commercial development going on or is the focus on housing?
There's a good mixture right now. It depends on where in Victoria. The City of Victoria itself does not have a significant amount of light industrial under development. However, the surrounding regions of Victoria do.
Have you seen any stacked industrial projects anywhere on Vancouver Island?
I have not yet. Potentially in Colwood. Colwood and Langford is where I'd say there is a little bit more success right now in light industrial. We've poked around for some opportunities with Chard, but we haven't been able to be comfortable to move forward with that concept.
In general, how are people feeling about upper level light industrial spaces?
It really comes down to what light industrial is and different uses. Some businesses that get into light industrial are also technology, they are not the traditional pallet-type light industrial that we may think of. It really comes down to how businesses are changing as well. And so a light industrial company in different municipalities to fit that zone can be a different type of organization.
It can be a research company, for example, and that's what we've seen in Mount Pleasant. And that's where some of those type of users are taking up second floors, where they will be needing that freight elevator still, but it's not as frequent as the users who need loading bays.
At large, what are the biggest concerns amongst developers right now? Is there something developers are particularly pushing for, or worried about, or talking about among themselves?
I am most nervous about continued government intervention at all levels, on policy shifts that could impact a certain region. On a federal level, I would say what I'm most concerned about right now is where we see overarching policy shifts where we could see a different impact out west, because we experience different economic factors than Ontario or the east coast.
Especially at the federal level right now, I am concerned on ensuring that policies will continue to encourage rental projects, that CMHC is still ready and able to look at the RCFI Program and different debt programs to encourage rental. They have the most ability. What we saw in the '70s is the federal government is always the organization that can spur the most rental housing, and so I hope that they will continue to do so, and to make sure there is a significant supply in the pipeline.
Vancouver