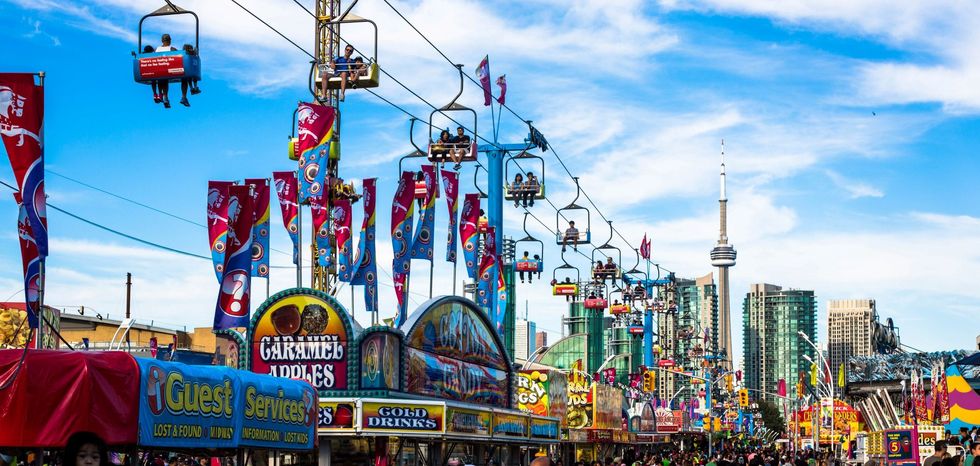 (Photo courtesy of the CNE)
The CNE is in full swing this weekend with some of the most iconic events of the festival.
---
Whether you want your fancy feast from a food truck or for a feline friend, this weekend is packed with things you can enjoy free with your admission ticket.
Besides great entertainment, these events are also a great way to support Toronto businesses and vendors at either the Food Truck Frenzy or Craft Beer Fest.
1. Craft Beer Fest
When: Friday to SundayTime: 11 a.m. to 11 p.m.Where: Princes' Boulevard
In the heart of the Food Truck Frenzy, 11 of Toronto's favourite brewers will sample their locally-crafted beers. Check out the breweries below:
Big Rock Brewery
Boshkung Brewing
Market Brewing Co.
Muskoka
Pommies Cider Co.
Sawdust City
Shiny Apple Cider
Spearhead Brewing
Steam Whistle
Vieni Cider
Whitewater
2. Food Truck Frenzy
When: Friday to SundayTime: 11 a.m. to 11 p.m.Where: Princes' Boulevard
Food Truck Frenzy is one of the flagship events of the CNE. It's situated on Princes' Boulevard, just inside the historic Princes' Gates and in front of the Beanfield Centre and Enercare Centre. The Food Truck Frenzy will feature a wide variety of Toronto tastes.
Food trucks participating include:
Dang Good BBQ
Bacon Nation
Busters Sea Cove
Burgatory
Gourmet Guyz
Bake Three Fifty
Beavertails
SWAT (Sandwiches with a Twist)
Delight Bite
feasTO
Tdots Naansence
Spice Rack
The Colossal Onion
CORNehCOPIA
Mustache Burger
Eva's Original Chimneys
I Love Churros
Pappas Greek "On Wheels"
Philthy Phillys
Texas Tornado
Food Dudes
The Urban Smoke
Toben Food By Design
3. The Cat Show
When: Saturday and SundayTime: 10 a.m. to 5 p.m.Where: Café Soleil, Enercare Centre
If you're a crazy cat person, this is the weekend to hit the CNE. There will be more than 125 cats from across Ontario showcased and in competition.
4. CNE Aquarama
When: Saturday and SundayTime: 4 p.m. to 6:30 p.m.Where: Waterfront, south of Lake Shore Blvd.
Aquarama is a long-time favourite for CNE-goers. If you haven't checked out the amazing routines on water , this year's it's a Las Vegas-themed wedding celebration. So prepare your best Elvis impersonation.
5. Aerial Acrobatics & Ice Skating Show
When: Saturday and SundayTime: 2 p.m. to 2:30 p.m.Where: Coca-Cola Coliseum
Quatro, the CNE's brand new aerial acrobatics and ice skating show is themed around the Four Elements: water, fire, wind, earth and the dynamic interaction between the four forces of nature.
Toronto