---
The Cascadia high-speed rail project that would connect Vancouver, Seattle, and Portland is moving on to its next phase, according to the Province of British Columbia.
On Tuesday, BC Premier John Horgan announced another $300,000 in funding towards the project, which is officially called the Ultra High Speed Ground Transportation Project. The next phase of the project, still in the study phase, intends to:
Address the roles, responsibilities and future funding requirements of the project;
Develop a regional public outreach and engagement strategy;
Explore opportunities to integrate ultra-high-speed rail into regional transportation and land-use planning; and
Develop plans for future environmental review processes, engineering and design requirements.
It will be led by the Washington State Department of Transportation, in partnership with the State of Oregon, the Province of British Columbia, and other regional and local agencies. The provincial government provided $300,000 towards two previous studies as well, which were completed in 2019 and 2020.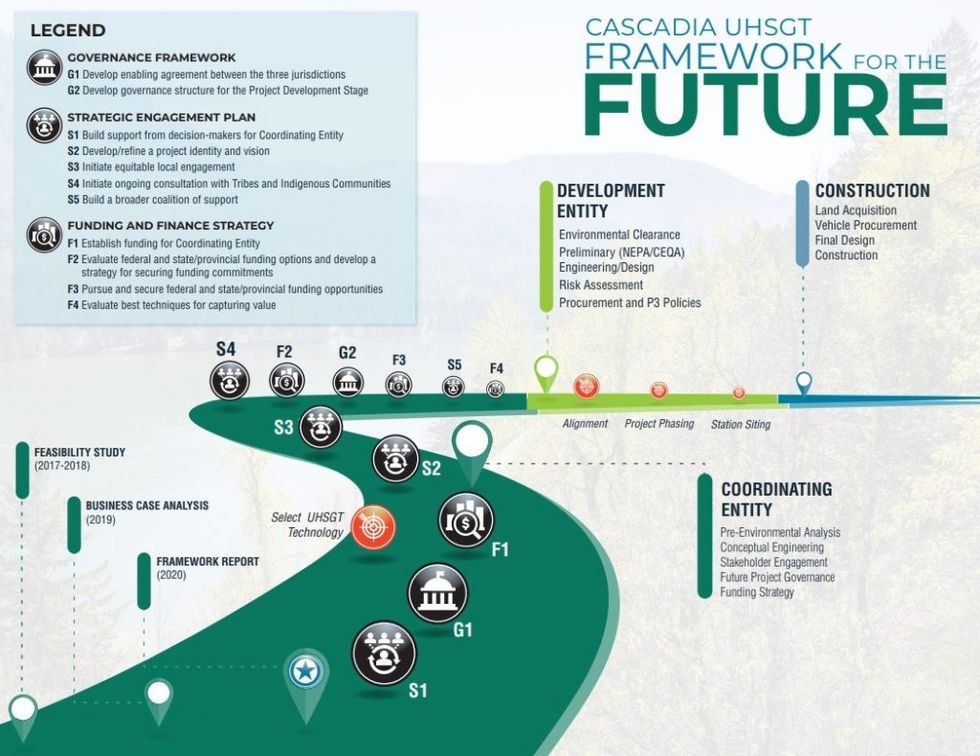 The approved next phase is S1. (Washington State Department of Transportation)
The long-discussed project has been a topic of excitement for residents of the Pacific Northwest, a region sometimes also referred to as Cascadia. In BC, polling has found that a significant segment of British Columbians identify more with those in Seattle and Portland than they do with those in Toronto and Montreal.
For the government, the project is about business and the economy. "This proposal has the potential to significantly cut transportation time between Seattle and Vancouver -- presenting new opportunities for clean economic growth, job creation and tourism throughout the region", Premier John Horgan said. "Improving transportation connectivity throughout the Pacific Northwest is an important part of our work to build a stronger, more sustainable future for people on both sides of our border."
The Governor of Washington State, Jay Inslee, reiterated the sentiment today. "I want to thank our partners in British Columbia and along the West Coast as we continue making progress toward a high-speed rail system that will strengthen our economic and cultural bonds and transform how we travel," he said.
READ: Do SkyTrain Expansions Really Better Vancouver's Affordable Housing Problem?
Previous studies focused on these potential benefits, finding that strengthening ties between BC, Washington, and Oregon could generate economic activity upwards of $355B for the region, create as many as 200,000 jobs, and reduce as much as 6M tonnes of greenhouse gases.
The idea for the Cascadia high-speed rail project was birthed, according to an official project report, at a 2016 conference on the Cascadia Innovation Corridor, where Governor Inslee and then-BC Premier Christy Clark signed an agreement stating they wanted to create a new "technology corridor", which would include a high-speed transit system.
All in all, construction for the project, were it to commence, would total about $42B, with revenue from the project expected to cover that $42B by 2055. If completed, the Cascadia high-speed rail would be able to travel as fast as 400 km/h, and commutes between Vancouver and Seattle could take as a little as one hour.
Transportation