Toronto
Real Estate News
Average Rent in Toronto for Condos and Apartments Down Nearly 20% Annually
As the pandemic continues to change how and where residents chose to live, the average rent for all property types in the Greater Toronto Area (GTA) has declined for 15 consecutive months — but there are signs that this could change… and soon.
In February, the average asking monthly rent in GTA for all property types fell 16.3% year-over-year to $1,986 — an amount that's down more than 13% from February 2019, according to the latest Bullpen Research & Consulting and TorontoRentals.com Rental Market Update & Assessment Report for the GTA.
As you could imagine, Toronto is also experiencing declines, with average rental rates for condominium rentals and apartments down nearly 20% compared to the previous year, down to an average of $2,000 per month.
For the region as a whole, average monthly rents declined 18% annually for condominium apartments in the GTA in February, while average monthly rents for apartments fell by 11% and single-family homes fell 8% compared to February of last year.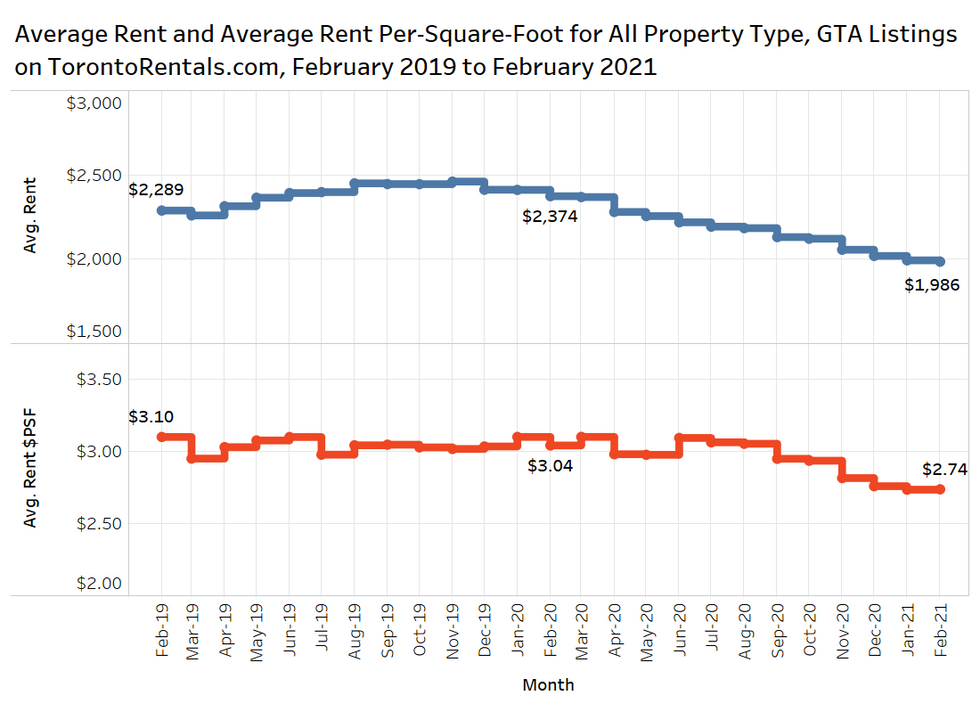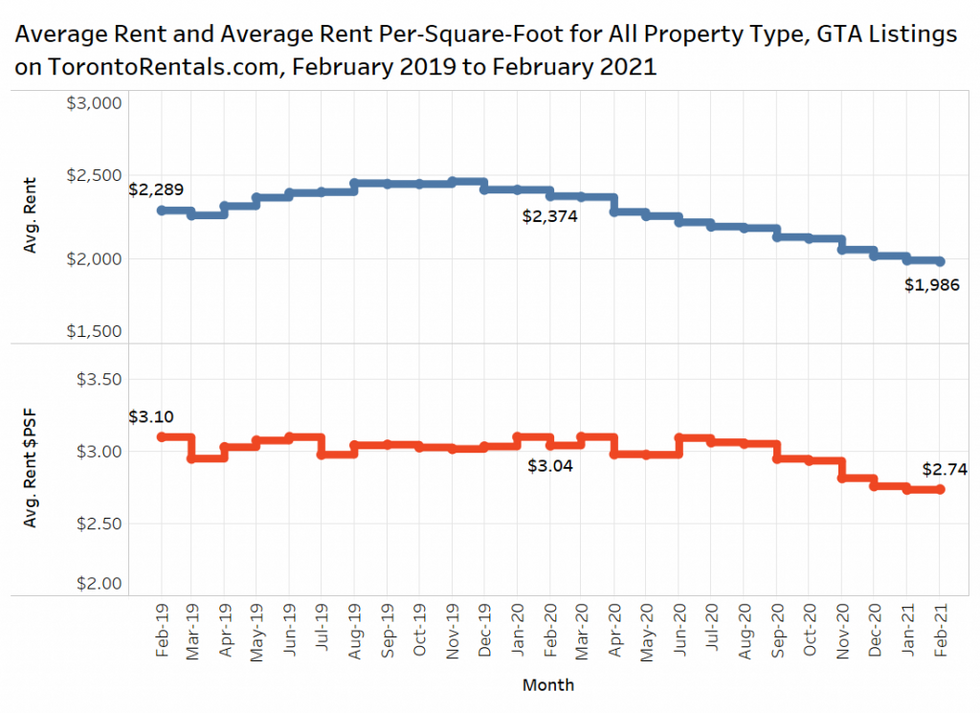 When looking at Toronto, the average rental rate for all the former municipalities in the city has declined compared to the previous year, a stark contrast when compared to the increases these municipalities experienced in February 2020 — prior to the pandemic.
In February, Toronto experienced a 19.7% decline in average rental rates year-over-year, down to an average of $2,000 per month, while Etobicoke saw a decline in average monthly rental rates of 15.5% to $1,942.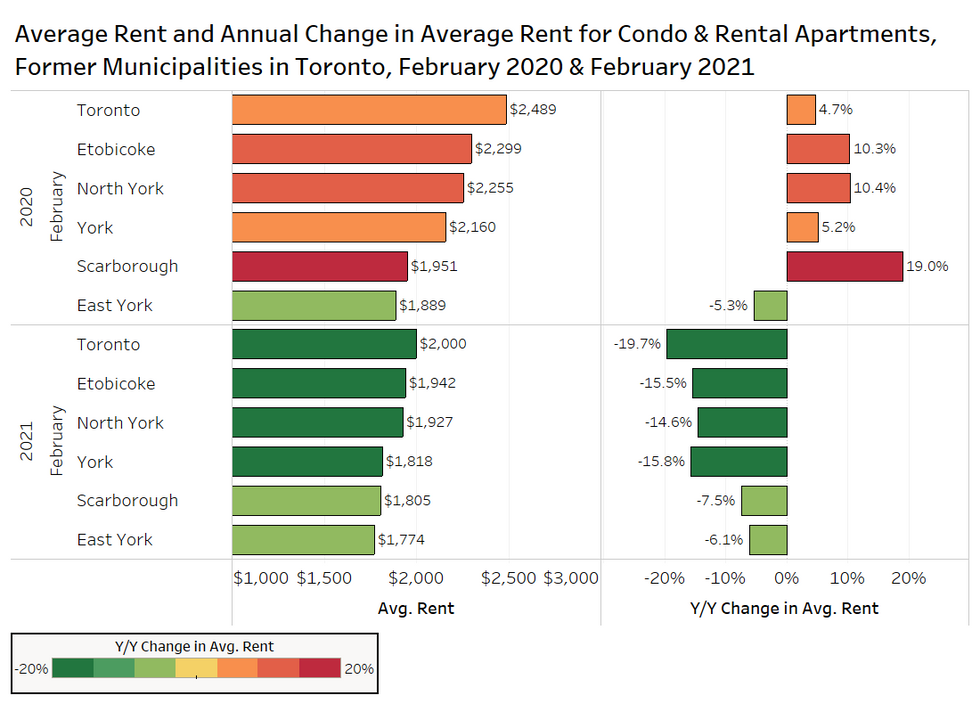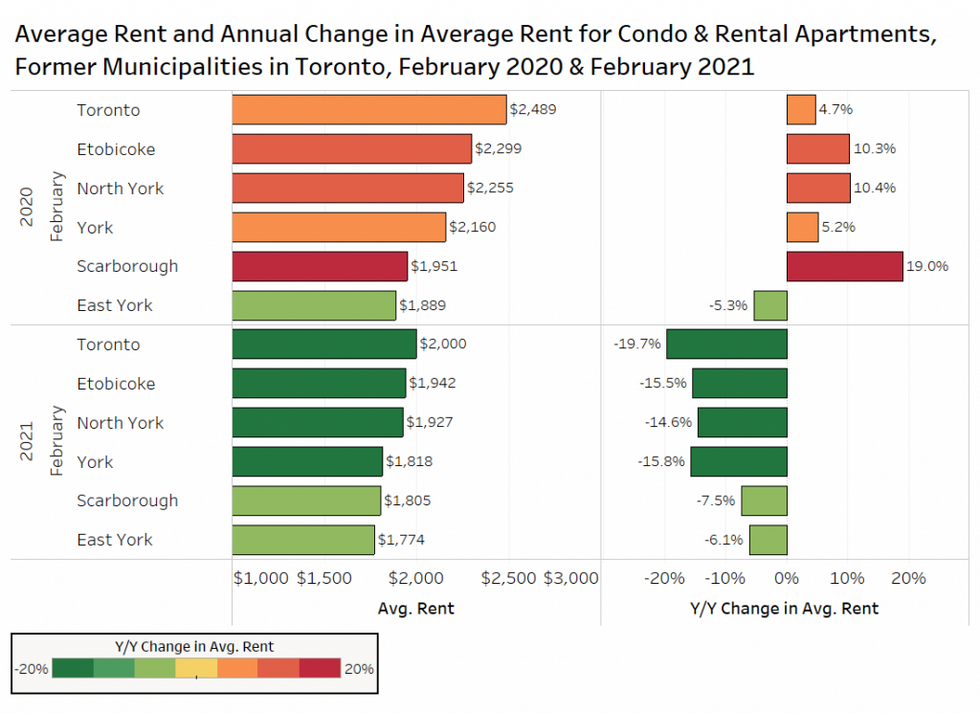 The best performing area in terms of yearly change in average rental rates was East York, decreasing only 6% to $1,774 per month.
However, the report points out that East York rents were also down 5% annually in February of 2020 as well, the only former municipality to decline pre-pandemic.
"The spring rental market is now upon us, and that will be a test for the resiliency of the market, as this period typically experiences the strongest demand of the year," said Ben Myers, president of Bullpen Research & Consulting.
"Are tenants willing to return downtown in anticipation of a re-opening of offices, or wait until it becomes a reality?"
While average rents were down in February, the report notes that the average rent per square foot for condo apartments in downtown Toronto didn't decline month-over-month.
Additionally, the average monthly rent for single-family homes as well as rental apartments also increased slightly in February over January, which may be an indication of how the market will respond moving forward.
That being said, as the province continues to ramp up vaccinations, tenants will slowly begin to feel more confident living downtown. At the same time, the bubble-like conditions the resale housing market is currently facing will force some potential buyers to continue renting.
Though, on the other hand, some tenants may become more cautious, anticipating another government intervention, similar to what was experienced in 2017.