Toronto
Renting
No Major Canadian City Has Taken a Rental Hit Like Toronto in the Past Year
Canadian rental markets continue to take a hit amid the ongoing pandemic, though no city has taken a beating quite like Toronto.
The average monthly asking rent for Canadian properties on Rentals.ca in February was $1,714 per month, a decline of 6% annually from $1,823 in February of last year, according to a new national rent report from Rentals.ca and Bullpen Research & Consulting.
"The condominium apartment market continues to weigh down the overall rental market in Canada, with huge year-over-year declines in average rental rates in BC, Quebec, and Ontario, especially for tiny studio apartments," said Ben Myers, president of Bullpen Research & Consulting.
Though, there is one city that took a more significant hit on an annual basis last month, perhaps unsurprisingly.
According to the report, average one-bedroom rents in Toronto have dropped 19.4% year-over-year to $1,808, while average two-bedroom rents fell 18.1% to $2,388 in February.
But it's not just Toronto that is experiencing steep declines in annual average rents, as 20 rental markets throughout the Greater Toronto Area (GTA) have also experienced notable declines in average rent levels over the last year for all property types.
According to the report, Toronto's South Riverdale neighbourhood has experienced the greatest annual change in rent for property types, as they're down 29% from $2,824 in Q1-2020 to $2,002 in Q1-2021.
According to the report, a renter is now looking at monthly rents $600 to $800 per month cheaper than a year earlier in a few areas of Toronto.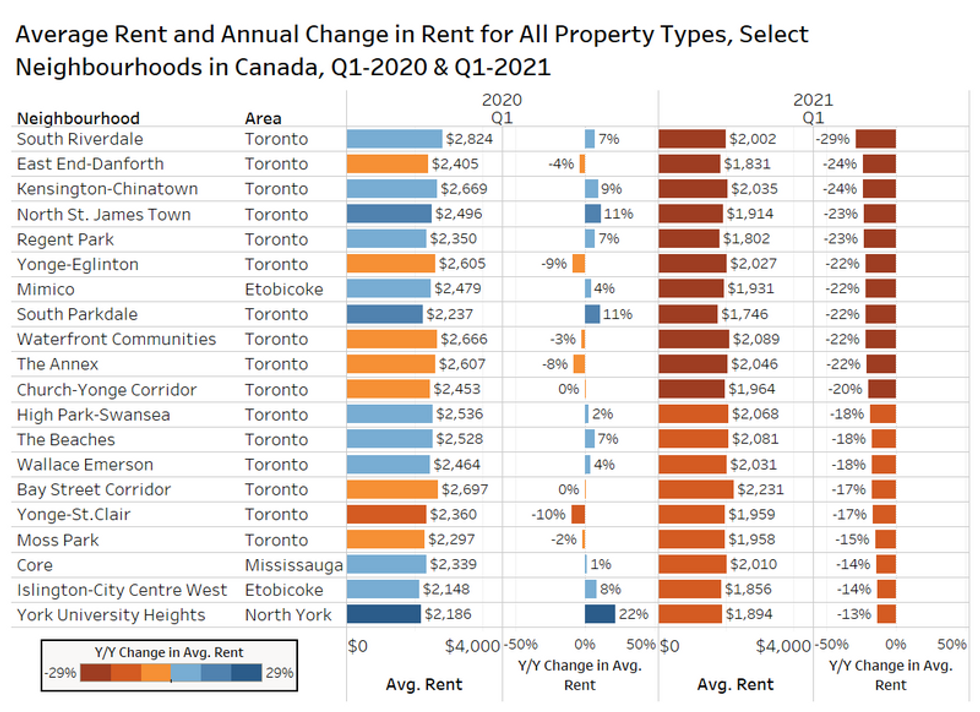 Despite the declines, Toronto still remains the second priciest city for average monthly rents for both condominium rentals and apartments, following on the heels of Vancouver.
This includes the fact that both city's have seen significant year-over-year drops, with Toronto's average monthly rent for condo rentals and apartments down 20% from $2,489 in February 2020 to $2,000 in February and Vancouver down 6% from $2,301 in February 2020 to $2,164 in February.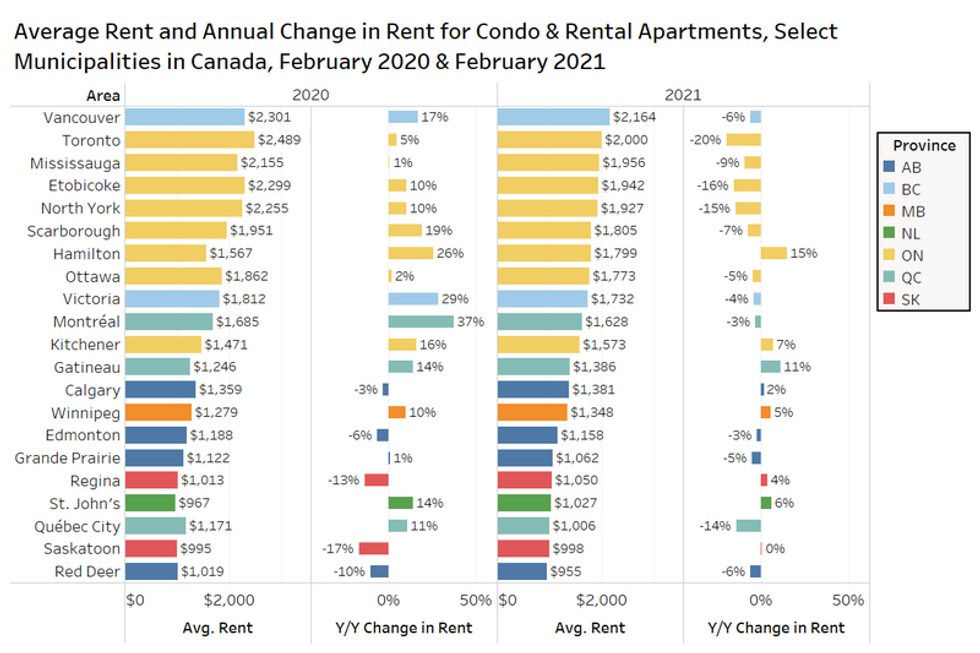 There is a light at the seemingly never-ending COVID tunnel, as the ramp-up in vaccine delivery over the next couple of months, coupled with the easing of lockdown conditions, the return to work for many employees, and an improvement in consumer confidence, will likely result in a rental market rebound — though, that could still be a few months away.
For now, if you're a renter, it's probably best you get locked into these low rates while you still can.