---
If you've been toying with the idea of renting a new place, the time to act is probably sooner rather than later.
After six straight months of declines, the average monthly rent for all Canadian properties in May grew by 2% month-over-month to $1,708 according to Rentals.ca's and Bullpen Research & Consulting's latest National Rent Report. This marks the first time the average monthly rental rate experienced its first month-over-month increase since October of last year.
After becoming such a competitive and pricy rental market that it was heading in the direction of Manhattan, Toronto's once sky-high rent costs took a nosedive across the board at the onset of COVID-19 and its countless life-altering ramifications. 
But now that hope is (finally) on the horizon for a return to life as we knew it, it looks like the rental market is starting to return to life too, along with many urban centres across the country.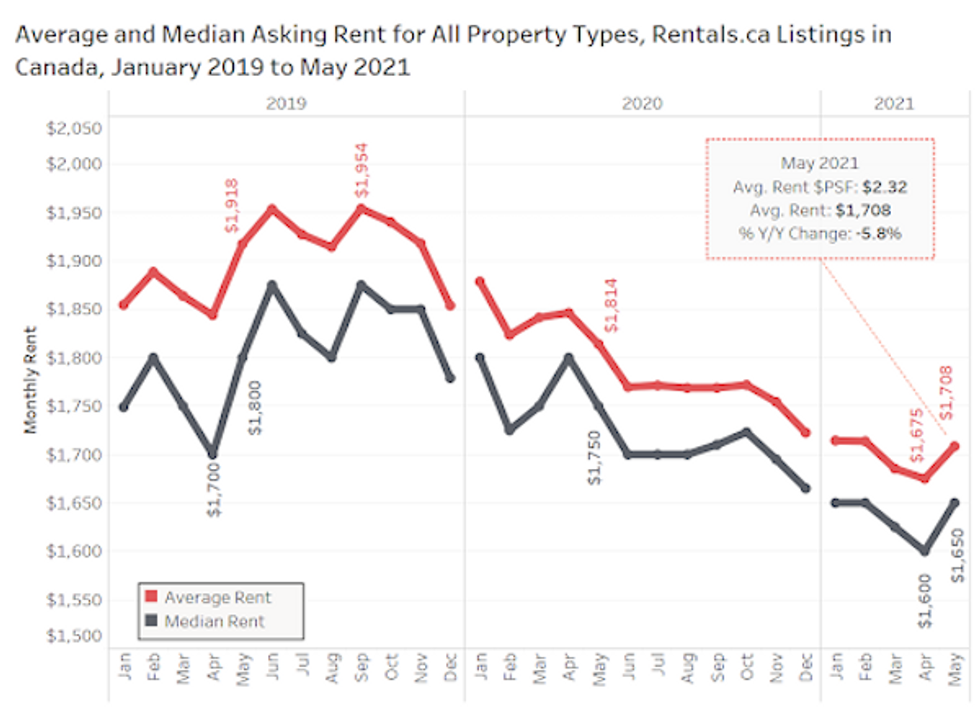 And, if all goes according to plan (meaning, no more endless lockdowns, thank you), Canada will re-open its border to further immigration, international students, and tourism. With this, rental rates are naturally expected to rise further. 
"Data in May showed the first definite sign of a market turnaround, as COVID-19 has had a major impact on rental rates, sending them plunging, especially in the downtown core areas of Canada's largest cities," says Ben Myers, president of Bullpen Research & Consulting. "The ramp-up in the vaccine rollout and anticipated return to normalcy has tenants trying to get in before rents trend up, increasing demand for all product and bedroom types in May, especially in Vancouver and Toronto."
According to the report, the demand for larger units remains as hot as ever (something that comes as no surprise after months of lockdown measures and ensuing stir craziness), as the average monthly rental rates for single-family homes continues to grow, increasing from $2,214 in January to $2,608 in May, a notable rise of 18% in that time span. Anecdotal evidence shows bidding wars, and tenants renting homes sight unseen, according to the report.
READ: Crisis Profiteering or Providing Social Good? Developer Doubles Down on $1B Housing Buy
Toronto finished second on the list for average monthly rent in May for a one-bedroom home at $1,833 and for a two-bedroom at $2,455.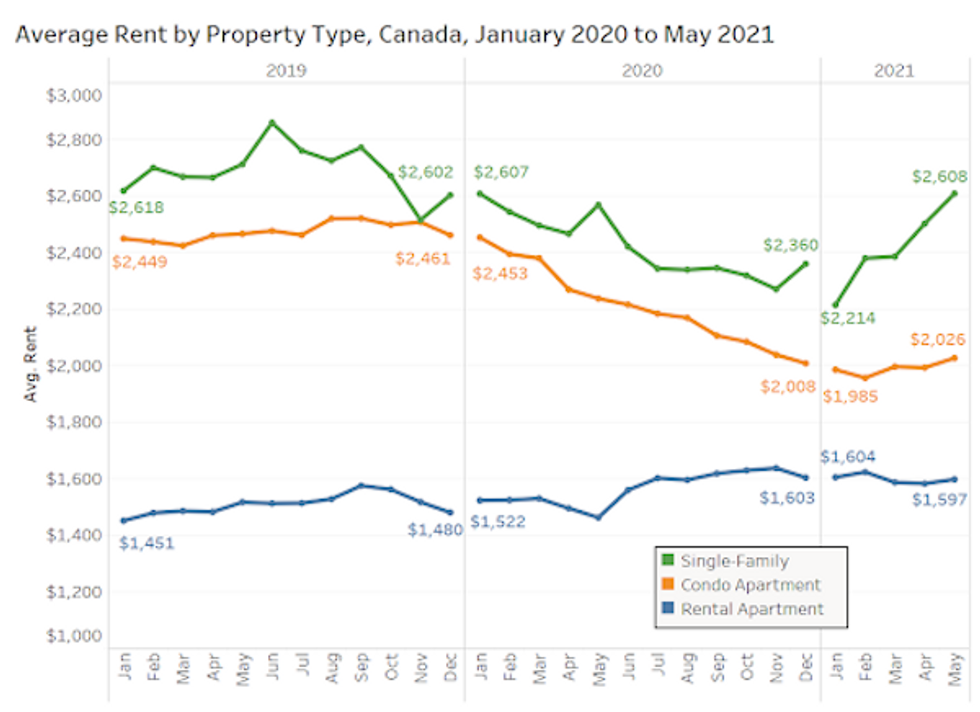 It's important to note that this is still a lot more affordable than they were pre-pandemic (at least, for now). Average monthly rents in Toronto are still down year-over-year: 12.9% for a one-bedroom and 7.5% for a two-bedroom. But monthly average rents are up: 0.9% for a one-bedroom and 1.9% for a two-bedroom. This is the second straight month that rents have risen for one-and two-bedroom homes in Toronto. 
In the Toronto CMA, the average rent for all property types declined from $2,266 in May 2020 to $1,992 in May 2021, an annual decline of 12.1 per cent. Per-square-foot rent is down 6.6 per cent from $3.01 to $2.81 in May 2021.
However, this will likely be short-lived. If you're feeling less than inspired with your place, here are some hot Toronto properties for rent to get the wheels turning.
Renting