---
Despite the doom and gloom headlines, there's some positive news on the economic front (yes, really). 

According to a new report from RBC economist Rachel Battaglia, nine out of 10 provinces posted strong growth in real GDP last year, following pandemic-induced economic contractions in 2020. Battaglia says that unprecedented migration to Atlantic Canada fuelled household spending in these provinces, sparking some of the fastest economic recoveries in the country.
Drought-stricken Saskatchewan was the only provincial economy that contracted further last year.
"The easing of pandemic restrictions, paired with rock-bottom interest rates and continued COVID-related government support kickstarted provincial economies in a big way last year," writes Battaglia. "Rebounding household spending, red-hot real estate activity, and rising business investment set the stage for very strong economic growth in most of the country, Statistics Canada's 2021 provincial economic accounts confirmed."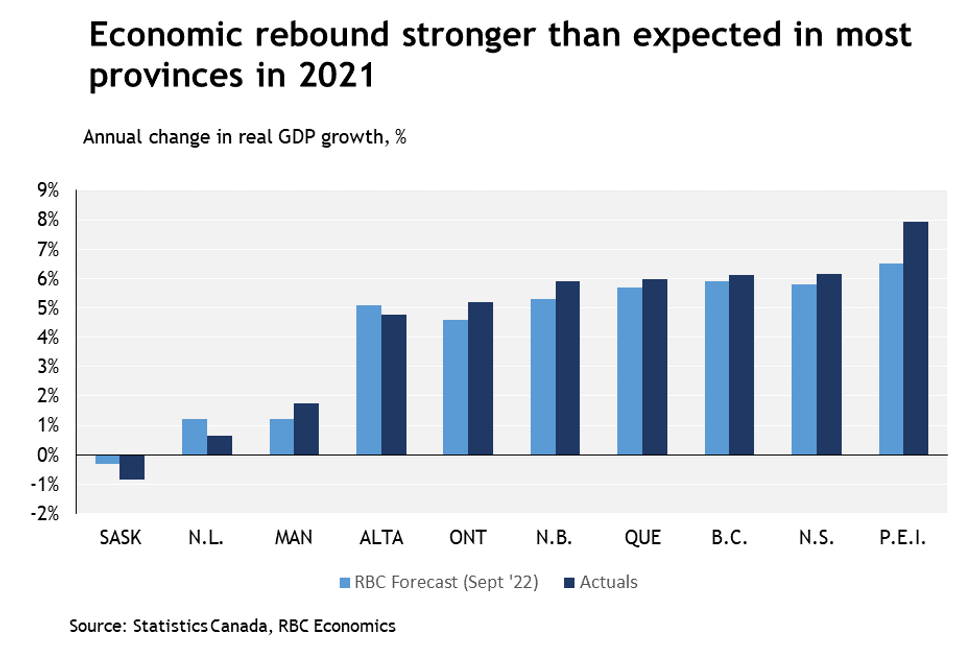 Battaglia says that, in most cases -- P.E.I., Nova Scotia, New Brunswick, Quebec, Ontario and British Columbia -- these rebounds more than reversed contractions that took place in 2020.  
Notably, P.E.I. (+7.9%) led the pack, posting its largest real GDP increase in nearly four decades. "A wave of interprovincial and international migrants supported elevated levels of household spending on the island," writes Battaglia. It's a similar story in Nova Scotia (+6.2%) and New Brunswick (+5.9%), which also experienced pandemic-inspired population booms. 

Meanwhile, growth in B.C. (+6.1%), Quebec (+6.0%), and Ontario (+5.2%) also outpaced Canada as a whole (+5.0%). "All benefited from outsized gains in household spending and real estate investment," writes Battaglia. In B.C., investment strength went beyond real estate, extending into other business and public sector capital spending. Here, total capital formation jumped 10.5%, the highest among provinces. 

In the Prairies, Saskatchewan's economy (-0.9%) shrank for a third straight year, according to RBC. "Unfavourable weather conditions pummelled crop production in this province, dragging on its exports and investment in goods inventories," writes Battaglia. While other Prairie provinces also suffered from low crop yields, Battaglia says that resilient manufacturing sectors and a relatively strong demand for oil and gas gave Manitoba (+1.8%) and Alberta (+4.8%) material offsets. While both provinces posted positive growth, halts to major oil rigging projects prevented Newfoundland and Labrador's economy (+0.6%) from recovering faster, says Battaglia.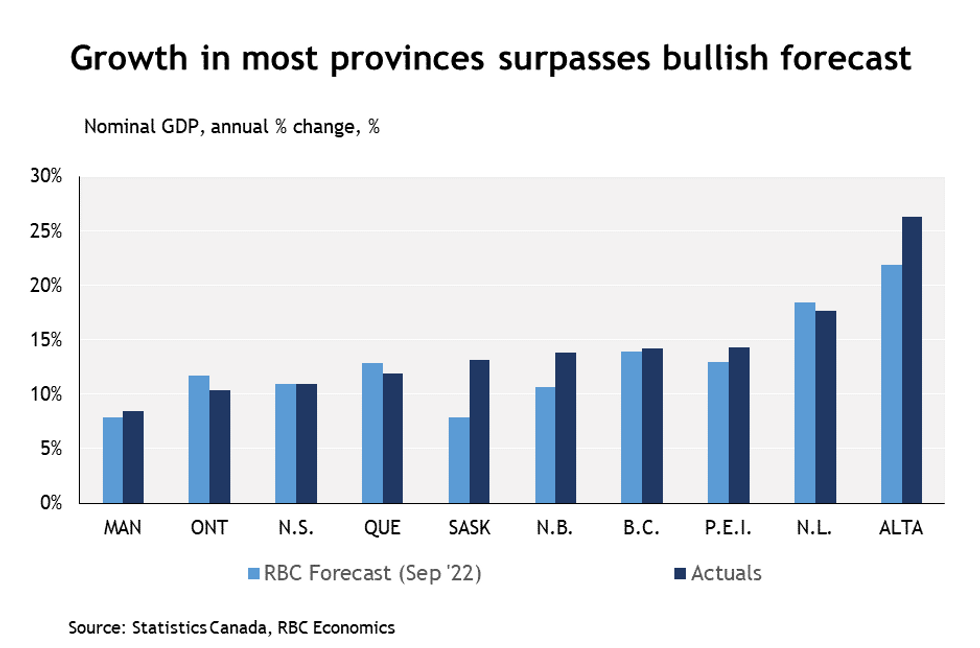 "Taking into account price changes in the economy, nominal GDP shot up even more dramatically last year, rising 13.6% nationwide," writes Battaglia. These gains were most pronounced in Alberta (+26.2%) and Newfoundland (+17.7%) thanks in large part to soaring energy prices, says Battaglia. "Faster than anticipated nominal economic growth was a boon to governments from coast to coast, propping up their revenues and sharply improving their fiscal balances," writes Battaglia. 
Alberta, B.C., Ontario, Quebec, New Brunswick, Nova Scotia, and P.E.I. even reported budget surpluses in the 2021-22 fiscal year. So, in a climate rife with crazy costs of living and recession talk, at least there's that. Silver linings, right?
Well, not so fast on the optimism front, says RBC. "Although provincial economies generally looked vibrant in the first half of 2022, we expect the Bank of Canada's aggressive interest rate hiking campaign to slow things down through the remainder of this year," writes Battaglia. "Higher rates are already cooling real estate activity across the country. And we expect this to spread to other interest rate sensitive sectors in the period ahead." Sigh.
Economy