Real Estate News
Cost of Living Biggest Election Issue Across All Generations: Poll
New polling data from researchers at Abacus Data shows that Canadians are highly concerned about affordability and the cost of living — and they'll be taking those concerns to the election polls this September.
According to the polling, nearly two-thirds (62%) of participants placed cost of living among their top 5 election issues — a 7% increase from responses prior to the 2019 federal election.
In fact, across the 'big 3' parties — Liberals, Conservatives, and NDP — affordability was the top issue for both Conservatives and NDP and was number two for Liberals (climate change was the biggest issue of concern for Liberal voters).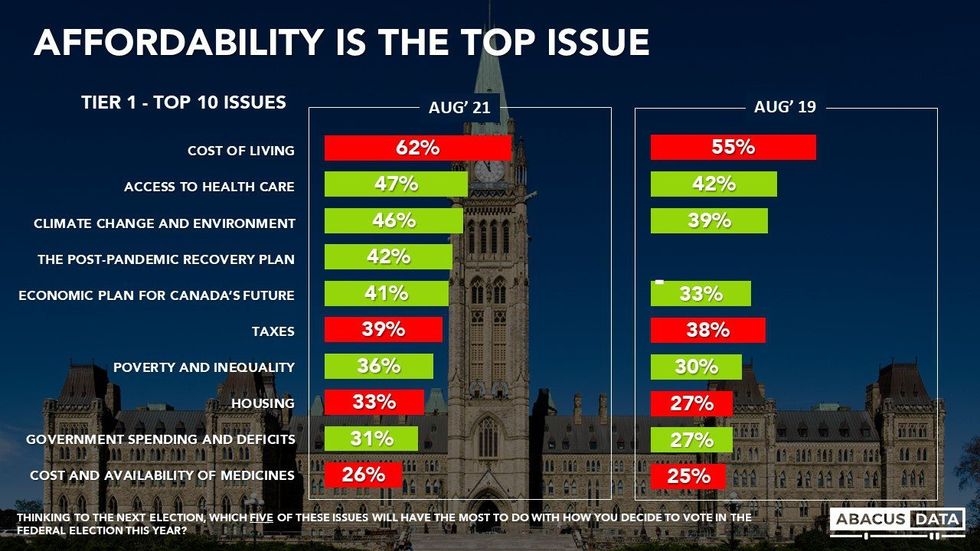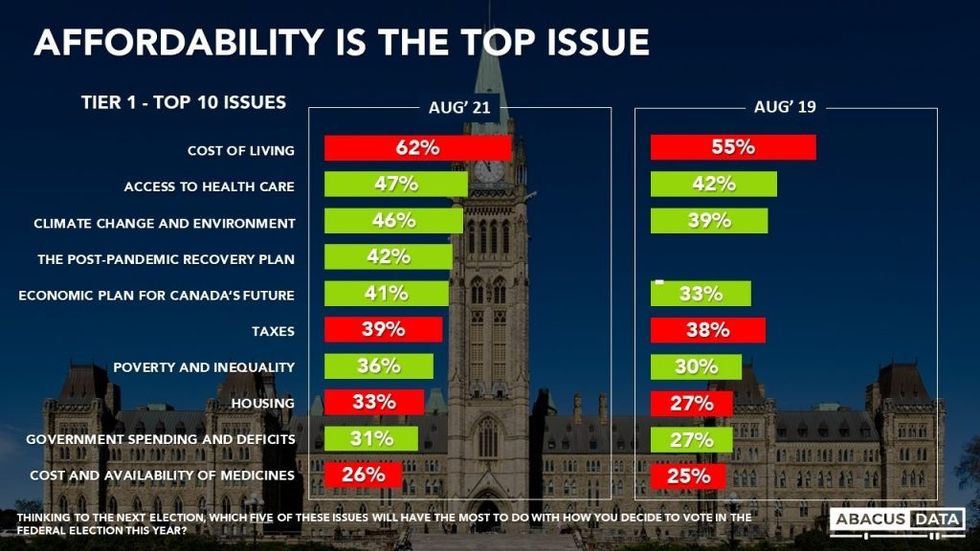 Over the course of the pandemic, prices rose across nearly every industry and service, as supply shortages clashed with demand and a flurry of other macroeconomic factors unfolded. As a result, households across the country are feeling the pinch and will turn to federal leaders to implement changes that ease this burden.
This feeling isn't just spread across parties, either, but generations too. Boomers positioned cost of living as their biggest voting issue with 52% of respondents putting it at the top of their list, just ahead of access to healthcare (51%). A whopping 66% of Gen Xers put cost of living atop their most important issues list as well, with access to healthcare coming in a distant second at 49%. Not to be outdone, 71% of millennials claimed cost of living was the most important issue to them this election — climate change and the environment was their second biggest issue, at 46%. That's a rather astounding 25-point gap between priorities for the millennial generation of Canadian voters.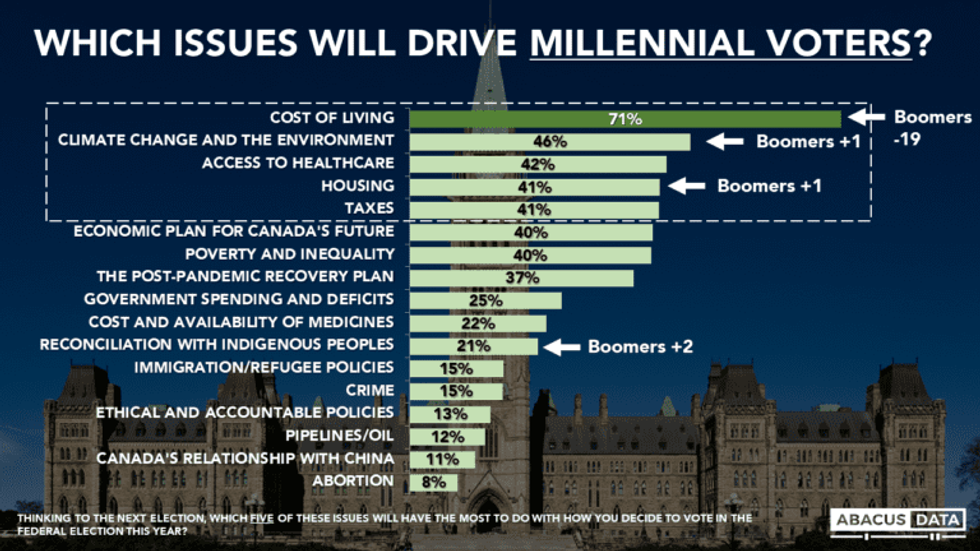 It's clear that cost of living and affordability are at the forefront of the 2021 election, barely skewing in priority across all parties and only increasing in percentage based on voters' age.
Locally, this should come as no surprise to anyone living in the GTA. With housing prices having reached a fever-pitch earlier this spring, and rents already beginning to return to pre-pandemic levels, many of those living in the country's most populous region are demanding a greater response to the ever-growing housing crisis.
Will the winner of the federal election be able to provide one? Probably not. But giving them the mandate to do so is the first step.
READ: The Conservative Party: How They Plan to Tackle Housing if Elected
READ: The NDP: How They Plan to Tackle Housing if Elected
READ: The Liberals: How They Plan to Tackle Housing if Re-Elected
The Abacus survey was conducted with 3,000 Canadian adults from August 6 to 11, 2021. For more on the methodology you can go here.