On Tuesday, the City of Vancouver published a new rezoning application submitted by Mosaic Homes that would see two new strata buildings developed on Cambie Street in Vancouver, directly across from the Bloedel Conservatory and Queen Elizabeth Park.
---
The proposed site -- 4711-4787 Cambie Street, between West 31st Avenue and West 32nd Avenue -- is currently occupied by a row of single-detached homes, with Mosaic seeking to consolidate and rezone the site.
The proposal is for twin six-storey buildings, each with 57 strata units, plus two standalone single-story amenity buildings. There would also be two levels of underground parking consisting of 132 vehicle spaces and 249 bicycle spaces. Of the total 114 units, eight will be studio units, 46 will be one-bedroom units, 48 will be two-bedroom units, and 12 will be three-bedroom units.
The pedestrian entrances for each building would be on West 31st Avenue and West 32nd Avenue, rather than Cambie Street, in order to "further activate the frontages at these locations and enhance the sense of neighbourhood by creating a meaningful entry plaza at the quieter street frontages," the application booklet reads.
Both buildings, designed by Ciccozzi Architecture, have a simple rectangular design measuring roughly 120 ft in length. They were inspired by contemporary Georgian architecture, boasting dark brick material and elegantly-proportioned windows.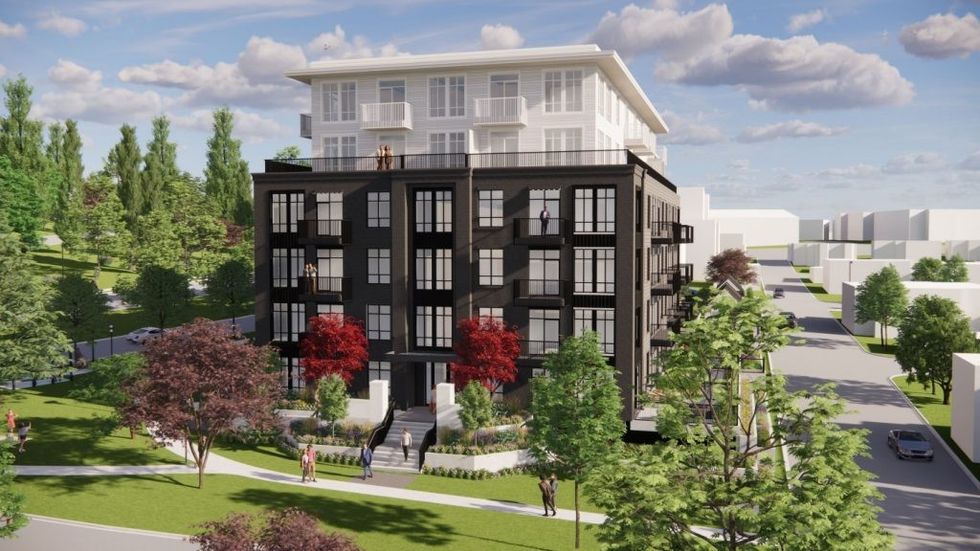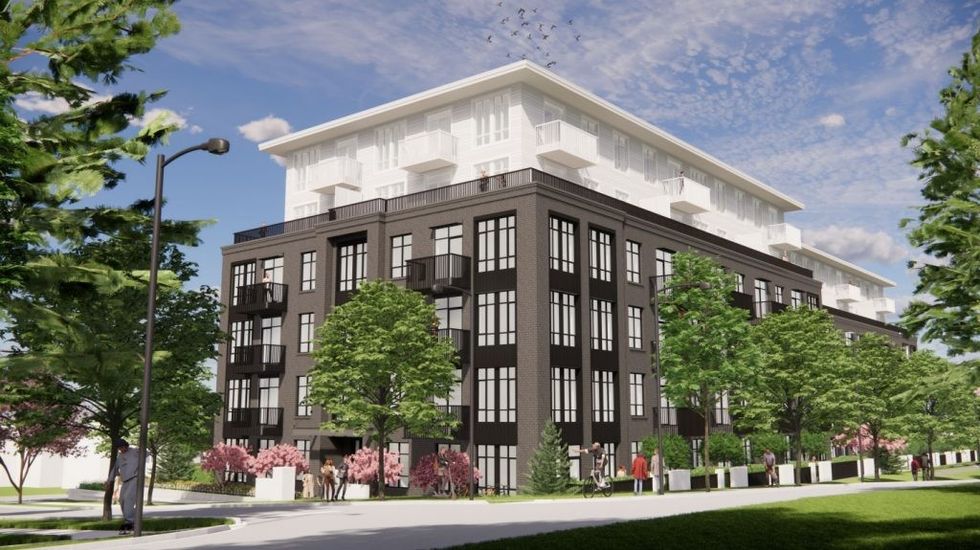 Renderings. (Mosaic Homes / Ciccozzi Architecture)
Serving as the landscape architect for the project, Durante Kreuk will add outdoor amenity spaces such as a children's play space, dining patio, and a community garden, in addition to several quality-of-life enhancements such as private patios, raised planters, and privacy hedging.
READ: Twin 18-Storey Towers With Total 248 Strata Units Proposed Near Oakridge
The site would be well-served by public transit, with the Canada Line's King Edward Station a 10-minute walk up Cambie Street, and Oakridge-41st Avenue Station -- along with the soon-to-come Oakridge Park redevelopment -- a 15-minute walk further down Cambie Street.
Mosaic Homes
Mosaic Homes has been a developer in British Columbia for over 22 years, specializing in strata apartments and townhouses, primarily in locations outside of Vancouver, like Surrey, Burnaby, and Coquitlam.
But just this year, Mosiac moved into the rental market, launching their rental portfolio called Mosaic Living in September with over 520 homes in various municipalities in the Lower Mainland.
In a previous interview with STOREYS, Mosaic's Senior Vice President of Marketing, Geoff Duyker, said they wanted to use their experience in homebuilding to "create a better rental experience," by streamlining applications, payments, and maintenance requests through an online portal for residents.
"BC's rental market is going through a pivotal transition," Duyker said. "We have a long-term perspective on the housing needs of the region given the growing population and anticipate a continued needed supply for more rental communities. We believe our unique approach to rentals will differentiate us in the market and continue to align the Mosaic name with quality."
This latest project on Cambie Street isn't a rental project, but rest assured that Mosaic will be striving again for that quality.
The City of Vancouver is currently accepting public comment on the proposal, with a virtual open house scheduled from February 6 to February 26.
Future Developments