Two hours northwest of Toronto, Meaford is having a moment. 
---
Much like the rest of Ontario's cottage country, the picturesque municipality became even more of a coveted place to call home not long after the onset of the pandemic. The collective re-evaluation of lifestyles and living spaces that ensued meant that access to the great outdoors became a top priority for countless Canadians.
With its pristine nature, stunning views, waterfront, abundant green space, and distinct small-town charm, Meaford checks all the boxes for either a recreational home or a year-round lifestyle shake-up -- especially for those looking to escape the city grind. Now one of Ontario's fastest growing communities, Meaford has seen an increase in new homes, residents, and businesses in recent years. 
Sue and Jeremy Creed are among newcomers. The couple grew up in Toronto and were part of some storied local businesses, like the century-old Creeds brand. In 2018, the pair decided it was time for their family to relocate. They wanted to find a home that was truly four seasons. 

The Creeds purchased a property in 2019 and turned to the expertise of architect Jim Campbell of Rockside Campbell Design Inc., landscape architect Joel Loblaw, and builders Jon Price and Scott Harding of Bayside Build Company. The vision was to create an opportunity for others to live an enriching lifestyle of privacy, great views, top ranked schools, convenient shopping, and lifestyle amenities -- not to mention, top-notch design.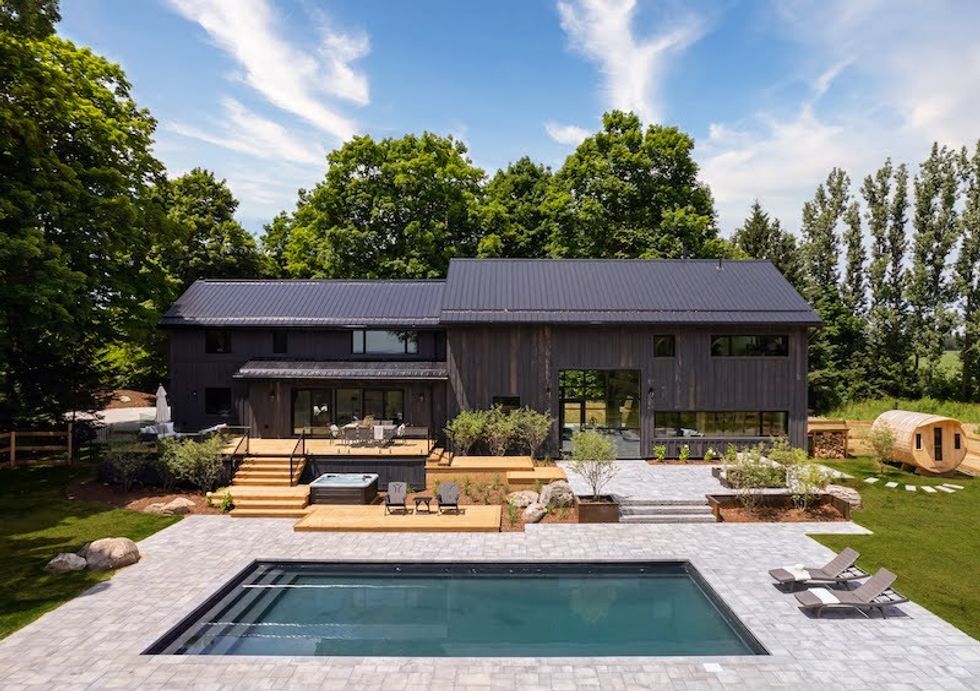 The end result is the stunning Walnut Ridge, which hit the market two weeks ago, with a price tag of $4,945,000. 
Surrounded by greenery and trees, the five-bedroom, four-bathroom, 4,720-sq. ft country retreat is set on a picturesque 37 acres, with direct access to the Bruce Trail system.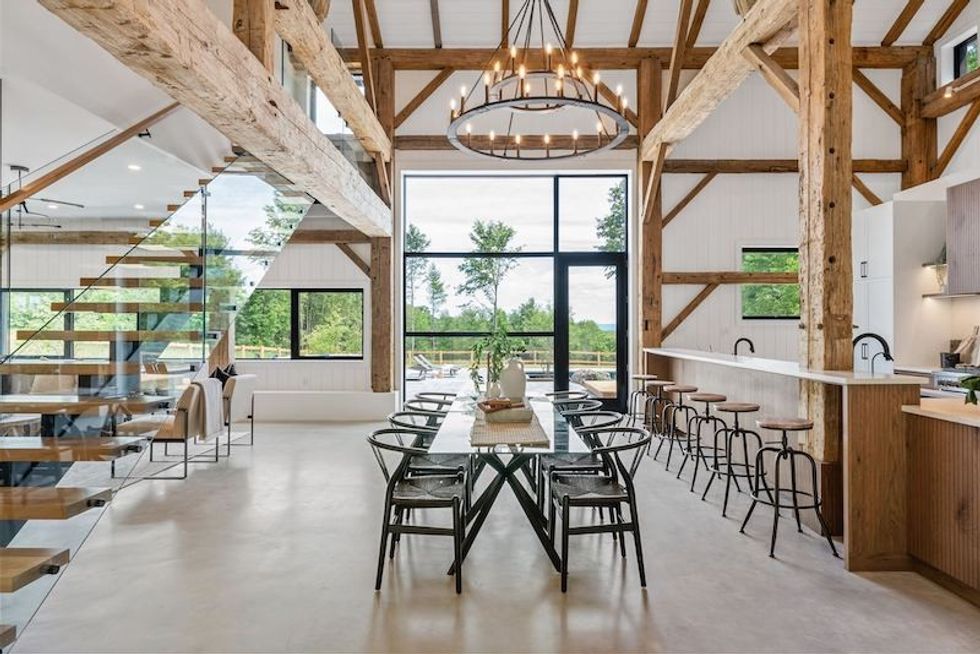 The four-seasons oasis seamlessly blends old with new. Primary living spaces are situated within the relocated and restored frame of a historic Timber Barn, originally erected in Glen Morris, ON, c1850. This is juxtaposed with modern appliances and mechanicals and luxury finishes. 
Specs:
Located in the former barn part of the home, the thoughtfully designed primary suite features a walk-in closet and four-piece ensuite bathroom.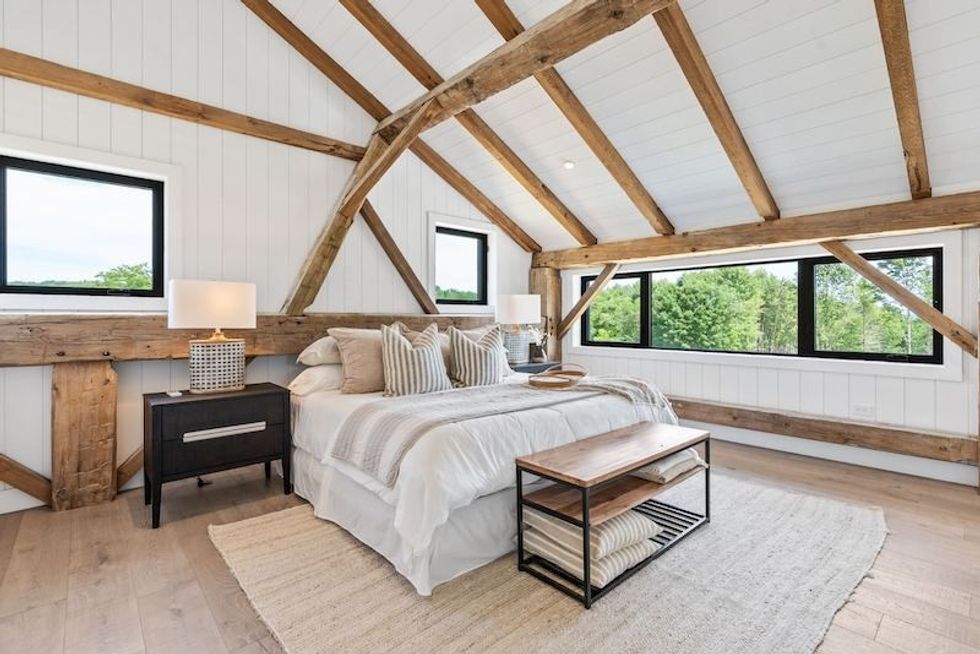 The beautifully landscaped exterior features all the frills for both entertaining and relaxing. This means an in-ground pool, hot tub, woodburning sauna, and views of The Beaver Valley.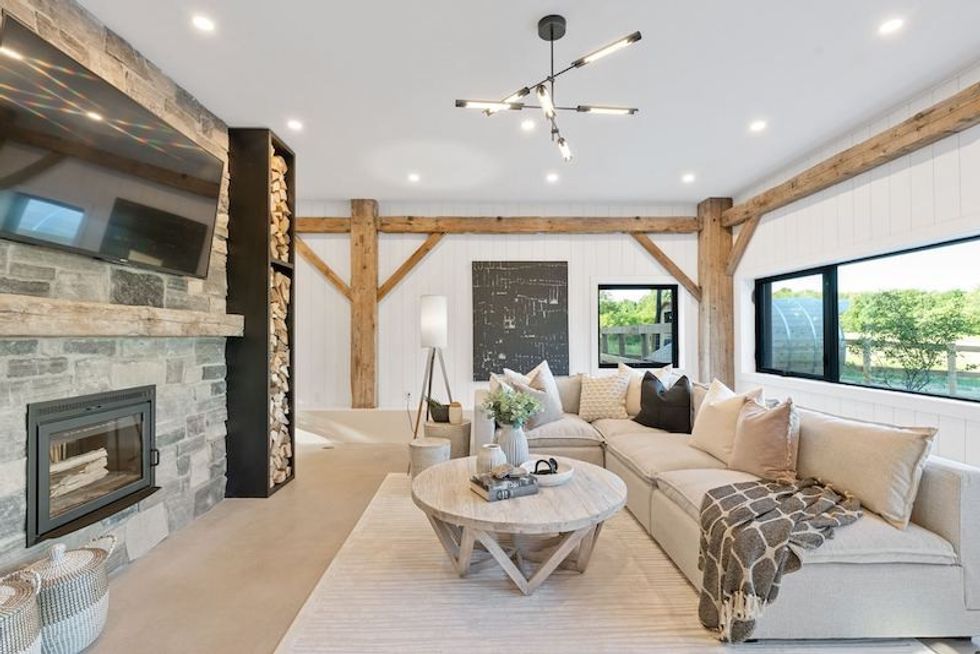 So, what are the Creeds' favourite features of the property? 
"The barn frame itself that encompasses the primary living spaces is such a unique and special feature," Sue Creed, Managing Partner at Forest Hill Real Estate Collingwood told STOREYS. "It allows for a modern and contemporary space to have such a timeless and warm feeling. The space is generously proportioned, and yet still feels intimate. As well, the incredible windows throughout the home bring the outside in and being surrounded by the old growth forest and escarpment views makes you feel at one with nature."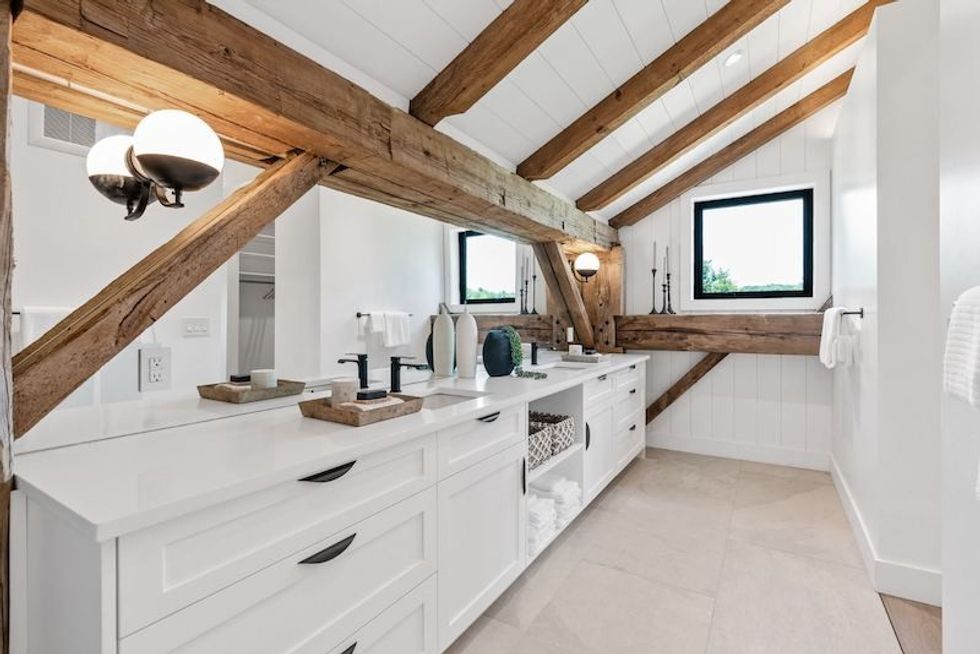 The home lends itself to a varied demographic when it comes to potential buyers; the only common denominator would be a soft spot for impeccable design and the outdoors.  
"The property could really meet so many different people's needs," says Creed. "It could be a seasonal retreat for a large or multi-generational family. Its layout allows for large communal spaces, and alternative living spaces and very large bedrooms for those moments of privacy and separation. It is also designed with full-time living in mind with lots of closet space, and storage options and is close to all area amenities including top rated schools."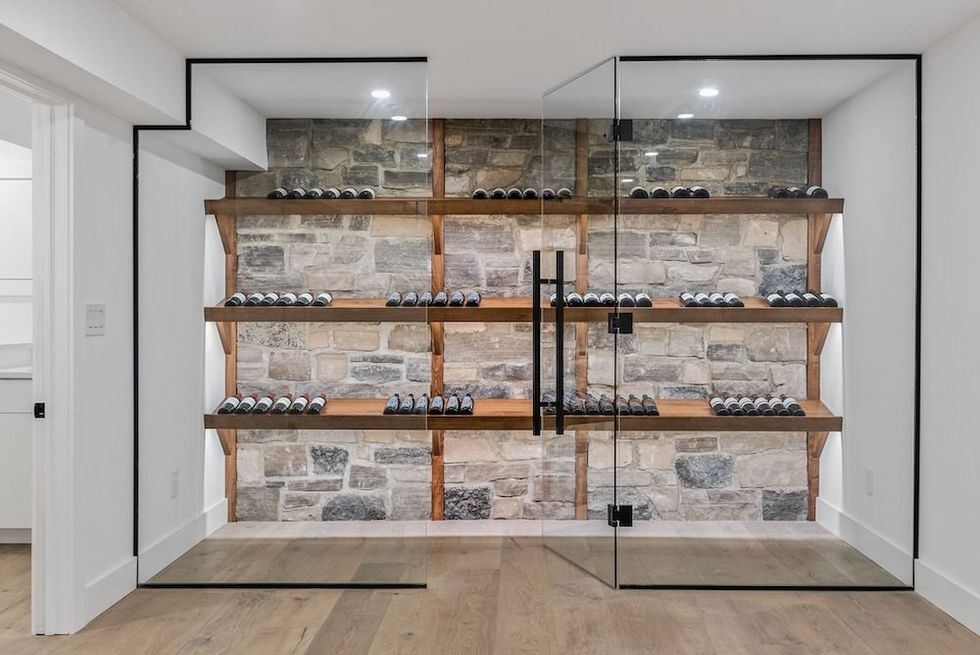 While it's not the type of home you'll ever need to leave, local amenities just outside its doors include cideries, vineyards, golf, skiing, hiking and biking trails, beaches, fishing, tennis, and pickleball, to name a few. Walnut Ridge is just nine mins to Meaford, 11 mins to Thornbury, 16 mins to Beaver Valley Ski Club, and 22 mins to Blue Mountain.

"Meaford has the best waterfront in Southern Georgian Bay, with easy access to the harbour and beaches," says Creed. "It is a progressive community and its municipal planning marries small town Ontario with urban needs. It's ideally situated close to all the region's attractions like golf and ski, and one simply needs to walk outside one's own front door to enjoy a myriad outdoor activities."
While Meaford/Grey County retains its distinct small-town vibe, the relocation of Torontonians in recent years has resulted in new elevated dining options. This includes Teo Paul's (Union and Côte de Boeuf) new outpost Heart's Tavern and Bar, and Down Home with Sumac & Salt, a farmhouse restaurant led by Hannah Harradine and Joel Gray.
Those in the market for a lifestyle shift to the more peaceful pastures of Meadford (if even just on the weekends) -- and who have a cool $5M to spend -- can find out more about Walnut Ridge here.  
Listed Country