While Toronto's real estate market is showing no signs of slowing down these days, the recent sale of an impressive $17.4 million Vaughan estate surely didn't hurt market activity.
---
Nestled in Toronto's exclusive Pine Valley Crescent enclave, the palatial mansion, complete with 'Hollywood-style' landscaping, recently sold to one lucky buyer for $2.5 million under its initial asking price of $19.9 million after spending a little over two months on the market.
The home was designed and built by artist and world-renowned designer Ferris Rafauli, who also designed Drake's Bridle Path mansion, so you know there's no shortage of luxurious and fashion-inspired finishes throughout the grand estate.
With 4+3 bedrooms, 11-bathrooms, and spacious principal rooms spread across the home's 2-storeys, the future homeowners will have access to over 22,695-sq.ft of lavish living space. With that much room to roam, you'll never have to leave, though you may find yourself getting lost while trying to navigate the home.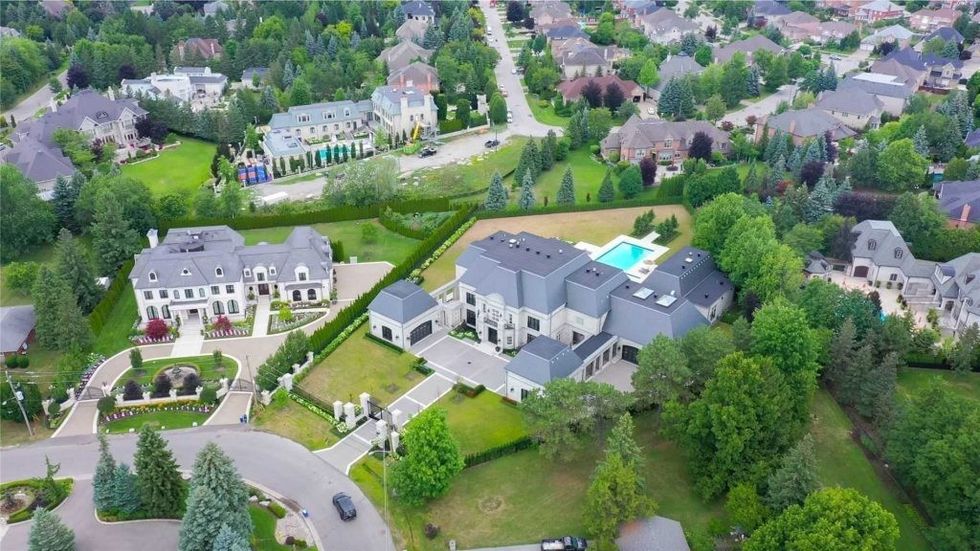 246 Pine Valley Crescent/Barry Cohen Homes
From the outside, the gated limestone home might look similar to its neighbouring properties, but as soon as you step inside, you'll quickly realize the Vaughan estate is in a league of its own, with dramatic interiors and luxe finishes like suedes, leathers, and mirrored exotic woods, as well as slab stones found throughout.
While the home exudes elegance, it also has the amenities to match the price tag. On top of heated floors, a dream gourmet kitchen, an elevator, a spa, enviable his and hers dressing rooms, a theatre room, and a dedicated poker room, the home is also equipped with a temperature-controlled, 500+ bottle wine cellar and a sprawling waterfall wet bar.
Specs:
Address:246 Pine Valley Crescent
Style: 2-storey
Bedrooms: 4+3
Bathrooms: 11
Size: Over 22,695-sq.ft
Lot Size: 103.88 x 376.82 Feet
Price: Sold for $17,400,000
Taxes: $53,519 /yr
Listed By: Barry Cohen Homes
Outside of the home, you'll find a saltwater in-ground pool, a hot tub, heated, four-seasons entertainer's cabana, a seven-car garage, parking for 12 vehicles, and professionally landscaped and illuminated gardens.
If you've ever wondered how Toronto's elite live, or for those who have bigger piggy banks than the rest of us and are looking for some design inspo, you can check out the Vaughan estate below.
Sold