Real Estate News
Vancouver Laneway House Sells for Nearly $2 Million; Is Toronto Next?
Taking a cue from Vancouver, Toronto finally began to allow laneway housing in 2018 with revamped by-laws – a move many called overdue, given the city's 300 kilometres of laneway real estate.
Comparable to a guesthouse, a laneway suite is a small standalone dwelling that sits at the rear of a residential lot and fronts onto a laneway (see also: granny suite, nanny suite, or coach house).
The idea behind the concept is to relieve pressure on the housing market, provide more attainable housing, and to supplement mortgage payments on main properties. Laneway houses open up access to more affordable single-family houses in some of the city's more desirable neighbourhoods – those home to the best schools and no shortage of green space.
Judging from a recent real estate sale in Vancouver – a city that's actively embraced laneway housing in the past decade – laneway homes may quickly be becoming hot, increasingly out-of-reach, pieces of real estate. A laneway house in Kitsilano just sold for $1,850,000 – the price of a mansion in many parts of Canada.
While Vancouver's west side neighbourhoods are known for their steep prices, the home's price tag still comes as a shock to the system. Notably, its cost is significantly more than even that of a single-family detached home in Toronto, which averaged $1.5-million in July 2020.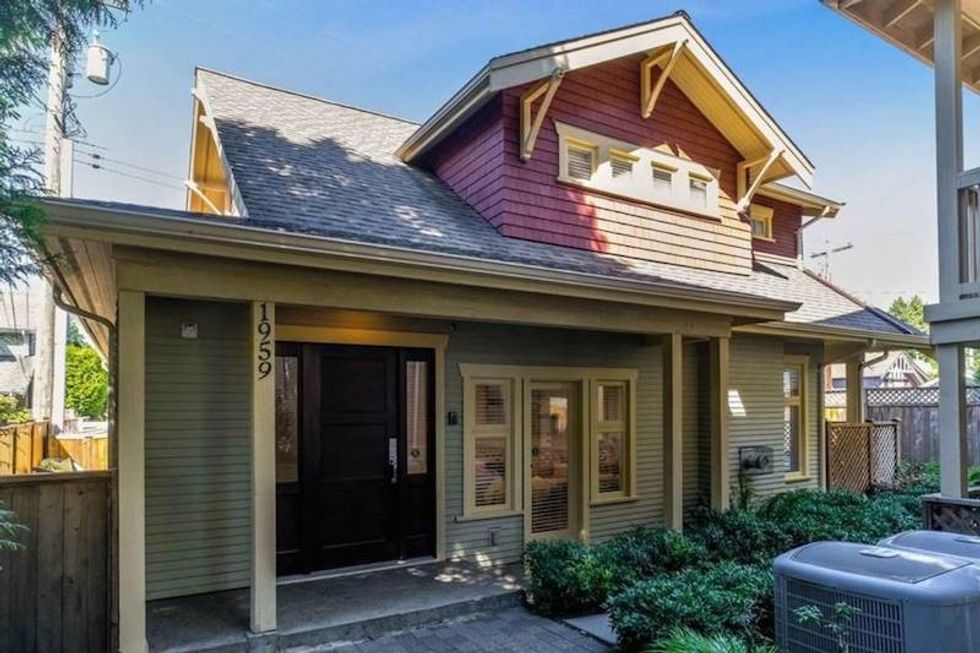 Located at 1959 West 15 Avenue, the 1,555-square-foot, two-level laneway house features three bedrooms and two-and-a-half bathrooms. Sutton Group-West Coast Realty listed the charming home on August 18, 2020. After four days on the market, the new homeowner purchased it on August 22 with a $48,000 price discount.
With Toronto's abundant laneway real estate – and in some of the city's most desired neighbourhoods at that – logistically, many property owners in the city are capable of building a small one-family unit. At least, they are in theory. The reality is that an abundance of red tape made laneway home approval historically difficult.
Despite the opportunity to build thousands of units in laneways, the concept is subsequently still a new one in Toronto. Currently, laneway properties are incredibly scarce and pricey. While laneway homes are now allowed, restrictions and regulations still make the approval process a trying one for many.
That's not to say Toronto laneway homes aren't an option or in the works for some. In January 2020, Toronto had issued 52 building permits for the construction of laneway suites, with another 50 building permits under review, according to CBC.
Though they won't come cheap.
In June, a 22 x 55 lot in the Bathurst and College neighbourhood was listed at $1,250,000 ( it remains for sale). The lot has been severed from 157 Lippincott Street into a newly formed parcel of land with the intention of building a freehold, completely independent laneway home. According to realtor Paul Johnston, constructing a laneway home will cost anywhere between $500,000 and $1-million.
So, essentially, you're looking at close to $2-million for the whole thing.
While this is steep, keep in mind that it didn't take long for Toronto's pricey housing market to bounce back after an initial drop in activity at the onset of the COVID-19 pandemic. While renters are finally enjoying a break due to a cooling, supply-heavy rental market, the city's home prices remain as high (see: unattainable for many) as ever.
For some house hunters, single-family home ownership in a coveted part of town is worth foregoing a bigger space and front yard in Toronto's outskirts.