The University of Toronto may see a new 10-storey graduate residence building rise on Harbord Street as part of its continued campus expansion, recently submitted documents to the City of Toronto show.
---
[Want to see more stories like this? Sign up for our weekly newsletter!]
The new project, known as the Harbord Residence, could rise at 40 Harbord Street, sprawling 100,000 sq.ft to house 142 units comprised of a mix of dormitory-style and single-occupancy rooms, 18% of which would be accessible, and in turn, provide housing for over 200 graduate students.
In addition to student housing, the building would also house a communal and a production kitchen, a food hall, seating areas, an event space, meeting rooms, administrative offices, quiet study rooms, lounges, laundry, a roof terrace and garden, bike storage, and an underground pedestrian tunnel and a sky-bridge on the third level that connect to the Graduate House.
READ: U Of T Receives Biggest Donation In History For New AI Building
Anne Macdonald, U of T's assistant vice-president of ancillary services, said in a statement: "The proposed building would be a welcome addition to campus since current demand for graduate student housing is more than double the number of available spaces."
"We have a ton of demand for graduate student housing," said Macdonald. "We currently have thousands more applicants every year than we have spaces."
"This is a step in the right direction and will give us more spaces for graduate students who want to live on campus and be a part of campus life."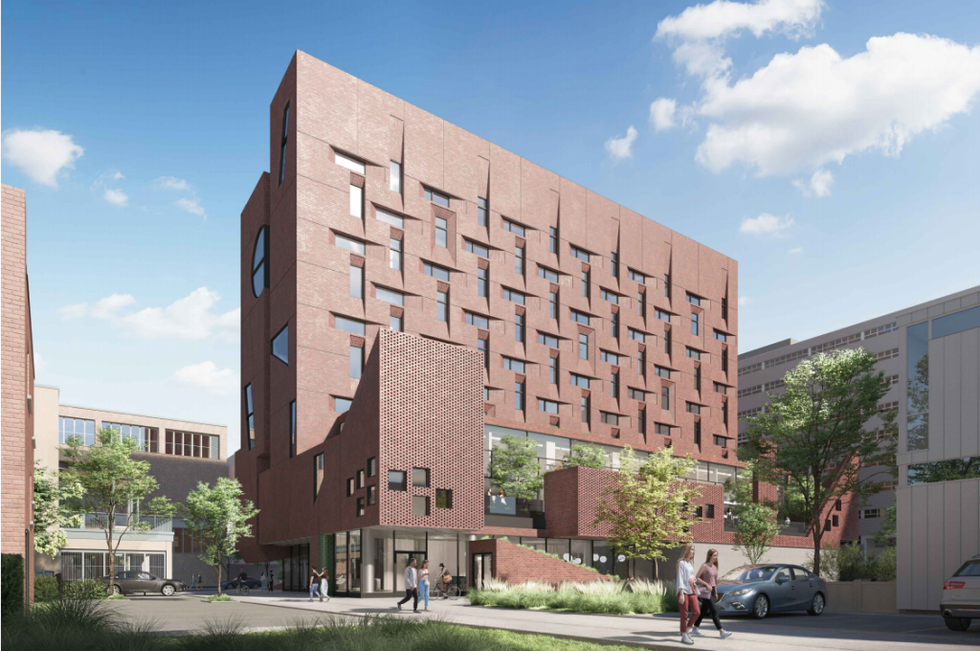 Rendering via City of Toronto
The project proposal, which is currently seeking an Official Plan Amendment, Zoning Bylaw Amendments, and Site Plan Approval from the city, has brought on famed LA-based Michael Maltzan Architecture as the lead architect, in collaboration with Toronto-based architectsAlliance.
Known for its "progressive, transformative experiences that chart new trajectories for architecture, urbanism, and the public realm," the firm's portfolio spans prestigious museums and luxurious private homes, in addition to several housing projects for the homeless and an arts complex for underprivileged children in Los Angeles.
Here in Canada, the firm has a number of projects under its belt, including the Winnipeg Art Gallery Inuit Art Centre and the master plan for the Vancouver Art Gallery.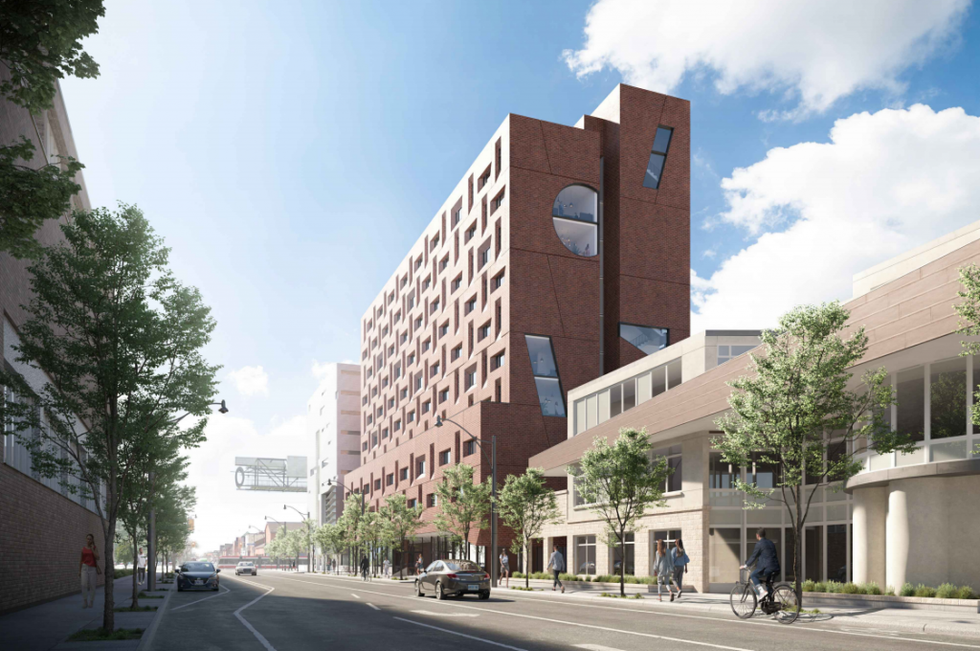 Rendering via City of Toronto
With a striking brick exterior and unique, geometric window cutouts that are positioned in a woven-like pattern, the proposed graduate residence building would reflect the architecture firm's modern style, making the project quite unlike any other student housing option in the city.
"The principal massing of the proposed new residence is situated within a slender site, with stepped elements creating a clear architectural transition toward Harbord Street on the south, and the residential neighbourhood to the north," a spokesperson for Michael Maltzan Architecture told Toronto Storeys.
"The massing of the new residence is further refined by an expressive brick façade of deeply carved window openings on the north and south façades, and large shaped windows on the east and west. At the pedestrian level, this robust masonry skin lifts up to reveal a transparent ground floor connecting the residence to the city along Harbord Street, while on the north side, a series of discreet masonry screens reflect a modern interpretation of the detailed Victorian brickwork of the Huron-Sussex house-form typology."
According to the Maltzan team, construction is slated to begin fall 2020, pending council approval, and by 2022, the project should tentatively be completed.
Future Developments