---
Amid the height of the pandemic, when many offices and workplaces abruptly closed, it ushered in a new era of remote work for millions around the world and started a trend that a large segment of the workforce will continue to carry into the future.
Understandably, when it comes to remote working, not all cities are created equal, which seems to be clear based on the results of a new international study by HR platform WorkMotion, which ranked the top 80 cities in the world for remote workers.
Titled The Cities Best Facilitating Remote Work: A Global Index, the study looked at several factors that draw remote workers to various cities around the world. This included how easy it is to comply with local employment laws, the legal requirements for remote working, and whether each location offers a remote working visa.
The study also considered factors that make a city liveable, including the cost of living, culture, affordability, taxes, LGBTQ2s+ positivity, and access to healthcare.
READ:Toronto Market Sees Biggest High-Tech Job Growth in North America
"With office work no longer the default option, an increasing number of employees are able to relocate to destinations that best suit their lifestyles while working remotely, or seek opportunities at foreign businesses," WorkMotion said.
Topping the list is Melbourne, while Montreal and Sydney ranked second and third, respectively. Rounding out the top ten were Wellington, Prague, Toronto, Tallinn, Zagreb, Singapore, and Dublin.
Toronto ranked sixth overall, with a score of 94.09, with the city's access to healthcare and gender equality driving the ranking up.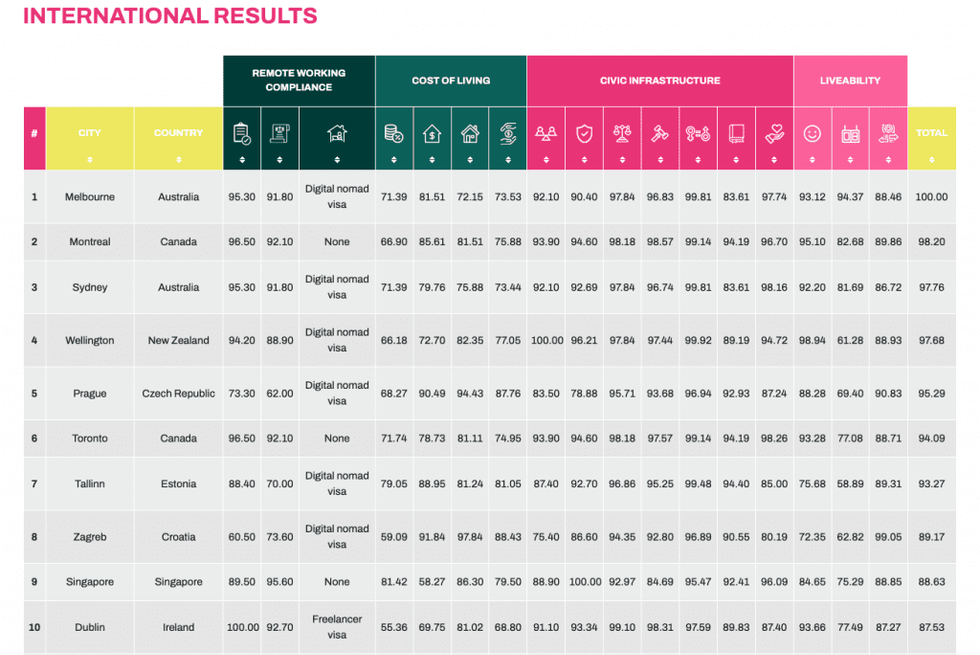 Graphic via Workmotion
In other categories, Toronto ranked sixth for ease of employment compliance regulations, 25th for lowest tax rates, 46th for city affordability, 2nd for access to healthcare, 16th for happiness, 20th for cultural attractions, 16th for gender equality, and 30th for LGBT and Equality.
On the other hand, Canada's largest city didn't fare as well when it came to housing, ranking 49th overall for housing prices and 60th for access to housing.
Montreal and Vancouver were the only other Canadian cities to make the list. Montreal came in at second place overall, scoring high for the ease of complying with local employment laws in the city. Vancouver placed 15th, with gender equality and access to healthcare boosting its overall score.
Toronto