Urban Living
Toronto Taxis Are Back…And So Are the Cab Scams
What was supposed to result in a convenient and comforting caffeine fix and breakfast in sweats quickly induced panic this morning.
"There was a problem processing your payment method," my UberEats app informed me shortly after the crack of dawn. Knowing there was no way my card would be declined (unless I went on a shopping spree in my sleep), I frantically flipped open my laptop and logged into my banking website.
Close to midnight last night, $2,000 had been withdrawn from my credit card. First, $1,000 at one ATM machine on Spadina Avenue. Then $100, $400, and $500 at another on Dundas West. The damage could have been worse, had Visa not detected suspicious activity and quickly frozen the account (all while I slept, blissfully unaware of the rude awakening that was in store). 
I immediately knew what had happened. And exactly who had done it.
I had been duped in one of Toronto's infamous taxi cab scams. But this one was not quite like the others. In a common story of the pandemic era, a young 20-something male will approach an innocent pedestrian with a $20 bill, desperately informing them that the taxi cab behind him won't accept cash due to COVID-19, and asking if they'd put the trip on their debit card in exchange for cash. If they comply, the transaction involves the taxi driver obtaining a PIN number either by watching or through an illegal machine and then swapping the debit card with someone else's (i.e. the person who was scammed before you).
The scammer — who may or may not be driving a legitimate cab (which is super alarming) — then heads to the nearest ATM to withdraw as many of their victim's hard-earned funds as they possibly can before the banking tech gods begin to raise the red flags and freeze accounts. It has happened to a few people I know; I now know not to fall for it. But my situation was slightly different.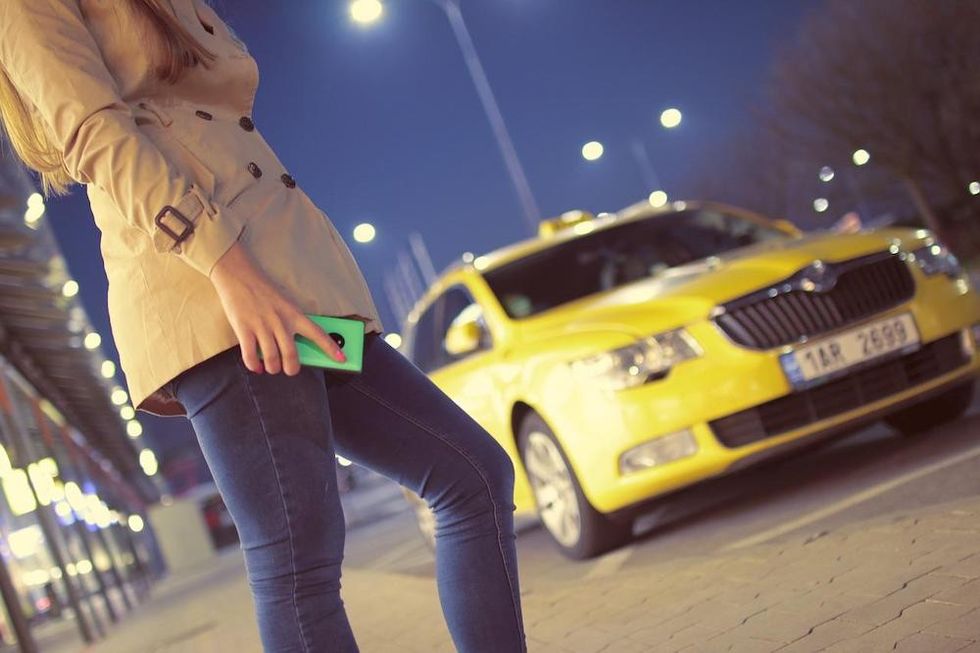 The first official night of summer brought sticky air and bustling events across the city last night. Hundreds of attendees of global tech conference Collision filled into the streets and patios of the Distillery District for various events and conference-related parties. When I decided to head home from the festivities around 11:20pm, I was actually relieved to see at least six to eight cabs with their lights on waiting on the street outside of the Mill Street entrance; this would be quicker than calling an Uber, I thought.

It wasn't an exceptionally long ride and the driver — a charismatic man likely in his 30s — was pleasant. When I went to pay using my credit card, he informed me that it hadn't gone through and that I would have to do try again by typing in my PIN. Ironically now, knowing he's a seasoned scammer, he stressed to me that I should check that my credit card wasn't charged twice, but also showed me "proof" that the initial transaction wasn't processed. He produced a receipt for me and gave me back (what I thought at the time was) my trusty deep blue/grey travel rewards credit card. And we all know what happened next.
The UberEats notification and credit card statement resulted in an early morning call to the bank, and then, the police. The bank was helpful and I am still waiting on a call back from the Toronto Police (although the person who accepted my call interrupted my story with, 'let me guess; you got scammed,' so it's already on their radar). Unfortunately, the surveillance video from outside my condo doesn't span across the street, and — though extremely helpful in identifying this person — it's doubtful that the police are going to be knocking on the doors of banks asking for their ATM surveillance videos.
When I looked at the Royal Taxi "receipt" today, it featured the name and credit card number of the card he swapped mine with (another scammed taxi rider named Michael), a "905" number that's not in service (surprise, surprise), and a time stamp of an hour prior to my taxi ride. As for a payment for the ride, one never went through (he can't leave a paper trail, after all).
Anyway, it turns out I wasn't the only one this man — or another — preyed upon last night. One Reddit user took to the platform to explain how his wife noticed when a cab driver handed her the wrong card and called him out for it before snapping shots of the vehicle once safely outside (and, yes, I felt a little dumb after reading that). Judging from the comments, taxi scams are alive and well in Toronto.

So, I certainly won't be the last victim of Toronto's cab scams. Now that concerts, sporting events, and big parties are back in full-force — resulting in a large-scale exodus of people at once — the city's cabs are waiting with their lights on for passengers to jump in. This marks a notable contrast from the first two years of the pandemic, taxi cabs virtually disappeared from city streets. Hailing one was virtually impossible. But they're back in action; many, even with ride share-like ordering apps — minus the surge prices of Uber and Lyft. Thanks to Uber surge prices, a trip across the city into the office can cost $16 or it can cost $42. So, I often use the Beck Taxi app to save myself some dollars.

When hailing a cab, passengers can avoid cab scams by always double checking that they are given their proper credit card back. If they aren't, politely inform the driver that it's not your card and get yours back like said Reddit user's wife before exiting the vehicle, when you can (hopefully) photograph it. Personally, I am also going to start taking pictures of the cab licences as soon as I enter the cab as well, just to be safe (and scarred).
That is, if I ever grab one off the street again…it's still a fresh wound. At least I got a free ride home, if we're looking for silver linings.