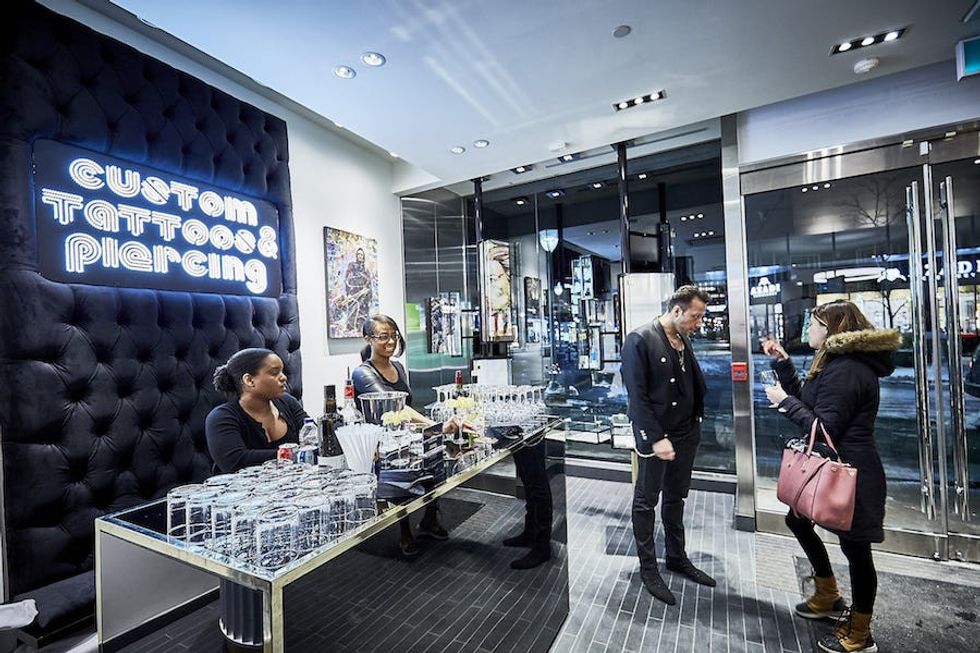 It's not every day you're invited to an event offering you a tattoo or a piercing, on the house. And it's not every day you see a tattoo and piercing studio in a family-like, upscale area. And yet, here we are.
---
Black Line Studio is the King West staple that has inked notables like Johnny Depp and Justin Bieber. It can also count George Stroumboulopoulos as a fan of its body jewellery. Well, the Studio has made — what may seem to be — an unusual move to open its second location in the high-end Shops of Don Mills. You know, the family-like, more suburban area.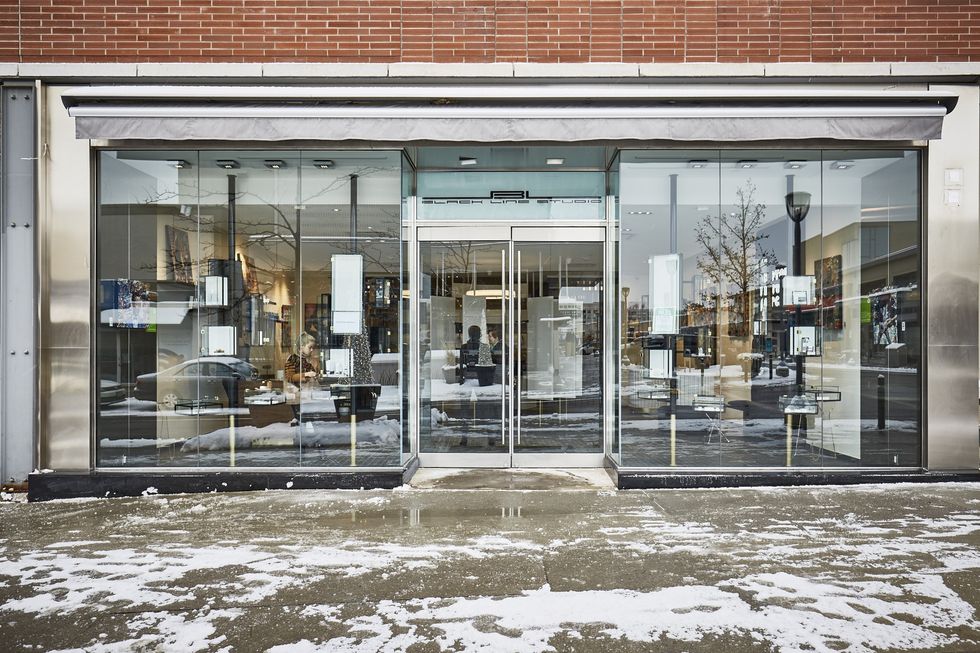 So we caught up with Ion Nicholae, marketing director and CEO of Black Line Studio, to find out more about the expansion of his brand, the design of the space and to get the goods on why he went north. Plus, we also discovered how he's turned social media into design ...
Black Line Studio is ______________.
Black Line Studio is the only Body Art Boutique in North America. It incorporates all the essentials of the art world under the same roof: Contemporary Art Gallery, high-end custom tattoo studio, distinctive jewellery shop. It also provides the services of laser tattoo removal, Spectra carbon peel and vitamin-infused drips.
Why here? Why a location in an higher-end plaza in a family-like more suburban area?
While there are many reasons why we chose to be part of CF/ Shops at Don Mills, the primary ones are that as a destination spot. Most of our clients travel to see us from all over the GTA, Canada and the world.
Black Line Studio Uptown offers — to any of our clients coming north of the city — a quick stop off the highway, with free parking. Once there, our clients can enjoy all our services and if they come accompanied by someone, can also spend the rest of the day walking around the mall, eating, shopping or checking out a movie.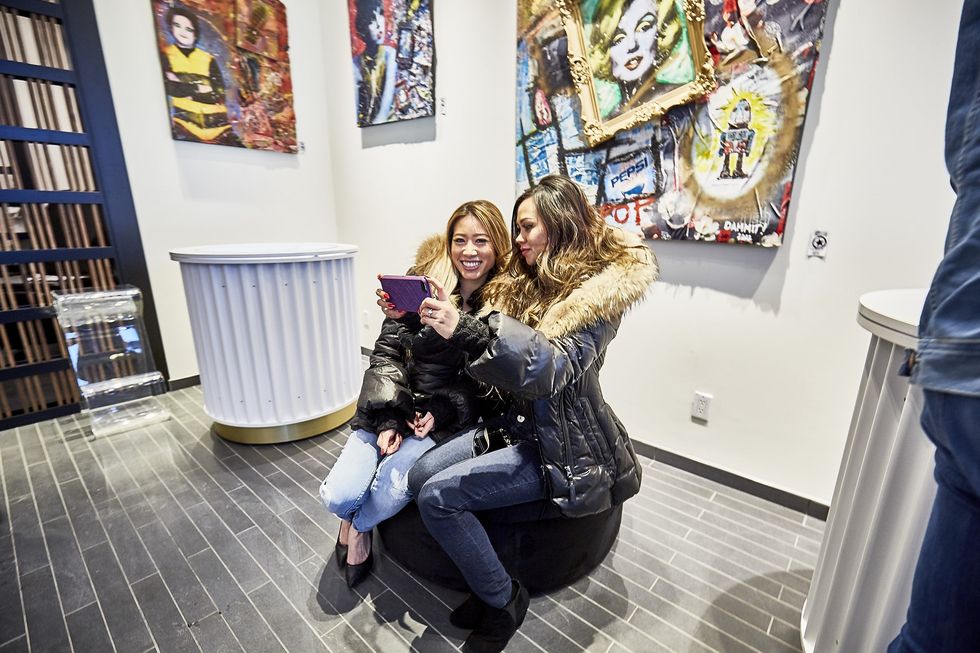 Black Line Studios is not your everyday tattoo and piercing shop, which tend to be a little seedy and a little more rock and roll. How did you come up with the concept to make your shop upscale — and how did that decision impact your design?
When I came up with the Black Line Studio concept back in 2005, the industry needed a breath of fresh air and I wanted Black Line Studio to be known for being spacious, clean, sophisticated and innovative. As well as for all the great artists that we work with.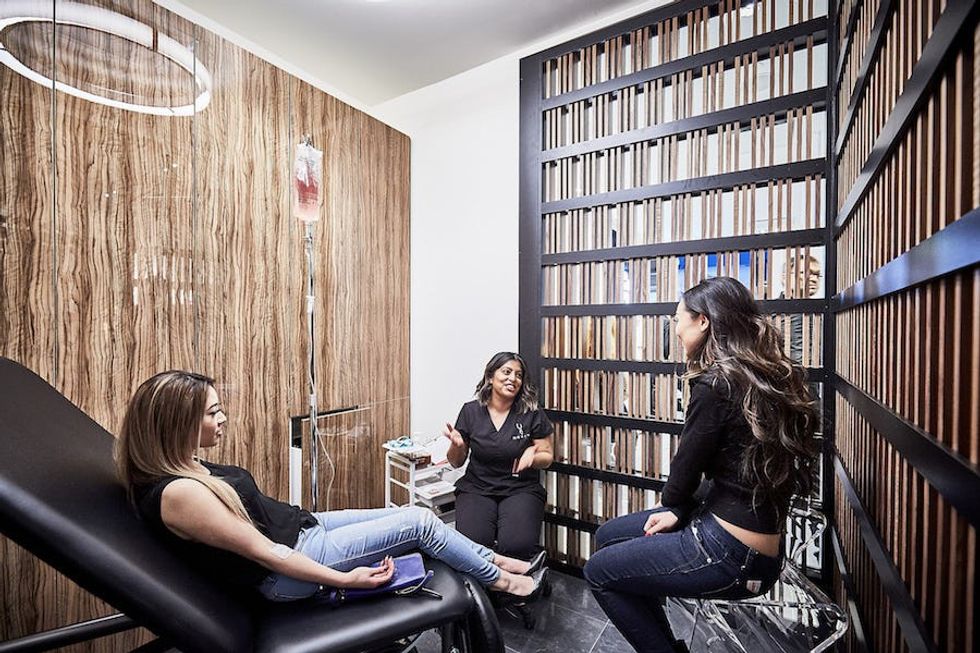 Who designed it and what was the concept behind the design?
The vibe is high-end spa, meets art gallery in New York, with trendy artists and clientele.
The initial design for the King West location was done by Precipice Designs (now The Design Agency) and I got to collaborate with Anwar, Allan, Matt and Jane. For the uptown design, Jane Son, now the owner of & Son Studio helped us once again to raise the standards. The concept stayed the same, with a few minor exceptions such as the media room and different ways to display the jewellery.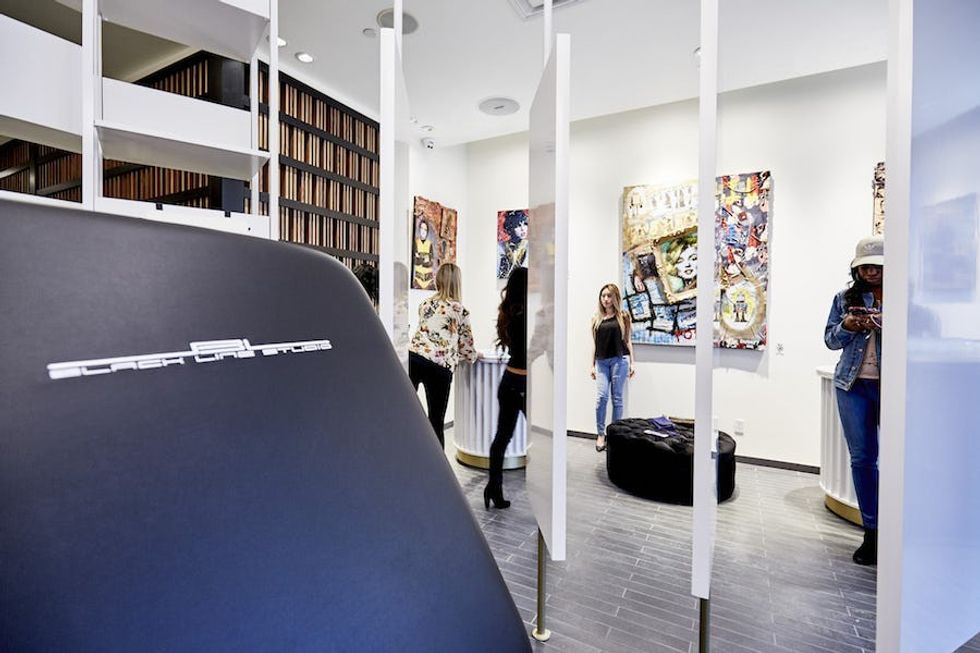 How about the art and the concept of the space?
The art gallery is part of Black Line Studio since day one and we are proud to exhibit great painters, sculptures and photographers.
How does the design of this spot differ from your King Street West location?
We opted to go with clean lines, open concept, to have an art deco sort of feel. There's a lot more white in it and bronze used at the bottom of the cases, doors and reception desk. Instead of going with glass walls, which is something futuristic, I found a design I loved made out of tiny slivers of wood that has a Zen feel to it.
It's a very Asian style and the design gives you enough privacy without closing the entire room and yet enough spaciousness to see the entire studio. So it's not like you're sitting in an enclosed room for four hours while getting a tattoo, but you can see people coming in and out, without them necessarily seeing you.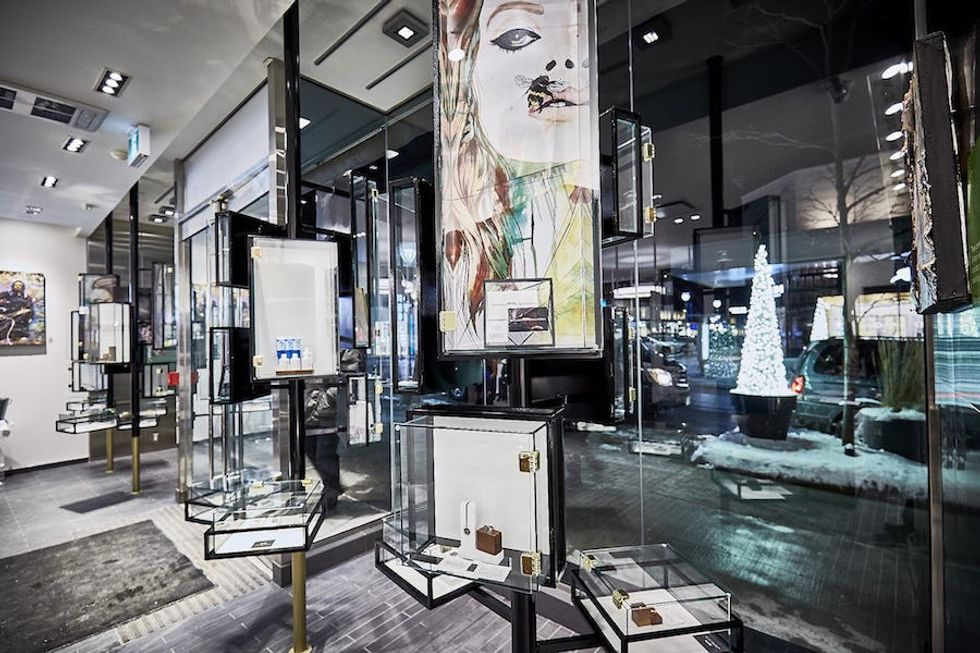 The buzziest thing about the new space is the Social Media Room. Tell us a bit about the idea behind this amazing concept.
Black Line Studio is known to have the art gallery portion, great jewellery, but I wanted to come up with something different. When I was brainstorming about what the trendiest thing is these days, it's social media and the need and want to share every aspect of our lives with others through Snapchat, Instagram Live, etcetera …
So I came up with this concept to have a room constantly available for people to log in and view social media, and to live-share them getting their treatment(s) of choice, whether it be a tattoo, a piercing, a vitamin drip of a facial.
We created the room with movable panels to allow guests to either have complete privacy or for it to be opened up. There's a 360-camera inside. Guests can either log onto our social channels to share their experience on our live feeds, or they can log into theirs, directly live sharing their service of choice.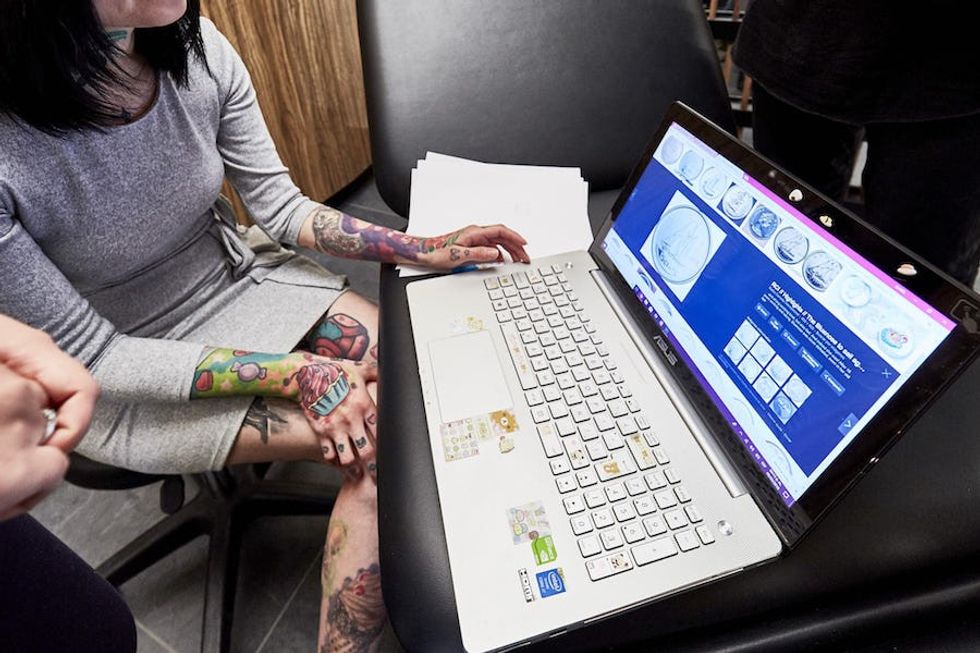 I also hear you guys give people a hard copy of their new look after their service.
We have an old-school Polaroid camera and a photo booth where clients can snap a couple of pictures and they walk out with an old-school, hard-copy photographs showing their new piercing or tatt. They also have the option to put it directly on social media and our channels as well.
Toronto