Toronto continues to be Canada's most expensive rental market, but with 10,000 new apartments completed in the GTA, rent in the city may finally stabilize.
The median monthly rent across Canada rose nearly 6 per cent last month to $1,747, according to the February National Rent Report from Rentals.ca and Bullpen Research & Consulting.
---
In Ontario, the median rent for January clocked in at $2,091, $1,000 higher than neighbouring provinces.
The average rent for a Toronto one-bedroom apartment rose slightly to $2,149, while the average rent for a two-bedroom apartment rose 1.7 per cent month-over-month to $2,620.
Of course, the further you go outside of the downtown core, prices begin to vary. In Thornhill, one-bedroom units go for $2,050 while in Vaughan, the same unit costs $2,042. In Oakville, rent for a one-bedroom sits at $1,999.
The leased condo market skews Toronto's rental rates. Looking exclusively at rental apartments, Vancouver is the priciest municipality. Apartment rentals in Vancouver average $2,000 a month.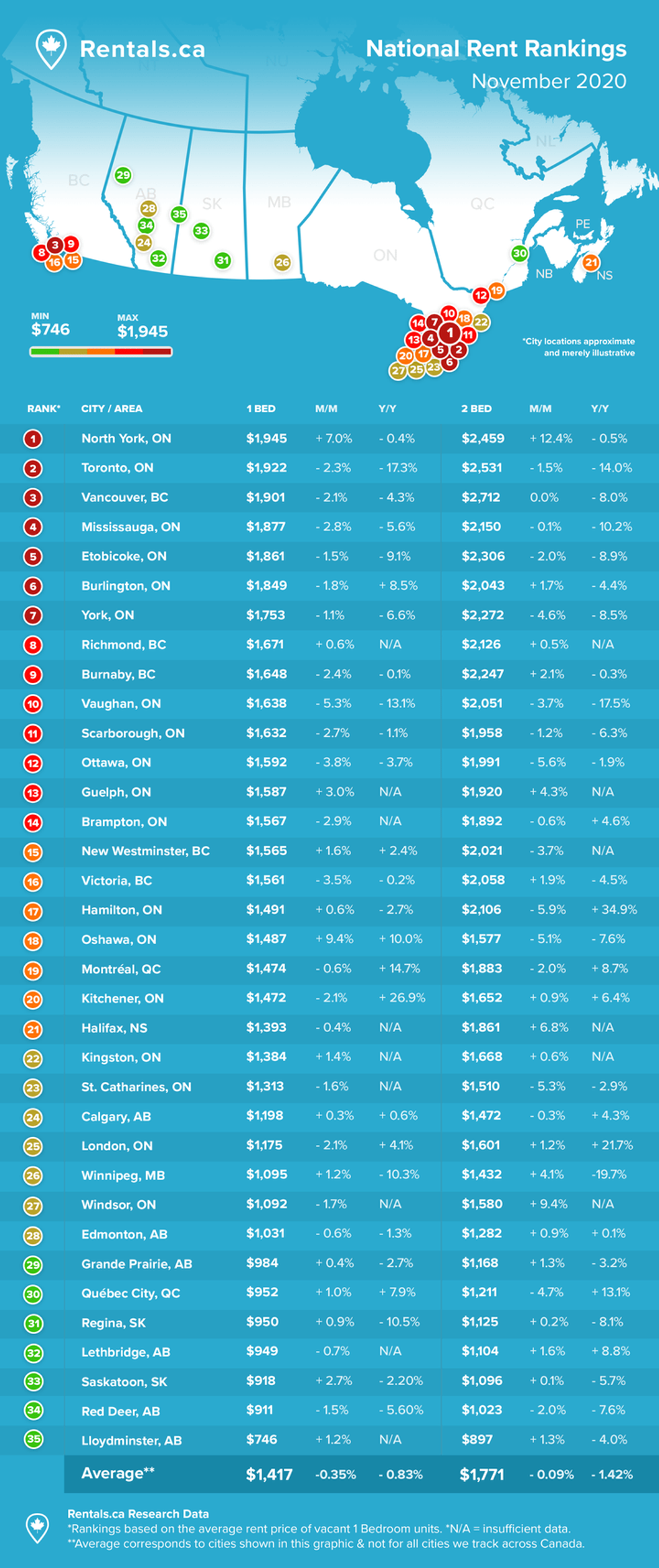 The report also found condos are typically more expensive to rent compared to houses across Canada. This is because condos tend to be located in higher-priced markets like Toronto.
Across Canada, monthly rent for a two-bedroom condominium apartment is $2,693. Single and semi-detached homes average $2,561 monthly.
"With rising rents across the country, it is important when searching for a rental home to give yourself plenty of time to score a good deal — Rentals.ca recommends starting your rental search three months in advance," said Matt Danison, CEO of Rentals.ca. "A lot of people begin the process too late, and unless they get lucky they might be forced to go with something either out of their budget or in an undesirable location."
The monthly cost of a one-bedroom unit across Canada is 16 per cent higher than a studio apartment. A two-bedroom unit is 17 per cent more expensive and a three-bedroom apartment is 19 per cent more monthly.
On a price-per-square-foot basis, tenants tend to pay less for more space. For a one-bedroom unit, tenants pay 40 cents less per square foot than they would pay on a studio apartment. A two-bedroom costs 32 cents less per square foot compared to a one-bedroom per month.
"The resale housing markets in several major cities in western Canada have slumped over the last six months, however, rental rates continue to increase in many of those municipalities," said Ben Myers, president of Bullpen Research & Consulting. Even in Newfoundland — the least expensive rental market — the median rental rate rose 1.5 per cent to $843 per month.
Despite an influx in apartment developments, Rentals.ca says rent may continue to rise across the country if credit availability remains scarce and the stress test continues to prevent first-time homebuyers from entering the market.
Renting