It might only be the second week of January, but Toronto's going to experience some April-like weather over the weekend. That's right, rain, rain, more rain -- as well as the possibility of flooding -- are in the forecast.
On Friday morning, Environment Canada issued a Special Weather Statement for Toronto as heavy rain, strong winds, and possible freezing rain are expected this Saturday into Sunday.
---
The weather agency says while occasional light rain and drizzle are expected on Friday, the rain will be more continuous and heavy at times Saturday into Sunday morning.
"Total rainfall amounts of 25 to 50 mm are possible with most of the rain falling Saturday into Saturday night. For areas further away from Lake Ontario, rain is likely to change to freezing rain by Saturday evening and may last for several hours," reads the weather statement.
Strong southwest winds are also expected Sunday morning, especially along the Lake Ontario shoreline where winds may gust up to 90 km/h.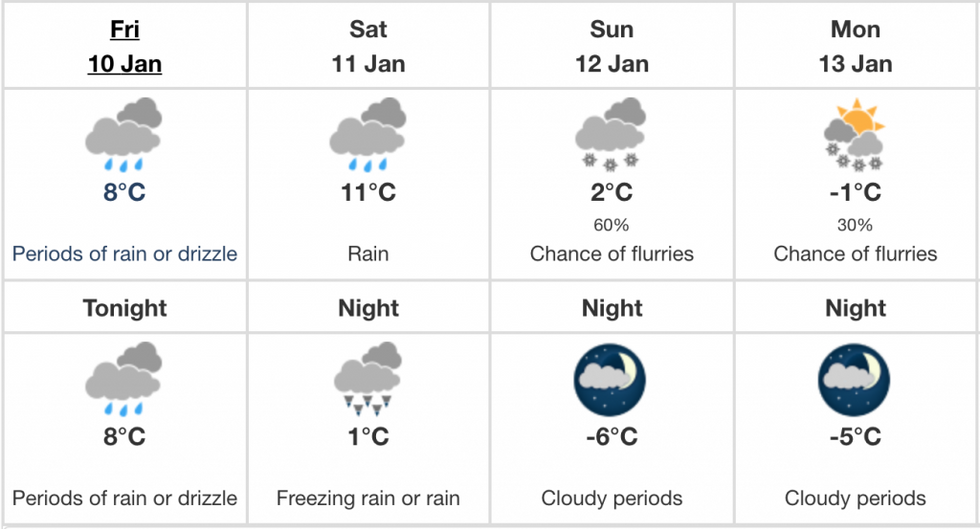 Environment Canada
READ:Significant Winter Storm" Expected To Hit Toronto This Weekend
The Weather Network has reported this weekend's heavy rainfall could result in 'record flooding rains' in addition to the expected prolonged periods of freezing rain and snow, which will impact travel well into Sunday.
Some parts of the southwest could exceed 75 mm of rain, and even the Golden Horseshoe could pick up between 50-90 mm, which The Weather Network says is rare for a single event in the summer months, much less the early days of January.
In fact, many spots in southern Ontario could be looking at getting their entire January average rainfall with this moisture-packed storm.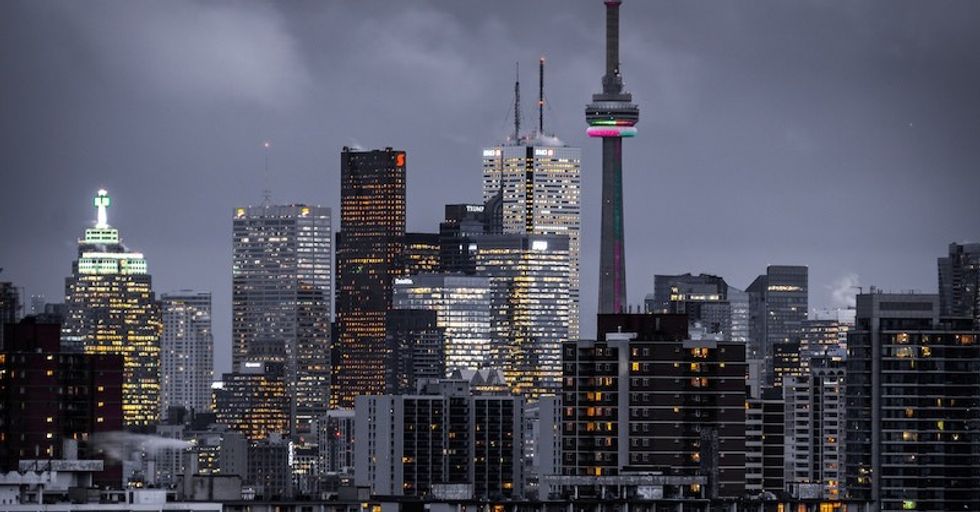 The Weather Network
The Weather Network added that some cities in the region could hit their monthly precipitation average with the single storm this weekend.
According to the City of Toronto, during heavy rain, the sewers can become overloaded, which is why it's essential that homeowners take steps to help protect their homes from basement flooding.
READ: What To Do If Your Home Floods And How To Prevent Flooding In Your Basement
With the threat of record-flooding rains in the forecast, the City of Toronto says residents can take the following steps to help reduce and prevent flooding from happening.
How to Reduce Your Risk of Basement Flooding
Every home is at risk of basement flooding, even if it has not happened before. Water in your basement is most likely to occur during a heavy rainfall, or when snow and ice are melting.
Outside of the house
To prevent water from getting into your house, the city recommends sealing all cracks or leaks in walls, floors, windows and foundations, and to seal all window wells.
Residents can also increase the green space around their homes with plants and shrubs and install porous pavement to help absorb rainwater and melted snow.
Additionally, the city recommends clearing debris from roadside catch-basins (grates) to help water enter the storm sewer and ensure drainage swales (shallow ditches) between properties are maintained and clear of obstructions.
Inside the house
The city says homeowners need to understand they are responsible for plumbing from the property line to inside the home.
The city recommends hiring a licensed plumber who can conduct specialized testing or inspections, if needed, to help you identify the location and condition of key features of your household plumbing system.
You should also ensure your plumbing and draining systems are in good working condition, by fixing all cracks, blockages or other condition problems, and avoid creating clogs.
What to do if your basement is flooded
If your basement is flooded, it is necessary that you take appropriate action to protect your home, your health and safety. The city also offers owners of single-family, duplex, and triplex residential homes a Basement Flooding Protection Subsidy of up to $3,400 per property.
You can learn more about what to do if your home floods and how to prevent your basement from flooding here.
Toronto