It used to feel like every time you turned on the news you heard about yet another tragic pedestrian or cyclist fatality in the city. But thankfully, that news has been few and far between, as it turns out, the first six months of 2020 were the safest for Toronto's pedestrians and cyclists in more than a decade.
According to City data, it appears that lower traffic levels during the COVID-19 pandemic helped reduce the number of vulnerable road users that were seriously hurt and killed on local streets. The City previously said that traffic volumes on local roads were down between 45 and 65% during the height of the pandemic.
---
READ: Over 7,600 Tickets Issued During First Two Weeks of New Speed Camera Use
As reported by The Star, from January 1 to July 1, the City reported 63 collisions that resulted in a pedestrian or cyclist being killed or seriously injured. This marked the lowest total for the first half of any year since at least 2007, which is as far back as the records go.
Of the 63 deaths or injuries recorded in Toronto the first six months of 2020, 54 of the victims were pedestrians while nine were cyclists. There were seven deaths, all pedestrians.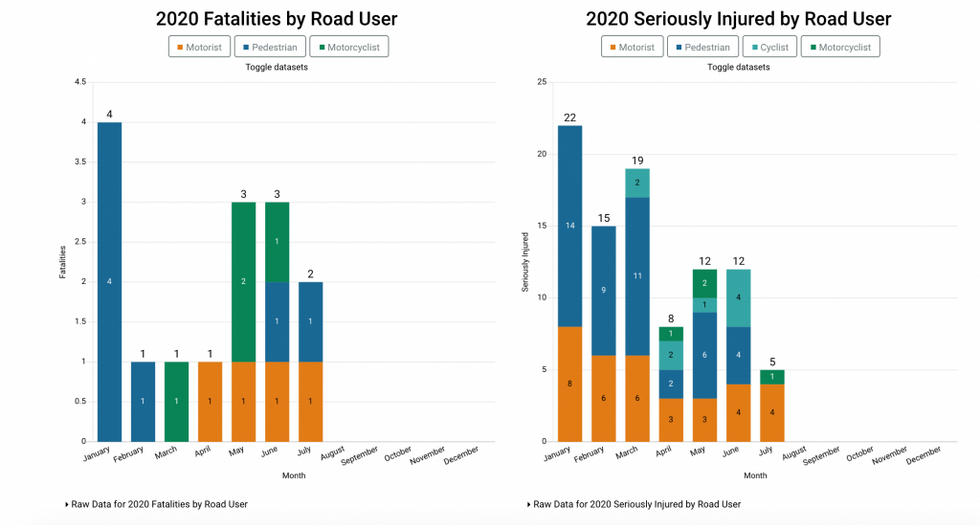 City of Toronto
As you can see from the data from the City, there is a sharp drop in both fatalities between February and April and in just April for serious injuries, coinciding with the sudden lack of vehicular traffic after the City went into lockdown to slow the spread of the virus.
The decline in fatalities and serious injuries can also be credited to some of the City's newer initiatives to improve road safety, which includes reducing speed limits on 250 kilometres of minor arterial and collector roadways as part of Vision Zero 2.0 — an action plan focused on reducing traffic-related fatalities and injuries.
What's more, last month, 50 automated speed enforcement cameras (ASE) — with two located in each ward— began issuing tickets for the first time and nabbed more than 7,600 speeding drivers in just two weeks.
During this period, the highest speed detected was 89 km/h on Renforth Drive near Lafferty Street (Ward 2 – Etobicoke Centre) where the posted speed limit is 40 km/h. The ASE camera on Renforth Drive issued the highest fine at $718, it also issued the most tickets at 890, representing 12% of all tickets.
Toronto