Real Estate News
9 Of The 10 Most Expensive Canadian Cities For Rent Are In Ontario
It sucks to be a renter in Ontario. A new monthly National Rent Report found that nine of the top 10 Canadian cities with high rent were found in the province.
The May 2019 report was conducted by Rentals.ca and Bullpen Research & Consulting using April data. Unsurprisingly, Toronto topped the list for the fifth month in a row. The price of a one-bedroom rental in the 6ix is now $2,242, while a two-bedroom costs $2,731.
The price tag for a one-bed unit might seem large, but it's actually a slight $12 drop from last month's report. This finding also coincides with a previous report by Padmapper, which noted that Toronto rent fell on their site by roughly $10.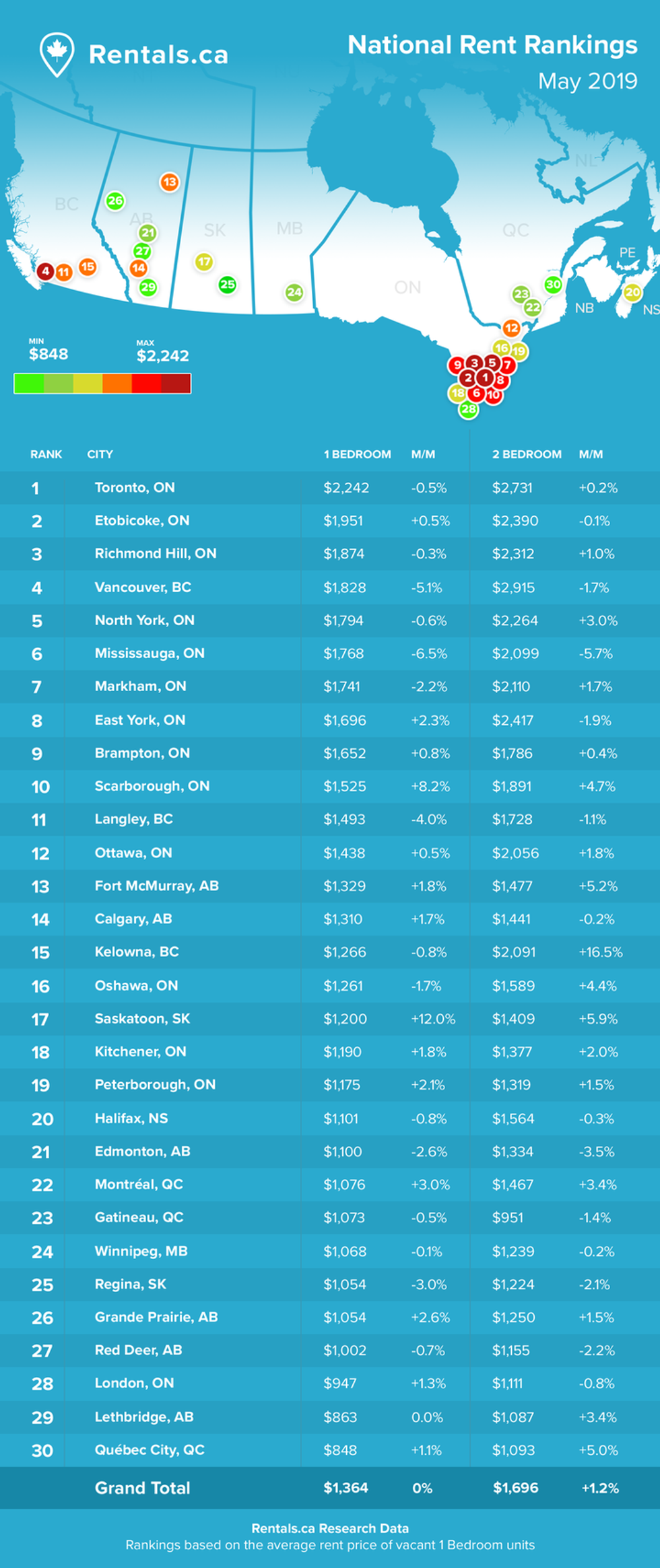 Etobicoke and Richmond Hill came in second and third place for highest rent in Canada. A one bedroom in these cities costs $1,951 and $1,874, respectively.
Vancouver is the only Canadian city not in Ontario that made the top 10 list, slipping from the third to fourth spot in May's report. A one-bed unit in Vancouver now goes for $1,828.
What's notable, however, is that the difference in price between one and two bedrooms in the West Coast city is more than $1,000! A two-bed unit now goes for a whopping $2,915, which is greater than the cost in Toronto.
The rent report shows that there's a huge difference in rental prices across Canada. While one bed costs more than $2,000 on one spectrum, it costs less than $850 on the other.
The cheapest Canadian city for rent is Quebec City, where a one-bed unit costs $848 and a two bedroom costs a mere $1,093.
Overall, rent across the country declined by 2.9 per cent from March to April. This is the second month that prices have fallen, after experiencing an upward trend at the beginning of the year.
Despite this, Rentals.ca noted that there's a possibility more tenants will leave the rental market this year.
"The general consensus among economists is that there will be no mortgage rate increase in 2019," the site said, "which may spur some tenants to jump into the ownership housing market, freeing up units for other prospective tenants and easing upward rent inflation pressures."