If you take a quick look around the city right now, you might not see streets filled with people, but you'll still see plenty of buzzing construction sites and, in turn, you might also notice the surprising number of cranes towering over the city.
In fact, according to Rider Levett Bucknall's Q1-2020 North American Crane Index, there are currently 121 cranes erected across the city, catapulting Toronto into a league of its own for active crane counts on the continent.
---
RELATED:
According to RLB, Toronto now accounts for 27% of all the cranes counted for in the 14 largest and most active markets in North America, followed by Los Angeles, which accounts for just 10%.
And while the high count of cranes can be attributed to the development boom in Canada's largest city, including mega-projects like The Well — which will be home to 1.1 million square feet of office space, 500,000 square feet of retail, and 1,700 residential units when completed — many projects have come to a halt amid the provincial government's latest crackdown on essential businesses, which led to all new residential starts being forced to stop (though residential projects "near completion" can continue).
"In Toronto, the city with the greatest number of cranes in North America, the count is holding steady. Most are servicing residential projects, followed by mixed-use towers that contain both residential and commercial office space," said RLB in the report.
While residential pre-construction sales have been strong in Toronto, RLB says the COVID-induced economic uncertainty precludes a positive market forecast.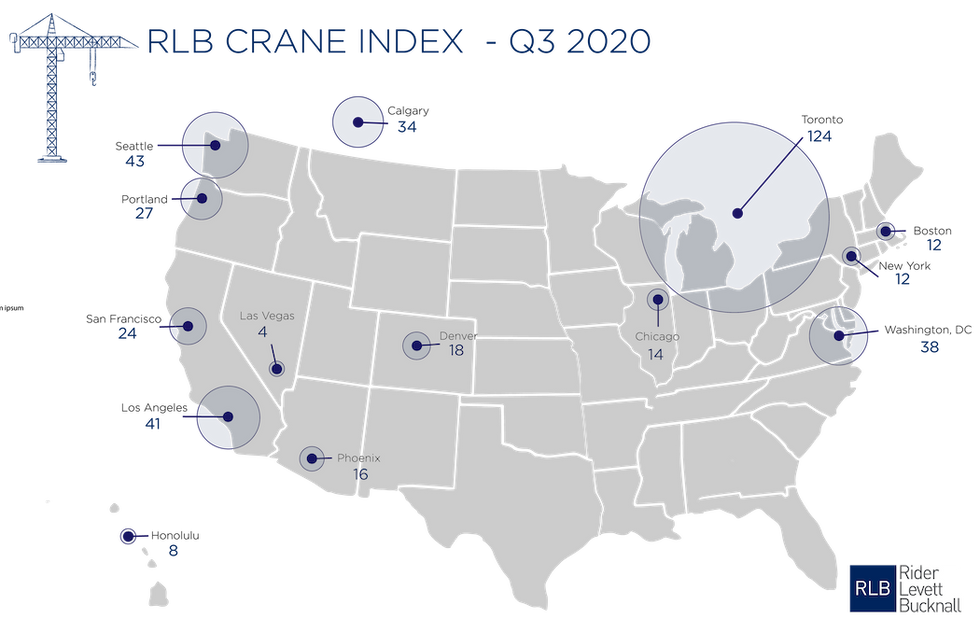 RLB Crane Index Q3-2020
RLB says residential and mixed-use projects continue to take the lead across sectors; combined, they make up 70% of all cranes in North America.
Also worth noting is that Calgary was the only other Canadian city to make the index, placing 3rd with 37 cranes, ahead of Seattle (36), and San Francisco (33). What's more, New York currently only has 26 cranes.
RLB noted that this is the fifth consecutive survey that saw crane counts increase in at least some of the 14 cities surveyed, which includes the addition of Las Vegas. In this report, five cities experienced an increase in crane counts, five saw a decrease, while the remaining cities held steady.
Looking ahead, RLB  expects that COVID-19 and the "governmental mitigation measures that have been applied to contain it are having on the economy as a whole" will continue to put pressure on the economy, further driving a recession, which will have an impact on future crane counts.
"Current construction projects may also be affected due to shutdowns, or workers not reporting to job sites for a variety of reasons including illness, illness of family members, or even fear of taking public transport," said RLB.
Toronto