While real estate remains hot throughout Toronto, as downtown residents continue to search for more space and affordability, home values in areas on the outskirts of the city have seen the greatest appreciation.
---
If you bought a home in Scarborough before the pandemic, you could be looking at a 25% increase in value, according to a new report from Toronto-based real estate brokerage Properly.
Using an AI-powered home value calculator called "Instant Estimate," Properly compared the selling prices of homes bought in the six months prior to COVID-19 (September 2019 - February 2020) to their current Instant Estimate value (May 2021).
The analysis shows that housing trends seen throughout the Greater Toronto Area (GTA) in the past year -- where homeowners fled the city and moved to the more spacious suburbs -- are apparent in Toronto. Based on the analysis, it's clear that Toronto homeowners are also moving out of the downtown core to nearby areas, causing neighbourhoods on the city's edges to see the greatest appreciation in prices.
The results showed that properties purchased in Scarborough have seen home values jump a staggering 25%, followed by York (21%) and Etobicoke (19%). On the other hand, home values in Toronto's uptown have seen the lowest appreciation at just 5%, followed by midtown (7%) and downtown (8%).
According to Properly, the median sold price of a house in Scarborough between September 2019 and February 2020 was $710,000. Fast forward to May of this year, a homeowner would have to pay around $915,000 -- or 25% more -- to afford the same property.
In the east end, where homes are typically larger, the median sold price for a property was $1,093,000 between September 2019 and Feb 2020. Today, these homes are selling for 13% more at around $1,277,413.
Conversely, the median sold price for a property in downtown Toronto was $680,000 before the arrival of the pandemic. That same property is now worth $721,709, representing an increase of 8% for the area.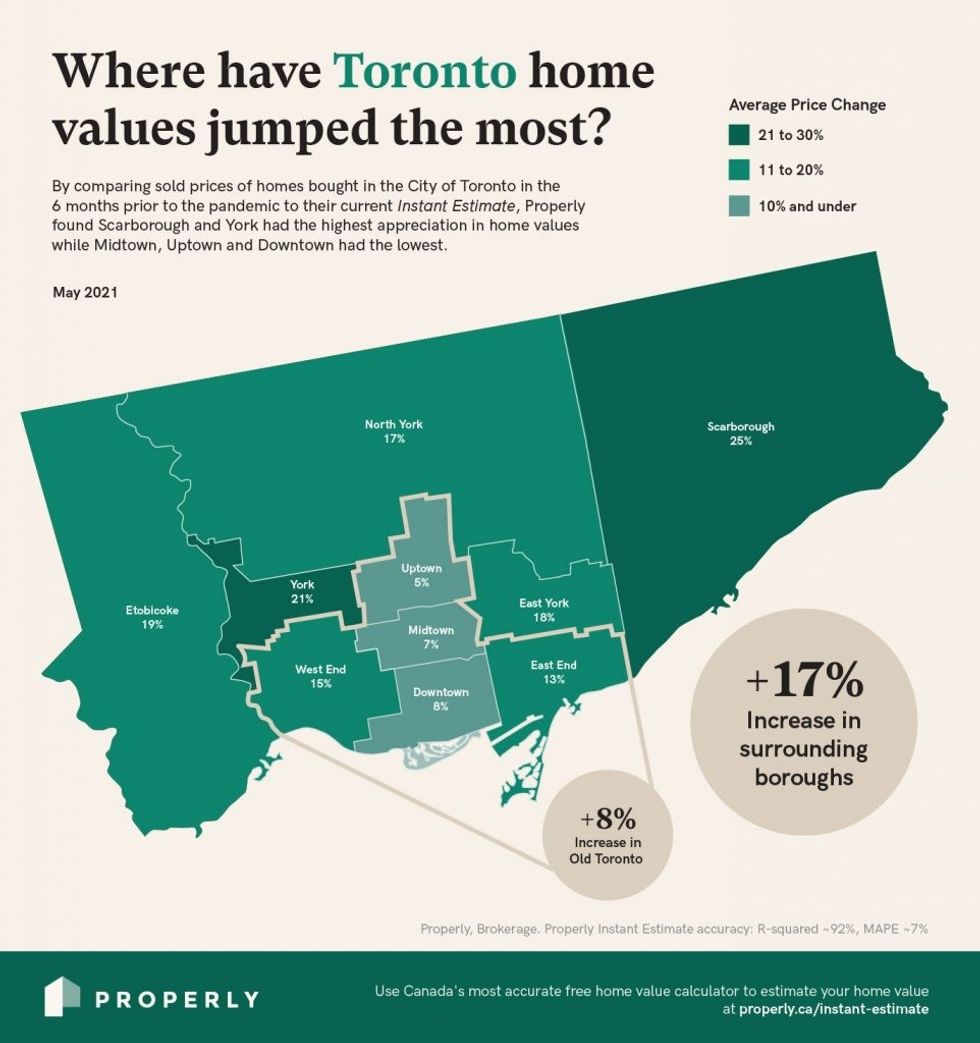 "There has been increased conversation around the skyrocketing homes prices in Toronto," said Anshul Ruparell, Co-founder and CEO of Properly.
"But what's happening is actually the reverse of what we usually assume: that people want to be close to downtown," said Ruparell.
Case in point: today, Old Toronto is seeing the overall lowest appreciation within the City of Toronto.
"Even within the city core, the more centrally located neighbourhoods that we've come to expect high growth from, like the Annex or Trinity Bellwoods, are not disproportionately driving the appreciation," said Ruparell.
It remains to be seen whether this shift away from the core will continue, but recent condo headlines suggest that the tide is already turning back toward the downtown scene.
You can read the full report here.
Toronto