Following this past weekend's record-breaking snowstorm, it appears Toronto has already 'soared' past its average seasonal snowfall, despite a lack of consistent cold, according to The Weather Network.
It shouldn't come as much of a surprise, given that Toronto was blanketed with 17.2 cm of snow over the weekend, which is how Canada's largest city has already reached 152% of its regular snowfall total.
---
And after a freezing start to the week, with temperatures dipping to -14ºC or -21ºC with the wind chill, Torontonians can find some solace knowing that slightly warmer temperatures are on the way, with a warm-up expected to last further into the week.
Temperatures are expected to reach -2°C on Tuesday and will continue rising throughout the week, hovering over 0°C from Wednesday through next Monday.
However, The Weather Network says there is the chance of another potential snowfall this weekend.
"Given our pattern so far this winter, it probably comes as no surprise that our next potential system will be during the weekend," said Weather Network meteorologist Dr. Doug Gillham.
According to the Weather Network, this weeks' above zero temperatures partnered with the more northerly track "could likely bring a rain/snow mix to the region, with the precipitation staying as all snow further to the north." Accumulations will depend on elevation and distance from Lake Ontario, but still won't amount to the significant totals reported this past weekend across the region.
The Weather Network says it's this inconsistent weather and a lack of true Arctic-sourced air that could be to blame for the heavy rounds of snow that have fallen already this season.
"Normally, when Arctic air is present, we are dominated by high pressure and a lack of active weather, while this season we have seen the storm track bring snow and rain through the Great Lakes instead," says meteorologist Jaclyn Whittal.
READ: City Continues Cleanup in Toronto Following Record-Breaking Snowfall
This is what contributed to Toronto seeing 152% of its average snowfall for the season, as of January 19.
"The coldest air has been locked in the west, and we have consistently seen above seasonal temperatures in southern Ontario," Whittal added.
"So any storms that we have seen, we have had just enough cold air to work with to create snow, though it's been tough to keep any of it around because of how quickly we warm up soon after."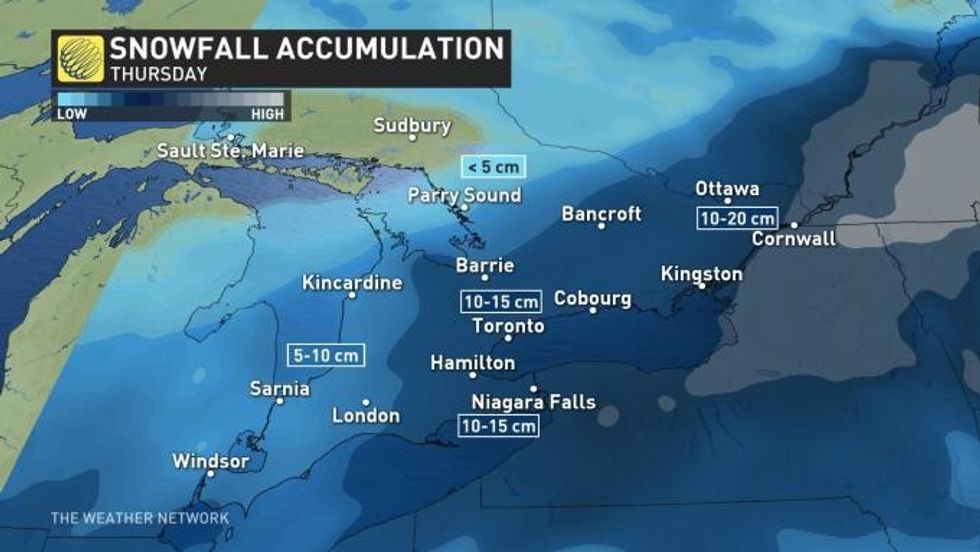 The Weather Network
However, as a result of the warm weather pattern Toronto has been experiencing lately, the Great Lakes are only 10% covered, which is down from 18% at this same time last year. This means that when blasts of short-lived cold air, more lake-effect snow can be expected, too.
Here's to hoping the warmer weather lasts and it's the end of the short-lived air.
Toronto