Toronto
Real Estate News
Toronto Developers Predict What 2021 Has in Store for the Condo Market
It's safe to say that 2020 was an unusual year for the condo market in Canada's largest city.
Earlier this year, when COVID-19 swept the nation, the Ford government ordered all non-essential businesses to close in a vigilant attempt to slow the spread of the virus. This included a temporary shutdown of the province's construction industry, with only critical construction projects able to continue, including industrial projects such as refineries and petrochemical plants and infrastructure projects such as new hospitals, roads, and bridges.
For a time, once-bustling condo developments in the city were eerily quiet, while some construction sites sat vacant as the industry waited for the green light to return to work.
As the first wave of the pandemic eased, the economy resumed, and construction in the province came roaring back to life. And as these development projects resumed, Toronto catapulted into a league of its own for active crane counts in North America, rounding out Q3-2020 with 124 active cranes in the city.
"The Toronto crane count has increased marginally since the last survey," reads a statement from international property and construction consultancy firm Rider Levett Bucknall. "Residential projects continue to dominate the market. While COVID-19 does not seem to have affected the number of cranes in use, that could change next year, as high-rise residential sales have dropped 30% in 2020. The work-from-home trend may also impact future commercial office tower construction," reads the report.
READ: 12 Toronto Developments We're Excited to See in 2021
As the year progressed, condo developments did too, with Shaun Hildebrand, president of market research firm Urbanation, marking a total of 6,816 new condominium apartments reaching completion throughout the GTA in Q3-2020, bringing total year-to-date completions to 17,596 units — up nearly 50% over this time last year, when 11,952 units were completed.
However, despite the surge in completions, the number of condos under construction in the GTA remained near a record high at 78,156 units. With an additional 5,411 units on track to be completed in Q4, Hildebrand told Toronto Storeys that year-end competitions are expected to come in slightly below 23,000 for this year.
Looking ahead, Hildebrand says "completions are projected to remain elevated with 22,434 new condos scheduled for completion in 2021, more than 70% of which are located in the City of Toronto."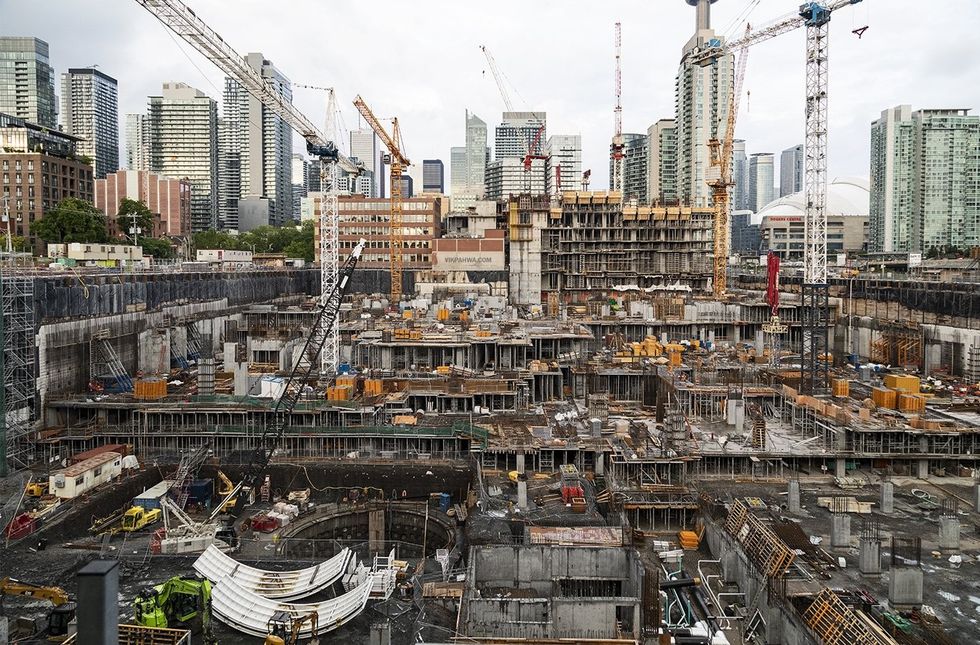 While the past 11 months have proven uncertain, the pandemic has also highlighted the resiliency of the industry and has left us feeling hopeful, if not optimistic, for what's to come. It also doesn't hurt that some condo developers in the city also feel confident about the year ahead.
As we near the end of 2020, we spoke with some of these developers for insights into what they expect could happen in the condo market in 2021.
Overall Success of 2021
"Quite frankly, I think the success of 2020 surprised us all. It still was below what we had forecasted at the start of the year, but sales continued despite the pandemic shutdown," said Brian Brown, Principal of Lifetime Developments. "As for 2021, despite the province-wide shutdown to begin the year, we should expect to have a very active and promising 2021 with signs of returning to a more normal state by the middle of the year."
Brown says Lifetime had planned to launch its project at 500 Dupont and Phase 2 of its King and Dufferin project, XO2, in 2020, but made the decision to delay the launch and bring the projects to market in 2021.
John Vandyk, President of Vandyk Properties, echoed a similar outlook and says he's "optimistic" about the success of the condo development space in the year to come.
"Toronto's condo development market, in parallel to the market in general, has experienced a cyclical year. The first two months of 2020 had near record-breaking sales. In mid-March the wind was completely taken out of the market's sails, only to return strong again in the middle of the summer after a few months of pent-up demand. Overall, at Vandyk, we are optimistic about the success of the 2021 condo development space, and that it will perform even stronger than years past, with low-interest rates allowing more individuals to enter the market as buyers."
RELATED: For Downtown Condo Investors, Now is the Time to Watch and Wait
Barry Fenton, President of Lanterra Developments, says that COVID-19 isn't a situation that should be taken lightly; however, in light of the current state of the pandemic, he believes in the next 2-3 months things will start to calm down again.
"At the start of the pandemic, there were a few developers, including myself, who spoke with the province on why we needed the construction component to stay open as an essential service. And following the initial construction shutdowns, Fenton says the industry has weathered the storm.
"Construction is very strong right now after being fluid throughout the year," says Fenton, adding that this fluidity will continue into the new year. "In a year from now, we'll look back and say this time has been surreal."
Looking ahead, Fenton believes Toronto's condo market will be very bullish moving forward and, with interest rates remaining low, he thinks the downtown condo market will continue to be robust in 2021, with condo sales increasing up to 15% across the board in the new year.
First Six Months of the Year
"The first six months will be very active in the Toronto condo market," predicts Brown, adding that many developers delayed their project launches from 2020 until news of a vaccine was announced. "Expect many great sites to be brought to market with pricing holding strong along with market demand," says Brown.
"Toronto's reputation is strong around the world: its stable banking system, low borrowing rates, and strong immigration numbers will all play a role in making the start of 2021 one that we will be very proud of."
Vandyk is also optimistic about the first quarter of 2021 and says the data we are watching closely suggests that Q1 will be steady, with a positive momentum building into Q2.
He added that momentum in the industry will be followed by positive growth in the latter quarters and beyond. "We have many exciting projects ready to be introduced into the market, including our Grand Central Mimico project, so naturally, we are watching it closely to ensure that our releases are appropriately timed and that they coincide well with the resurgence in the buyers' confidence we are forecasting."
The COVID Vaccine and the Impact on Toronto Condo Developments
"The release of the COVID-19 vaccine should have a very positive impact not only on the Toronto condo market but on virtually all investment asset classes (across real estate as well as the broader economy)," says Gavin Cheung, Vice President of CentreCourt.
"In reality, the Toronto high-rise pre-construction market performed exceptionally well in 2020 both from a price and volume of sales perspective. Nonetheless, the roll-out of a highly effective vaccine program in 2021 should materially improve the psychology of all Canadians and market activities will feel a lot more normal than in 2020."
READ: The Return of the Financing Condition Signals a Buyer's Condo Market
Brown, too, is optimistic about the rollout of the vaccine and says he believes it will have a positive, widespread impact on the Toronto market.
"That said, there are several other factors that are contributing to our overall confidence relating to the market and its demand in the city, namely historically low-interest rates which are expected to remain in place for 24-36 months, as well as increased immigration targets of over 400,000 new immigrants per year for the next three years."
Developments to Keep an Eye on in 2021
"In 2021, Toronto residents should keep an eye out for projects that will appreciate in value — developments that sustain long-term and timeless value, and that make a real contribution to city building with master plans and transit infrastructure," says Vandyk.
Vandyk added that its upcoming Grand Central Mimico project falls into this category, as it's the first Transit-Oriented Development in the Province of Ontario, done in partnership with Metrolinx. "This neighbourhood will completely transform in the next decade, delivering three residential towers and over 50,000 square feet of office, retail, and grocery."
While not officially launched yet, Cheung says residents should keep an eye out for CentreCourt's 8 Wellesley project, which will be one of the first launches of 2021.
RELATED: 12 Toronto Developments We're Excited to See in 2021
"We recently started sharing our vision for this launch and are excited by the incredible response and robust demand. The launch of 8 Wellesley will be a bellwether for the rest of the industry, and show that purchasers continue to see immense value in luxury downtown projects that are thoughtfully designed and situated on the doorstep of higher order transit," says Cheung.
Brown added that Lifetime also has a number of developments to watch, with the developer's Whitehaus, Panda Condos, and Liberty Market Tower all slated for completion in 2021.
"Given their locations and with very few units left, we look forward to welcoming new homeowners and renters in the new year. We are also very excited to launch our 9-storey boutique residence in the Annex at 500 Dupont and Phase 2 of our King West development at the intersection of Dufferin Street and King Street West called XO2," added Brown.
Condo Development Trends Gaining Popularity in 2021
"The biggest trend we expect for 2021 is the 're-settlement of the downtown core' as the country gets vaccinated, the economy re-opens to full potential, and all sectors regain their footing," says Cheung. "As working from home becomes less common, college and universities resume in-person learning, and employment within the downtown core accelerates, we expect new downtown projects to have very strong traction in the marketplace."
This trend would also be fueled by the upcoming burst of immigration that is slated for the new year. This fall, the feds announced they are increasing the country's immigration target between 2021 to 2023 to make up this year's pandemic-induced shortfall.
Canada's Immigration Minister, Marco Mendicino said the country will welcome more than 1.2 million new immigrants over the next three years, with up to 401,000 new permanent residents in 2021, 411,000 in 2022, and 421,000 in 2023 — an increase of 50,000 each year compared with the previous targets. The previous plan had set targets of 351,000 in 2021 and 361,000 in 2022.
Beyond downtown condo projects, Vandyk is foreseeing an importance on well-thought-out master-planned communities that are highly accessible to high-quality transit options.
"In a post-COVID environment with shifting workplace demands, value in pricing and ease of travel will be an essential consideration for residents," says Vandyk.
Fenton also predicted there will be a change in where residents choose to live in the near year as workplace needs continue to shift amid the pandemic.
"I think in the next year or so, we're going to see more people wanting to work out of the office following months of working from home. As a result, the Toronto condo market will have more people gravitating to be back downtown in the new year… as more people return to the office."
While predictions such as these help paint an optimistic outlook for what to expect in the new year, just like the pandemic, Toronto's condo market will likely remain unpredictable for the near future.
Let's just hope 2021 has fewer surprises in store than 2020 did.