Editors Note: A previous version of this article said Seattle was currently home to 12% of all cranes in North America. The article has been updated to reflect an updated percentage. 
---
If you take a quick look around the city right now, you'll still see plenty of buzzing construction sites and, in turn, you might also notice the surprising number of cranes towering over the city.
In fact, according to international property and construction consultancy firm Rider Levett Bucknall's Q3-2020 North American Crane Index, there are currently 124 cranes erected across the city, catapulting Toronto into a league of its own for active crane counts on the continent. Toronto's crane count has increased since the last survey, as three more cranes have been erected in the months that followed.
READ: Construction Officially Begins on Tallest Residential Tower in Canada
According to RLB, Toronto continues to be home to a vast sum (30%) of the total cranes counted in North America, followed by Seattle, which accounts for just 10%.
"The Toronto crane count has increased marginally since the last survey. Residential projects continue to dominate the market. While Covid-19 does not seem to have affected the number of cranes in use, that could change next year, as high-rise residential sales have dropped 30% in 2020. The work-from-home trend may also impact future commercial office tower construction," reads the report.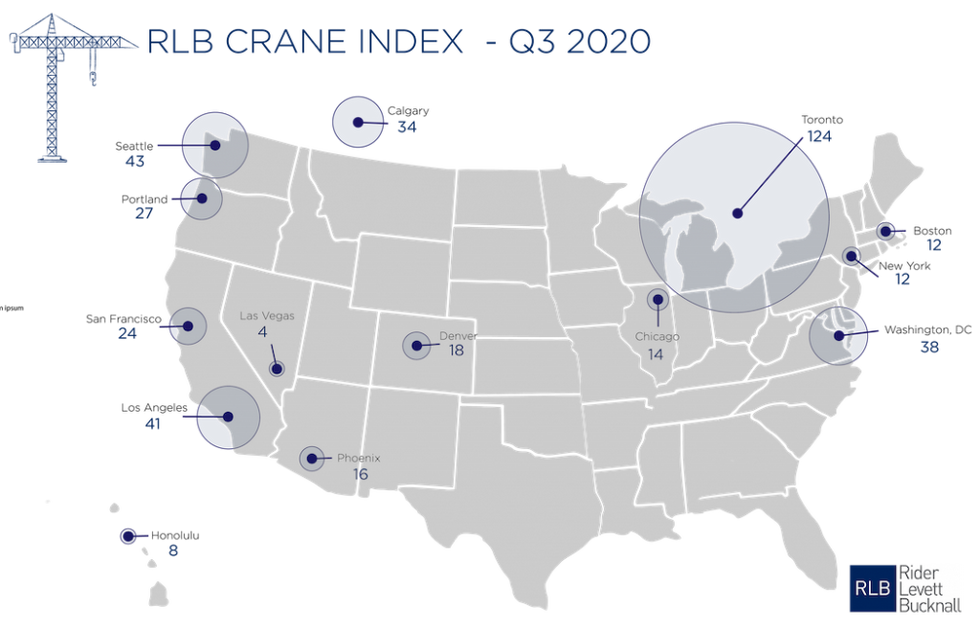 Also worth noting is that Calgary was the only other Canadian city to make the index, ranking 5th with 34 cranes, ahead of Portland (27), and San Francisco (24). What's more, New York currently only has 12 cranes.
According to the report, residential projects account for 38% of all cranes counted in North America, followed by 27% installed at mixed-use developments. Cranes dedicated to cultural projects dropped 38% from the previous count, while healthcare projects experienced a nationwide increase in active cranes of 25%.
The report follows some North American cities imposing a pause on non-essential construction in the wake of the coronavirus pandemic. While these bans have been lifted and projects have resumed, Julian Anderson, FRICS, President of RLB North America says the pandemic-induced recession is going to have far-reaching effects.
"Lenders are less likely to support large new developments in sectors that have been hard-hit, like sports and hospitality. As construction costs soften, we are already seeing more interest in the projects that are coming online."
Real Estate News